I will share complete details on what is Duplex Printing. I will also share the advantages of Duplex Printing, Duplex Printer, HP Printer and everything related to duplex printing.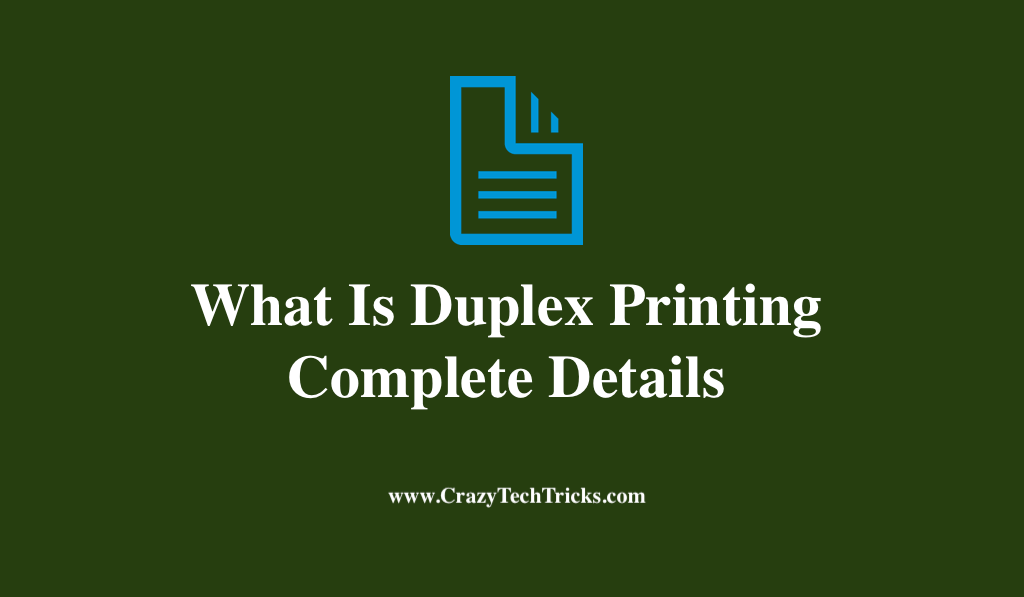 Duplex printing involves printing on both sides of a sheet of paper, and it is a capability that many printers provide. To print on the other side of a whole page with a single-engine duplexer, the printer must first print on one side of the entire page. Printers with dual-engine duplexers may print on both sides of the paper simultaneously. In order to do the job, you will need to order paper and ink, which means dealing with a lot of paperwork.
Read more: Best Notepad Tricks
What is a Duplex Printer
Multifunction machines and printers that are capable of printing, scanning, and copying on both sides (or any combination of those three) are often referred to as "duplex." Other machines require the user's input to save paper and money right away, while others can do this automatically. A duplex printer should have automatic duplex capabilities and manual duplex capabilities.
What is Auto Duplex Printing?
Automatic duplex printers can print on both sides of a piece of paper simultaneously. Canon and HP printers have this feature in their newer models. The built-in auto duplex printing feature reduces printing costs and paper usage by 50%.
Read more: How to Create and Print Labels in Word
What is a Duplex Module on a HP Printer?
With HP, you can get a wide variety of multifunction printers with duplex printing, maximizing the amount of paper you can print. Print on both sides of the paper to save money, energy, and paperweight on all your printouts. HP's duplex printers can be used for both personal and professional purposes, making it easier to get things done and live a more convenient life.
Read more: How to Check Printer Ink Levels
How does the Duplex Printer Perform?
By clicking print, if you choose to print on both sides of the page in your page setup dialogue box, and if your printer supports duplex printing, the computer will instruct the printer to do so, as well. The paper is returned to the printer after printing one side, enabling the printer to print the second side as well, allowing both sides of the page to be printed sequentially. You can save money and paper by printing on both sides of a sheet when duplex printing.
 Is Duplex Printing a good thing to do?
Duplex printers don't need to turn the pages manually, since the printer does it automatically. In India, duplex printers are the best printers for offices since they save a great deal of money when printing large quantities of documents.
Read more: How to Fix Printer Problems with Windows 10
Duplex Printing Advantages
Printing on both sides of a sheet of paper saves you money in the long run. The less paper you use, the less frequently you should restock your supplies, saving you money.
Your office's filing system will have more space available when you print on fewer pages because fewer print jobs will be needed.
When both sides of the product are printed, the final product will be lighter, making it easier to transport to meetings, school presentations, and other activities requiring printouts.
Duplex printing is more energy-efficient than single-sided printing since it prints on both sides.
Read more: How to Create your Own Stickers on WhatsApp
Conclusion
The Environmental Protection Agency (EPA) has found that automatic duplexers can reduce paper costs by thirty to fifty percent. It also saves on storage and shipping. Remember that even a small action like printing can contribute to preserving our planet's natural resources. A duplexing device reverses a piece of paper after it has been printed on the first side, making it easier to print on both sides of the paper.
Also, if your printer does not support duplex printing and you wish to print on both sides of a page, you must manually flip the paper over to complete the print.
Was this article helpful?