I recently moved across the United States to Los Angeles for work, and I've been having a bit of trouble adjusting to my new city. Don't get me wrong, I love what I do, and I'm really enjoying the city itself, but meeting new friends (outside of work) when you're an adult is not the easiest thing to accomplish.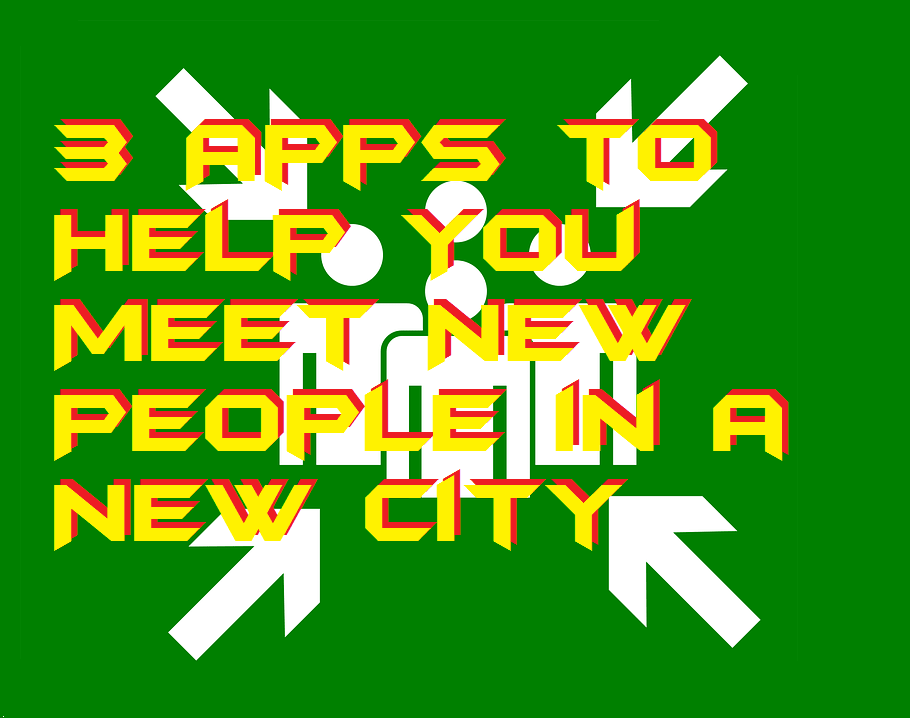 I was complaining about this to a friend of mine back home who suggested that I try using apps to meet up with people who have similar interests to me. I thought she was crazy. Everyone knows those kinds of apps are just for finding dates and hookups – right? Well, I was sure wrong. She even went out of her way to prove it by sending me a link to this website called AppGrooves that has a list of the top 10 apps for meeting people. They're apps for people who want to make platonic friendships in their area, and that's it; how cool is that?!
Best 10 Apps for Meeting New People
So, I started looking into a few of them, and I found three that I'm still going back to almost every day. I have made some cool friends that I'm able to go out with and explore my city. These apps, though I've only had them for a couple of months now, have changed my life, so I knew I needed to share them with all of you! 
---
Badoo – Rating: 4.3, Downloads: 100M
Okay, so I lied. Badoo is for dating, but it's also for making friends in a safe space where every single user has to go through a strict verification process before they can even use the app. This makes sure scammers, and catfishers can't exist in the community so you can rest assured that everyone you meet is a real person. Believe it or not, there are more than 400 million verified users, so there's always someone nearby to chat with. There are also videos you can view people's profiles to get a feel for their personality before you decide if you want to be friends or not.
As I said before, if this is your first time using Badoo, you will have to go through a verification process before you can start actively meeting people through the app. It can be a tad time consuming (because you have to wait for everything to be verified) but, in my opinion, it's worth it to avoid all those annoying scammers.
Pros: User verification, make friends and find dates, 400 million users, profile videos
Cons: Verification process may take a bit of time
Overall: As long as you don't mind waiting a bit to be verified, you will have an endless supply of potential new friends to chat with and get to know.
Read more: Top 10 Best Tinder Alternatives – 2018 Must Check
---
MeetMe – Rating: 4.2, Downloads: 50M
MeetMe is another great choice for making friends with people all over the world. You have the opportunity to meet not only new people near you but also people from the other side of the world – all in just a few taps. You can chat via text messages or live video chat if you want a more personal and engaging experience. And if you're going to meet people (regardless of where they are) who share your interests, you have to select your desired interest categories to find people to talk to quickly.
MeetMe does not block people from flirting or asking you out, so there is the potential that you will find people who want to make new friends and also people who want to meet a potential date. If this is something that turns you off, you may want to go with Patook which is a strictly-friendship app.
Pros: Meet people worldwide, text & video chat, search for people to talk to based on your interests
Cons: Some users may be searching for romance, not just friendship
Overall: Meet tons of people all over the world who share your interests, know that if you hit it off, they may ask you out
---
Patook – Rating: 4.0, Downloads: 100K
Patook has a strict no-flirting policy, so only users who are interested in platonic friendships are allowed to use it – perfect for making new friends. If a user does try to flirt, the system automatically blocks the message, and the user gets banned from the app. You can search for people who share your interests by using a point system that compares your profiles and lets you know how compatible you are. There's also a community discussion board for a variety of topics and jokes so you can meet people nearby who you enjoy talking with.
Be aware that sending too many messages in a row can be mistaken as "inappropriate behavior" or "flirting" by the system. Sure, this is annoying, but the system won't ban you unless you repeatedly violate community guidelines, so that's something to keep in mind.
Pros: Only chat with people who want to make friends, see user profiles that are similar to yours, chat with multiple people at once with discussion boards
Cons: The "no flirting" system is not perfect and may delete your messages if you send too many at once
Overall: While the no-flirting system isn't complete, you can chat with like-minded people who only want to make friends just like you.
Read more: Top 10 Best Tektek Alternatives 2018 – Create Unlimited Avatar
---
Conclusion
I am so, so happy that my friend went out of her way to send me that AppGrooves link because it led me to find these fantastic apps and, as a result, broadened my circle of friends. I now have people to go and do things with and, even better, I'm still meeting new people every day.
If you're struggling to meet new people or if you want to find people nearby who share your interests that you can do things with (like sports, outdoor activities, etc.) then you have to check these apps out.
Was this article helpful?