You can fix Xbox game took too long to start. Your Xbox will start game quickly and you can play without any error or delay. Even bigger size game will run faster on your Xbox.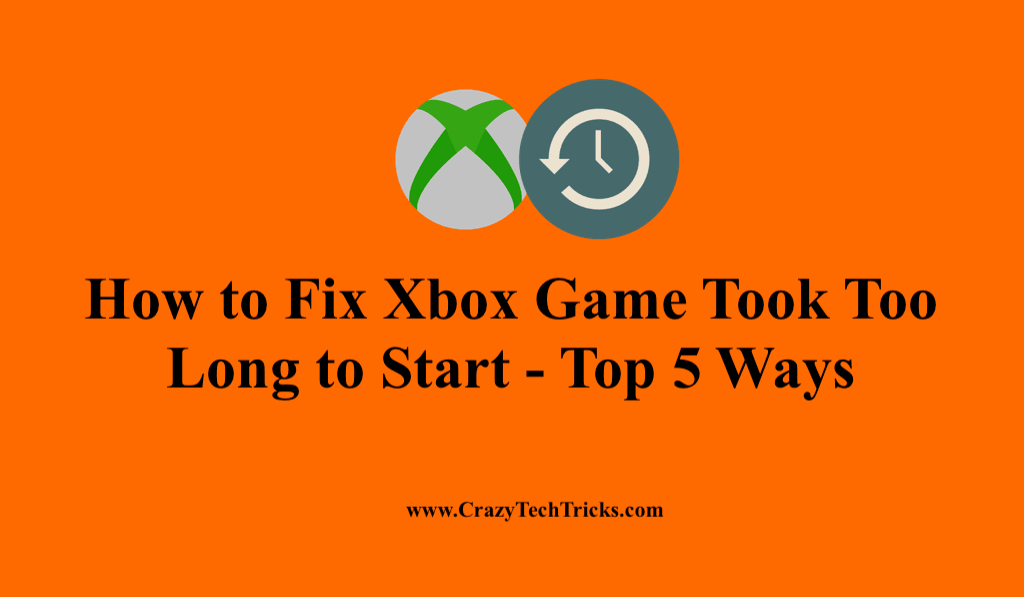 Xbox is a popular game console. It is widely admired by the gaming community worldwide as well as people who wish to have a pleasant time playing video games with friends and family at home. Its immense commendations are mainly because Xbox brings realistic game graphics providing you a unique experience playing the game.
However, it feels quite annoying when the whole excitement level of playing the video game breaks down due to too much loading time taken by the Xbox game. Here, we are going to discuss the ways to fix Xbox game took too long to start.
How to Fix Xbox Game Took Too Long to Start
You have probably come across the Xbox message "Took too long to start." This issue could usually happen if the temporary files in the Xbox get corrupted. You are required to take proper actions apart from just checking the Xbox Live Core Services status to encounter this error. You need to get rid of the corrupted data first. There are also several other methods to solve this issue. These include:
Clear Alternate MAC address
Clear Persistent Storage
Change the region settings
Stop Xbox to shut down the television
Disable the Instant-On feature
Read more: How to Fix Xbox Error Code 0x8027025A
Method 1. Clear Alternate MAC address
Sometimes, network configuration troubles the starting of the Xbox app due to which it takes a lot of time to start the game. To fix this issue, you are required to clear the Alternate MAC address.
Open Settings.
Select Network > Advanced Settings > Alternate MAC Address> Clear.
Your game console will get restarted after the Alternate MAC address is cleared.
Read more: How to Connect Bluetooth Headphones With Xbox Series X|S
Method 2. Clear Persistent Storage
The Xbox game could probably take a long time to start due to the presence of corrupted files in the Persistent storage. You need to clear the Persistent Storage to sort out this problem. To do so, open Settings > Disc & Blu-ray > Persistent Storage > Clear Persistent Storage option.
Read more: How to Sync Xbox One Controller to Xbox One
Method 3. Change the region settings
By making changes in the region settings, you can fix Xbox Game took too long to start. We would suggest you change the region to the USA on your game console to fix this issue smoothly.
Before heading into this method, make sure to note that you can change the region one time every three months. Secondly, you cannot do so in a suspended account and in a balance due account of your subscription to Xbox Live. Also, keep in mind that certain regions are deprived of some services. Lastly, you cannot move the Microsoft account balance once you change your region.
Get yourself signed in to your Xbox account.
Go to the Guide by scrolling left to the Home Screen.
Select Settings > All Settings > System > Language & location.
Choose the region as per your preference from the list.
Click on Restart now.
Read more: How to Get Game Sound Through Xbox One Chat Headset
Method 4. Stop Xbox to shut down the television
Xbox provides you the option to run your television live by working as multimedia. However, it can subsequently give rise to errors such as the long loading time of the Xbox app, etc. To fix these issues, you have to stop Xbox to shut down the cable box or satellite box of your television.
Head to Settings. Click on TV & OneGuide.
Select the desired devices which are going to be controlled with Xbox on and Xbox off commands.
You have to note down that this change will make you use the remote to operate your cable box or satellite box of your television.
Read more: How to Connect Wireless Headphones to Xbox One Controller
Method 5. Disable the Instant-On feature
The Instant-On feature puts the Xbox console in sleep mode. This allows you to start the Xbox quickly. This feature doesn't turn off the Xbox completely which states that it continues running in the background and draws some power. But, sometimes some errors could happen. The error message Took too long to start is one of them. To get this issue resolved, you need to disable the Instant-On mode.
Head to the Settings by pressing the Menu button.
Select Power and startup > Power Options.
Change to Energy-saving mode from Instant-On mode.
Opting for the energy-saving mode will completely turn off your Xbox console to conserve electricity which causes a bit of a slower starting of the Xbox. Once the issue gets fixed, you can use the Instant-On mode feature again.
Read more: How to Play Xbox 360 Games on Laptop
Conclusion
Now, there is no bound to your excitement level of playing the video game using Xbox console as we have highlighted the simple and safe steps to fix Xbox game took too long to start. If you still struggle with this problem, visit the Fix Xbox issues page to find a solution. If you found this reference helpful, do share it with the users who are desperately looking for easy and convenient ways to fix this error.
Was this article helpful?