Hello friends, Today I will share 10 best Tinder Alternatives. These are best dating apps for 2020. You can use these Tinder equivalent apps to enjoy several free features. All these Tinder Alternatives are free and have several other features at low or no cost. You can use these Tinder alternative on your both Android as well as iPhone. These are best rated and most downloaded apps on both Android and iOS.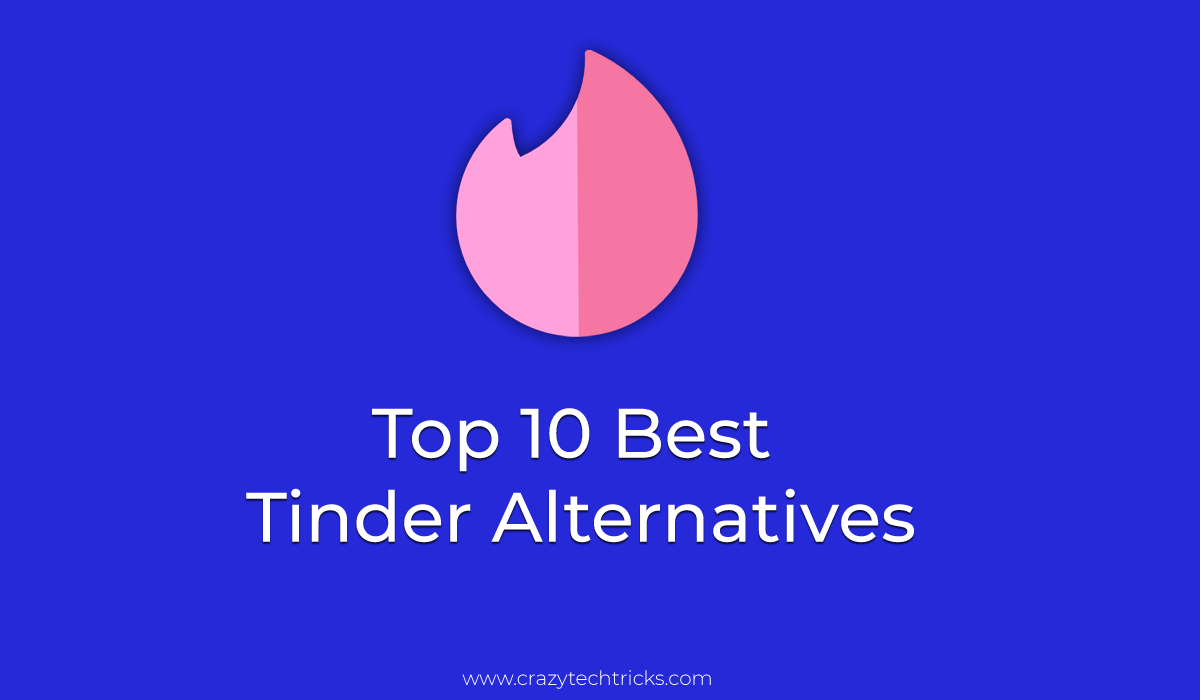 We will check out some exciting and fantastic Tinder alternatives. However, the best example to see that how technology can impact our life is Tinder app. After launching, it has boasted more than 50 million users worldwide. Of course, anyone can download and use Tinder app whether it is for Android or iOS device. According, to the research, Tinder has recorded over 1 billion swipe per day and 20 billion profile matched as of now. Saying that Tinder is a dating site will be the incomplete statement for it. Well, this was the about sections of Tinder. Now, we are going to check out some exciting Tinder alternatives.
Read more: Top 10 Best Free Boomerang Alternatives – Email Productivity Tools
Top 10 Best Tinder Alternatives – 2018 Must Check
I have collected top 10 best and interesting Tinder alternatives which you are going to check. Well, no doubt that Tinder is the best and fantastic Android and iOS app for dating or finding a perfect match for your life. But, sometimes we need to check out some alternatives to our favorites also. Thus, we will check out some best Tinder Alternatives in this article.
Moreover, the Tinder app has turned its all feature from free to paid. Though, you are not going to get the free version of this app. Hence, if this is the reason for your unhappiness, then you can go ahead for the Tinder Alternatives. Here are the top 10 best and fantastic Tinder alternatives. Let's check them out.
Happn
Happn is a location-based social search app that allows any user to like or dislike any profile of another user. Also, it allows both users to chat with each other if both users like each other like a dating site. Usually, this app was used as a Hookup app which was developed by HTW and Co. However, the Happn app is available for Android, iPhone and Windows users to use this free service. This app uses a feed based location facility from users phone. Happn app reaches up to 40 thousand daily users in the year 2014, and in 2016 it reaches up to 10 million users. Thus, it is the good competitor and good Tinder alternatives.
Read more: Top 10 Best Free Windows Magnifier Alternatives – Check Now
---
Hinge
The hinge is another dating site and is opposite to the Tinder app. The Hinge app changes the meaning of the dating website. Hinge wants to connect you with the friends of your friends and sets up the profile in front of them. When Tinder was busy in matching strangers, Hinge did it already. However, Hinge uses your Facebook profile to send you the suggestions of your friends of friends and others. The idea means that your friends will be friends of that person who has the same personality as like you are having. Though, you and others can easily be in a comfort zone. These features made the Hinge as the best and coolest Tinder alternatives.
Read more: Top 10 Best Free Alternatives to Paint on Windows PC/Laptop – Microsoft Paint Alternatives
---
Coffee Meets Bagel
Coffee Meets Bagel is a San Francisco online dating and social networking site. It was developed by three sisters that are Arum, Dawoon, and Soo Kang. It was launched on 17 April 2012. Firstly, it was launched in New York City after that it was launched in Boston and then in San Francisco. It works like that every noon men will receive up to 20 quality matches which are known as "Bagels." There the men will have the option to like and pass the matches. Then the service will put up an image in front of your selected matches. Every man will receive great curated suggestions once a day. So, don't you think this is an amazing Tinder alternatives?
Read more: Top 10 Best Hamachi Alternatives – 2018 Updated
---
Zoe
Zoe is a best online dating site for lesbian, bisexual and queer women. It wants to solve all the problems for women that all other sites are solving basically for men. Zoe focuses on meaningful relationships, not on just random dates. Once a user signs up on the Zoe, then the user has to perform the personality test to help the system in finding best matches. However, the matches will come up according to the match percentages. Where the most common things made and grew up the percentage level as well as match level. It is the best Tinder alternatives if we see the women's side.
Read more: Top 10 Best Fitbit Alternatives – Budget Fitness Trackers [2017]
---
Bumble
Bumble is another location-based online dating app with amazing facilities. It was launched in December 2014. It is available for Android and iOS devices to download and use. Receiving obscene messages are one of the primary reason why other online dating sites are not good enough as compare to Bumble. Bumble is almost similar to the Tinder app. There is only one difference between them which is that Bumble allows the women to start the conversation first. So, that it will reduce the tendency of sending and viewing abusive or irrelevant messages on these types of online dating sites. Yes, it is the best Tinder alternatives from the women's point of view.
Read more: Top 10 Best YouTube Alternatives
---
eHarmony
eHarmony is the first online dating website which uses the scientific approach in matching the high compatible singles. Where eHarmony proud of it that they are giving the first-ever service using this facility. They say that they have the compatibility matching system to match women and men by 29 dimensions of compatibility. This feature made a strong relationship and later on become a last long & fulfill relationship too. So, try out now the best Tinder Alternatives which is eHarmony it's free to use.
Read more: Hulu Plus vs Netflix – Which is best? Complete Comparison
---
Skout
Skout is amazing and one of the best Tinder alternatives. It is another location-based dating and social networking website as well as an application too. Anyone can use Skout features for free by downloading its app, which is available for Android and iOS devices. Well, it focuses on dating and friendship both. One can connect to the person who is near to the person and can date each other or make friends. As like Tinder, it also allows you to like or dislike the profile of a person. One you and your partner matched then you both can chat with each other. There is only one difference between Skout and Tinder that is focusing more valued relationship than an endless parade of date.
Read more: Google DNS vs OpenDNS vs Comodo DNS vs Norton DNS – Which is Best DNS Servers?
---
Truly Madly
Truly Madly is the online dating app just like Tinder and Happn. However, both the apps are available worldwide where Truly Madly is only available in India. If you want to get a new experience of online dating facility, then you must use Truly Madly. Truly Madly is basically made of Indian users and hosts one of the largest online dating website communities. Truly Madly uses the preferences of yours and it's own algorithm to provide you the best match. However, a user can also upload a video profile so that people can easily understand about that person. It is the best way to express yourself to several users and matches. So, if you belong from India, then it's one of the best Tinder it which you have got.
Read more: Top 20 Best Website To Learn PHP Online for Free – 2018
---
Luxy
Luxy is an online dating app which is only for the millionaire. If you are not a millionaire, then don't use it. Their services boost the profile of millionaire to get a perfect match for them. It is quite difficult to understand the functionality of the Luxy app. Also, because it is a millionaire online dating site so that it has its own perk. However, the customer support is awesome, shows your profile only to those people whom you want to see, anti-scam feature, and many more. If you are a millionaire then definitely the Luxy app is best for you as an online dating app.
Read more: TOP 10 Best Free Chromecast Streaming Apps for Android/iPhone – 2018
---
Grindr
Grindr is the online dating service as like Tinder. It was launched in the year 2009. Basically, Grindr is for gay, bi, trans types of personality. However, Grindr has grown up to the top as the world's most popular social networking app for gay, bi, trans, etc. types personality. Dating is very tuff where it's harder when you are a bisexual not straight. Thus, this is the solution that is called Grindr. Using Grindr they can find their matched personality on it. Previously there was no way to find a percent match for a gay or bisexual. But, Grindr is here so that it will help those people who are gay, bi, trans in finding the best and fully matched personality.
Read more: Top 10 Best Free Email Tracking Tool for Gmail, Bing and Yahoo 2018
---
Last Words on Top 10 Best Tinder Alternatives – 2018 Must Check
We have seen some of the best Tinder Alternatives. These were the top 10 Tinder alternatives which are best and fantastic to use. However, Tinder proved it that is is very good for most of the people. But, sometimes we have to look for the alternative of our favorites because of some reason. The big reason to look for the Tinder Alternatives is that Tinder has become a paid service where the majority need the free services. I have shared the best and the fantastic dating apps which you can use on your Android and iOS devices. What are you waiting for, go now? Wait, before going share this article with your friends too and let them know about these cool top 10 Tinder Alternatives.
Was this article helpful?