Hello friends, Today I will tell you a method on 10 best Tektek Alternatives. All these websites are like Tektek and you can get several Avatar online. Users can use these avatars on any website. I have share ten most trusted website to the realistic avatar.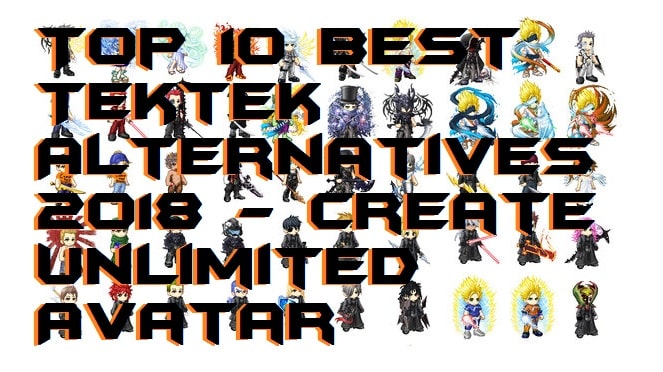 What is Tektek?
Tektek, just like a website builder, instead it is a tool that is used to create animes, cartoons or avatars by using Gaia avatar maker. It's been recognized as the best doll maker tool online. You can just visit their site and can create the avatar of your own "Dreams". The perk of using Tektek dream avatar maker is that you do not have to download anything. Still, most of the users on the internet are seeking for the best Tektek alternatives for this amazing tool.
What happened to Tektek
You might be thinking why people needed to switch from this best avatar builder? here is the answer, Tektek is no longer available on the internet, eventually we cannot use its facilities. The main reason behind the company going down was that they did not have copyrights for the site and the owners had not updated the sites which made the site very monotonous. Also, owners were more focused on the recolor.me, That's why we are today enlisting some best substitutes of Tektek that are best for creating my avatar.
Read more: Top 10 Best Sites Like Fingerhut – Buy Now Pay Later
Top 10 Best FREE Tektek Alternatives
These are the best Tektek alternatives or we can say sites like Tektek. You can use these websites to create avatar online. So, here are some top 10 best Tektek Alternatives that could be the best possible tools for creating anime characters.
DoppelMe
Cartoonify
Face Your Manga
Recolor.me
Hero Machine
Neopets
Doll Divine
Gaia Avatar Maker
Befunky
Portrait Illustration Maker
---
DoppelMe
No need to explain why did we put Dooplme on the top. This online tool works as the best Tektek replacement. DoopleMe provides the facility to make characters exactly like you and you can use them anywhere online whether it is Facebook, IM or even in the blog. There is no need to download any specific tool or any flash. From selecting your skin color to choosing gender, expression, hair, eyewear, tops, shoes of your avatar, you are given with the provision of creating the dynamic character along with a simple and easy interface and widely known as realistic avatar creator.
Read more: Top 10 Best Grammarly Alternatives for Windows & Mac 2018
Cartoonify
Cartoon yourself online by using this simple and impressive tool that creates a cartoon of your photo and turn yourself into a cartoon. Initially, you will have to select a gender. After this choose the shape of your face, eyes, nose, and ears or even skin tone of your character. If you are confused try a random selection that will automatically create a cartoon. Unlike other, you don't have to create an account just create a cartoon and download it without any further formalities.
Read more: Top 10 Best Sites Like Primewire – Primewire Alternatives [2018]
Face Your Manga
Face Your Manga is just another portrait illustration maker that helps you to create a high-resolution character of yourself alongside, you can also print it with the same resolution. In other words, you can cartoon yourself. what makes this tool unique is that the owners of the website have also created an Android app known as faceyourmanga android. Although iPhone users can also download the app which was not possible before, now it is. You will have to pay some bucks for creating a cartoon of yourself but it would be worth paying when you will be interacting with bitmoji of the avatar created by you.
Read more: Top 10 Best TeamViewer Alternatives – Remotely Use Windows PC/Laptop
Recolor.me
The owner did not give up after the failure of Tektek. He came up with a new idea of merging his former idea with new innovation. Which was released as recolor.me is just like Gaia online with a new feature of gaming or more likely a mini-game. The sliders provide you ease of creating your dream avatar and you can submit your character with your own artwork. Being a mini-game Recolor.me also lets you participate in avatar contests and you might get a chance to be one of those best seven contestants and get a prize pool based on the bits you earn while you play or post on the forms. Give a try to robot puzzle game in practice mode.
Read more: Top 10 Best Putlocker Alternatives – 2018
Hero Machine
Wanna see yourself in warrior mode then this is the appropriate tool you are looking for. Hero machine or hero builder lets you add each and every single detail of your sill to your character to make it as best and realistic as you want it to be. Hero machine app is also available on the internet. The software comes in four different versions out of which two work online while two are downloadable(paid). The paid versions give you full-width access to this superhero maker App. Easy interaction with the software lets you create your avatar in a few minutes.
Read more: Top 10 Best Tinder Alternatives – 2018 Must Check
Neopets
There is also an app for the kids who are interested in creating cartoon avatars. It could be described as Tektek for kids. Jellyneo provides a kiddish user interface to the kids for submitting their Neopets game avatars. The player can also take part in contests like abroad the coincidence event, snow roller, goparokko , and spooky food eating contest. After being victorious kids are gratified with points and they can proudly show-off them in the form of the website. Dyeworks is updated daily with the newest items. Users can buy these items using their points. Neopets avatars checklist lets you create an avatar using coding, you don't have to code anything, just copy the source code of your favorite character from neoboard preferences and paste it in Neopets avatars checklist page. Neopets premade fonts and Neopets font colors are also available on the website.
Read more: Top 10 Best Free Boomerang Alternatives – Email Productivity Tools
Doll Divine
Another Tektek alternative to creating anime is Doll divine avatar or Doll divine anime. If you want to give your imagination a look like characters in avatars then you need not visit any other site. The Doll divine princess maker allows you to create an amazing princess like Barbie or even a witch like hela. Apart from this you can also create dragons and harry potter characters. You can use up to 180 characters of dolls and can edit them based on your like. The unique thing about this alternative is that all the dresses are based on the ancient dresses like the princess of Thrones and Egyptian avatar.
Read more: Top 10 Best Free Windows Magnifier Alternatives – Check Now
Gaia Avatar Maker
Just like recolor.me Gaia avatar maker also lets its users customize their own avatar. Another feature that attracts users is that this Gaia online facilitates us to create cars, houses, aquarium or even towns. Gaia online lets you express your feelings in pictures and let the audience appreciate your artwork. Also, there are thousands of choices of wearable you can choose from. Playing multiplayer games you can hang out with your pen friends and have some fun with them. Auctions let us buy and sell new or old houses. Users can establish their own shops and can buy premium or gold items.
Read more: Top 10 Best Free Alternatives to Paint on Windows PC/Laptop – Microsoft Paint Alternatives
Befunky
Looks like a modern website, Befunky cartoon allows users to drop photos from google drive or from your computer. You can also edit your photos by using the various tools provided by the site along with impressive effects. Befunky collage is also available for creating collages with your photos. Special features will let you do more than just creating the cartoon from your photo. Must pay a visit to the site.
Read more: Top 10 Best Hamachi Alternatives – 2018 Updated
Portrait Illustration Maker
Also known as self-portrait maker or cartoon avatar maker. It is a simply best Tektek alternative to creating a portrait of yourself. You can use it regardless of personal or business use. If a portrait of your choice is not available then there is no need to worry, you can request for the character of your choice. Available in five different languages this online anime builder opens the door for people understanding different languages.
Read more: Top 10 Best YouTube Alternatives
---
Last Words on Tektek alternatives
All in all, we can say that there could be several Tektek alternatives on the internet. But we enlisted these because these sites were used by our team and were found very helpful. If you want to use a simple cartoon maker then better go for a portrait illustration maker. If you want to create a character online like a professional then choose any avatar creator among Recolor.me, DoopleMe and Befunky.
Trending: Top 10 Best Sites Like Fingerhut – Buy Now Pay Later
Was this article helpful?