Hello friends, Today I will tell you a method on how many profiles can you have on Netflix. Users can add more than five profiles or what. You can add who in your Netlfix account and any way to increase the profiles number in your account? Do read all about Netflix profile creation and profile limit.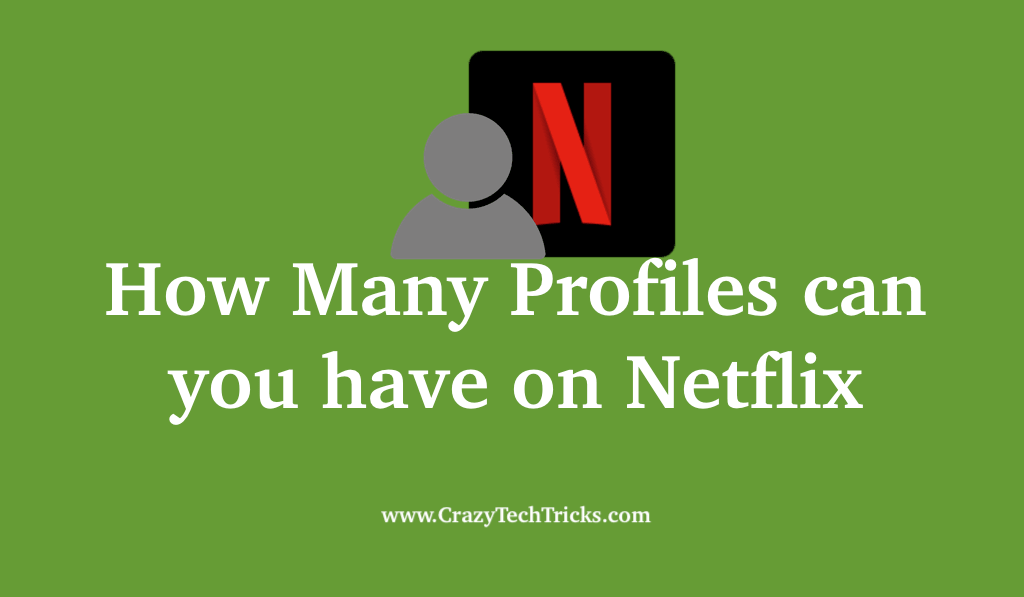 Netflix is the new television for every home. Who doesn't love Netflix? People are crazy about movies, series, and Netflix is the platform where you can watch your favorite series, movies, any time anywhere. But with television, we all had one common problem the person who holds the remote use to be the owner of television and rest all was forced to watch only what they want to watch.
Netflix was a revolution that changes the concept of watching television. But, we still wonder how many profiles can you have on Netflix? Can we all have our account and watch different series at one time on different screens? We will talk about all in this article.
Read more: How to Remove Continue Watching from Netflix
---
How to create Netflix account
You can download Netflix on your android or iOS devices as this is available on both the platforms. To know how many profiles can you have on Netflix first, you need to create your account. Netflix offers free trails to its new users where you can stream unlimited content available on Netflix. However, you will be charged and after 30 days once your free subscription is over. Now let's see how you can create the account on Netflix.
Download the Netflix app on your Android or iOS devices via chrome from your mobile, PC, or tablet.
Once the app is downloaded, open the app and tap on sign up.
Tap on plan option, and it will show you the plan details available on Netflix.  Read all the plan details before making the election.  You can always upgrade or downgrade your plan anytime. Once you understand the plan details, you need to select the plan of your choice and tap on continue.
Now enter your email address and password. If you are a new user you need to set a new password and tap on continue.
Now, you will be directed to the payment page. Netflix offers all kind of online payment services. You can make payment through your cards, wallets and UPI. Choose the payment method of you choice and all the methods are secured.
Now, tap on the continue, and you will be directed to another page tap on membership button. If you are first time user your free trial will start.
You can cancel your free trails or plans anytime by tapping on cancel membership tab.
Must Read: When Does The Office leave Netflix
---
Plans available on Netflix
We have seen how we can create an account. Now let's talk about the Netflix plans in detail. Netflix offers three different methods to its subscribers as per their requirements, and all plans have different features for its users. Now, how many profiles can you have on Netflix and what will be the cost is another question? Netflix offers Basic, Standard and Premium plans to its members. The basic plan costs $8.99 per month and it has very limited features.
The basic plan is good for a single account holder as it can stream on one screen only at a time. Also, it has only  SD resolution available, which is good if you are using on a single screen. Now, the second plan is the Standard plan costs $12.99 per month. In the Standard Plan, you can watch two screens at one time in HD quality. The third plan is the Premium plan which costs $15.99 per month. In this plan, you can watch four screenings at one time all in HD quality.
Read more: How to Download Movies from Netflix
---
How many profiles can you have on Netflix
Now, we have already talked about the plans offered by Netflix, let's find out the answer for how many profiles can you have no Netflix? So, the answer is Netflix allows up to five profile maximum for one account. If you have more than 5 family members in your house, then you have to create two separate accounts and can add other family members in the second account. You need to understand up to 5 members is including the holder account too.
You can add any member or delete and member anytime from the account. In order to add to five members you must have the premium account else you won't be able to add the members. You can change the plan anytime through manage profile option.
Read more: How to Fix Netflix Not Working
---
Conclusion
You can add up to 5 people only and if you try to be clever in doing some other stuff. Then you can be in legal trouble. So make sure you follow all legal processes. One more thing, once the account is created it is counted as first account. Well, even five members are enough to add in your Netflix account and if you have more members, then you can use someone else account, which has some empty spots left or buy new Netflix subscriptions. So hope you all got the answer on how many profiles you can have on Netflix. And if someone says you can add more than 5 in one account, then its a lie.
Was this article helpful?