You can add bots to a discord server without any coding. I will share three different method and you don't have to write a single line of code and can create unlimited bots to a discord.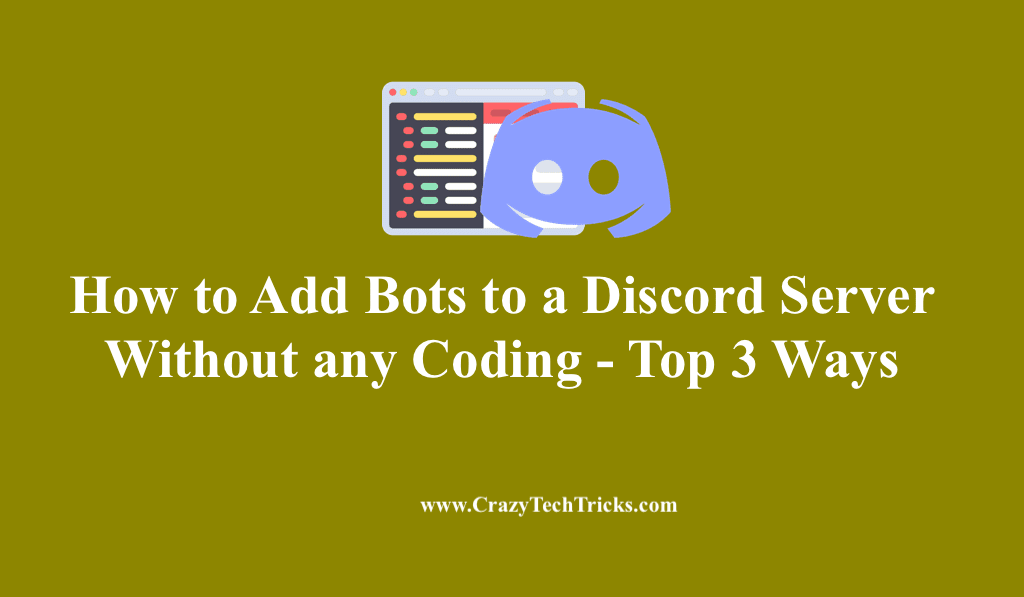 Discord is one of the fun platforms to hang out with friends over the internet. Though it was initially developed for the gamer community, it has been now admired by all kinds of users to have a good time on Discord due to its consistent up-gradation in its features. Discord becomes much more engaging with the help of bots.
Bots automatize almost about every task on the Discord server from welcoming a new user to playing music, adding effects for amazing content, etc. Talking about some more advantages of Discord bots, it can automatically reply to the users in the given command. Bots can even control any type of spam. Here, we are going to discuss the ways to add bots to a Discord server without any coding expertise.
Read more: How to Use a Voice Changer on Discord
How to Add Bots to a Discord Server Without any Coding
Bots are basically computer programs that can be created with coding skills. Bots run on programming languages like python and some algorithms. However, due to the immense popularity of Discord worldwide, there are many free tools available to add bots to your Discord without any coding knowledge.
Bot that already exists
BotGhost
Zapier
Method 1. Using a bot that already exists
There are many bot websites such as ChatBotsLife, Carbonitex, Bots On Discord, etc. You can find bots as per your preference for your Discord server from any of the desired websites.
Go to the Login button which is located at the top right side of the screen to use the Discord account.
Ensure that you are signed in to the administrator account on that bot website you choose.
Search the required bot in search bar.
Click on the Add to server.
Select your desired server to add the new bot
Click Continue > Authorize button
Now, your bot is ready to execute the commands of your Discord server.
Read more: How to Use Spoiler Tags on Discord
Method 2. BotGhost
BotGhost brings the option to create and add an existing bot to your Discord server without prior coding knowledge. It comes with simple visual commands and gets configured within a click.
In the upper menu, click on Bots.
Select the bot as per your choice from the list.
Click on the Invite to Server button.
Select your desired server and click
Your new bot is added to your Discord server.
Read more: How to Change your Playing Status on Discord
Method 3. Zapier
Sometimes you are interested to enhance the experience of your community members using bots, but hustle a bit to add bots to a Discord server due to less knowledge of coding. In that case, you can opt for Zapier. Zapier gets connected with multiple apps on Discord to add bots that can grab information from the web. Let us dive into an example of using Zapier to add bots to a Discord server without any coding.
Consider you want to share a message to your community or channel about rain. Then, create a zap and select Weather by Zapier under Choose a Trigger App
Two options will appear – Will It Rain Today? and Today's Forecast. Go for Will It Rain Today as the trigger and hit Save + Continue.
Enter the longitude and latitude and also mention whether to use Celsius or Fahrenheit.
Click Continue.
Select Discord as the Action App.
Click Send Channel Message > Save + Continue.
Select your Discord account and the required server to add the new bot.
Make the necessary choices as followed next.
Click Continue > Send Test to Discord.
Finally, the bot is set up on the Discord server.
Read more: How To Add Groovy To Discord
Conclusion
Discord and bots go hand in hand. Bots enhance your channel or community and ensure users have a great time hanging out there. Discord admins find it troublesome to customize their servers using bots, especially when they don't have much knowledge of coding.
We have highlighted the straightforward steps to add bots to a Discord server without any coding knowledge. Now, you can frame out your server accordingly and make it the best fun and chill place for you and your friends.
Was this article helpful?