Users can use a voice changer on Discord and change your voice to anything. I will share 4 best free ways to use a voice changer. I will also guide you on the installation of Voice mod, and you can use that too.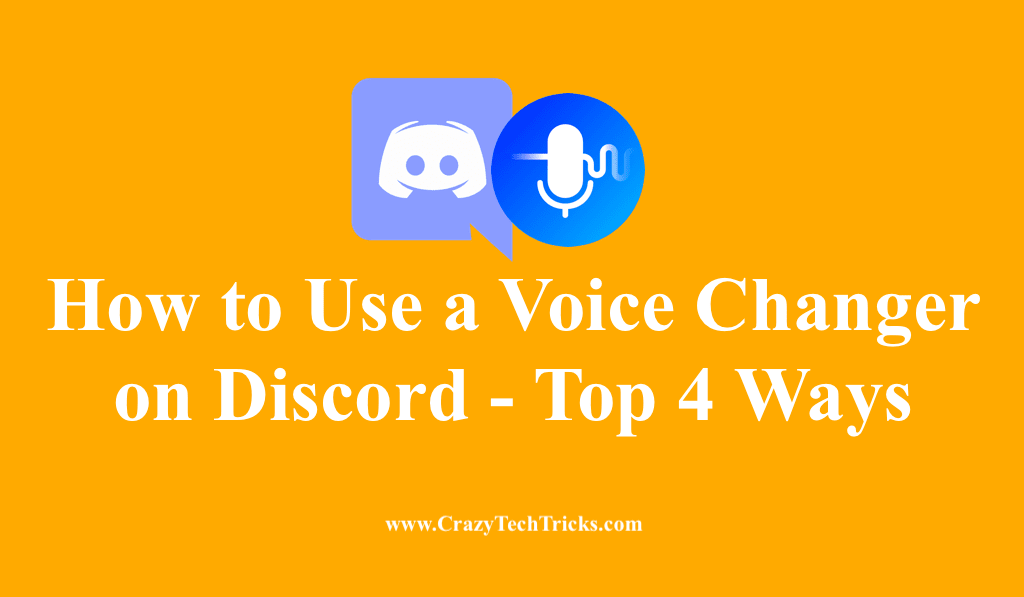 Discord is a delightful place to hang out with communities worldwide. Discord brings countless stunning features such as a voice changer option, adding music, playing video, etc., to engage the members of your community and ensure they have a pleasant time hanging out here. Here, we will discuss the ways to use a voice changer on Discord.
With the introduction to it, Discord has put its worth among the content creators in particular. Creators often use a voice changer on Discord for entertainment purposes, like to sing using the autotune effects, make people laugh with the amusing voice effects, and lots more.
Modding discord may seem to be an arduous task. However, adding a voice changer to your voice communication can be easier. You simply need to download a program named "Voice mod." After installation of this program, you just have to set it up and use it. Though Voice mod is free to use, it has some features that are paid to use. Let us see how to install this program.
Installation of Voice Mod
Voice modification is done in Voice mod. Go to the official website to download it. Start with clicking on the Get Voice mod here button. Once you click this button, you will be asked to log in through your Google or Twitter account. You also may log in through your Discord account. As soon as you log in, the .exe extension gets downloaded to the Downloads folder.
You can open the file location to find it. It will open to install the wizard. Install the wizard through navigating. Once the installation is done you will be asked to start the computer or you can restart it manually later. When you restart the computer, you will be able to open the Voice mod, and its shortcut is created to open it.
Read more: How to Change your Number when you Call Someone
How To Use Voice Mod
The Voice mod icon is visible either on the desktop or taskbar. Click on it to open the program. You can also click on Windows (bottom left corner) and search it by typing on the search. The program should be there. To begin, double-click on the icon. Once the program is opened, you will need to select the input and output that it will be using. Go on and explore it.
You will get new filters each day. You can also go for the pro version to unlock all the filters. However, its basic version is also pretty good. You can share it on social media to avail a few more filters.
Read more: How to Add Audio to PowerPoint for all Slides
How to Use a Voice Changer on Discord
To use a voice changer on Discord, follow these easy steps after installing the Voicemod program.
Open the discord and locate your setting to set Voicemod with Discord. When you click on it, you will be required to locate Voice & Video.
Change the input to the Voicemod program. It will say Microphone(Voicemod Virtual Audio).
Now you will be able to change the voice using this program. Thus, the audio alteration can be done. Each day, you will only have 7 free voice options. If you go for the pro version, you will have more options (more than 80).
Apart from the Voicemod program, you can opt for other voice changer programs to use a voice changer on Discord.
Read more: How to Use Alexa Voice Service
AV Voice Changer Software
AV Voice Changer Software is helpful to modify a voice in real-time for Discord. It can also be used to record your distorted voice and edit it to make it natural. The software allows you to modify your voice in every possible way. For example, you can alter your voice into modified into feminine, masculine, robotic, deeper pitch, higher pitch, etc. This software is very compatible to use. The drawback regarding this software is that it is a paid software with high subscriptions.
Clown Fish
Clown Fish is a voice changer program made for Windows. While having a voice conversation on Discord, you can use it to change your voice. This program is compatible with different platforms like Skype, Google Chat, and many more. Though Voicemod provides more effects than Clown Fish, the audio effects that Clown Fish brings are more stunning. These audio effects include robots, Male, females, Baby and many more. However, this program is pretty much old-fashioned and somehow fails to provide a unique experience.
Read more: How to Delete Voice Recordings from Google Home
Morphvox
Morphvox is one of the best voice changers for Discord. You can change voice into man, woman, baby, robot, and many more. It comes with only two choices and is supported by ads which is a drawback. It is not easy to set up with Discord as compared to others. You can use it only for better sound quality.
Voxal Voice Changer
Another good voice changer is Voxal Voice Changer. Tons of voice-changing features are available in this app with a library of audio effects that includes the feminine, masculine, robotic, and many more. Vox Voice Changers allows you to record voice in real-time. Other than Discord, it also works with Skype, Google chat, etc. The con of this app is that it works only on Windows and Web.
Read more: What is Google Assistant Snapshot Feature
Conclusion
If you are hanging out with your friends or community members on Discord, explore the voice changer feature once. It is very useful and fun at the same time. It can also be used for creating YouTube videos, comedy videos for different platforms, and many more. By following the above process, you can use a voice changer on Discord with ease. Voice Changer is a fun tool for each kind of person.
Was this article helpful?