You can find out who made a Fake Facebook account and even report their profile. I have shared 10 tips to examine anyone's profile on Facebook and you will know whether its fake or duplicate Facebook ID of someone.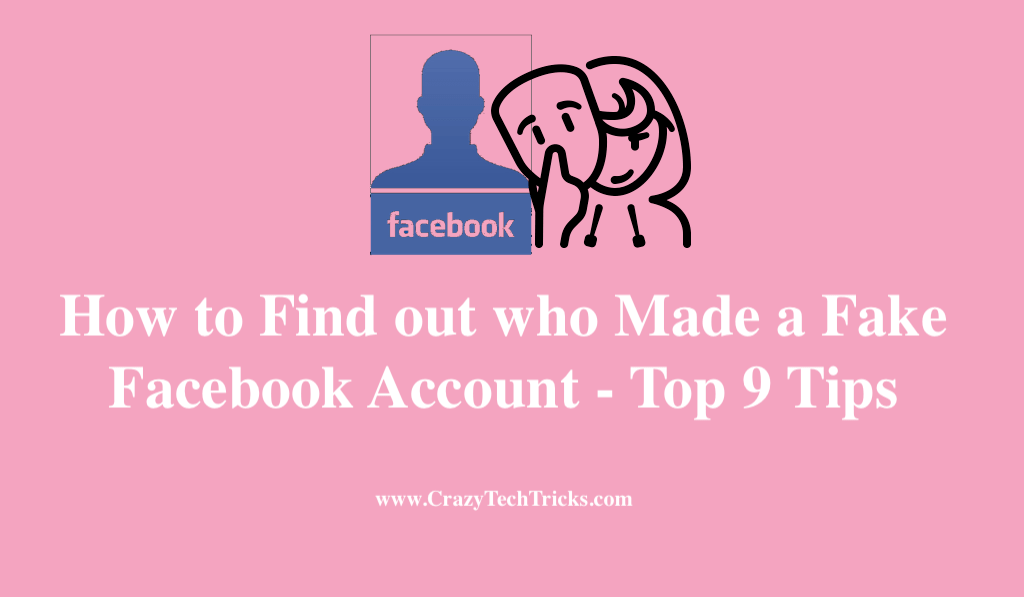 As one of the oldest and most well-known social networking platforms, Facebook offers a wide variety of information. You may be visiting this site primarily to share humorous quotes, jokes, and fun stories with your colleagues. Nowadays, Websites have been used to continue on the long-established offline practice of bullying from the dawn of the Internet era.
An anonymous Facebook page publisher may give defamatory details about your business, eroding its profitability. Additionally, they may also create your fake Facebook account.
Read more: How to Turn Off Active Status on Facebook on Android
Often, when someone else's name is used to create a fake social media account, the account is used to humiliate the person responsible for setting it up or post hurtful comments about the person and their friends. It can be difficult for the person who has been hurt even to locate the account, much less get it removed or bring the perpetrator to justice.
By hiding their profiles from search engines and establishing phony profiles, bullies can use Facebook's privacy settings to hide from you until they contact you.
Read more: What Does ISO Mean On Facebook
How to Find out who Made a Fake Facebook Account
If you're looking for information on how to determine who created a bogus Facebook profile, or how to find out who made a fake Facebook account,  you've come to the perfect place on the site. Although you won't be able to find out accurately, we will provide you with suggestions and tactics on how to find out who made a fake Facebook account. There are tips which you can do regarding this are as follows.
At the absolute least, it can be entertaining but, you may discover that your prospective "friend" is in fact a piece of bad news. Do some investigation. 
Pay close attention to the profile, check their recent posts.
Profile Picture of a person not any actor. Even profile without picture can be fake.
Check to see whether their name comes up when you search for them on Facebook. If the name is really popular, this won't be of much value, but if it's rare or unique, it could yield intriguing results.
Take a look at their circle of friends list. Having no local friends proves that you are not dealing with a real person, but with a fictitious account.
There's a simple solution to the problem of a bad feeling about someone: refuse to be their friend, and completely isolate yourself from them. If found suspicious block them.
Do check their Intro, what they have written is it copied paste.
Make sure to check their About Info. Overview > Work Education > Places Lived > etc.
Look for and note any irregularities you come across.
Watch out for unwavering claims of love and adoration.
Read more: How to Reduce Facebook Data Usage on Android
How to Report a Fake Facebook Account
If you find any Fake Facebook account and want to report it. Then follow the steps to report any suspicious account. Faceebok will take action against any fake account.
Visit the fake account's profile.

In addition, you can ask a friend who has access to the profile to send you the link if you cannot find it.

Click on the verticle dot there on the person's profile. If you look underneath the person's profile photo, you'll notice it next to the "Message" icon.
To file a report, select Report.
Click on the "Report this profile" button.
Now, click on the reason this is a fake id.
Select Submit to Facebook for evaluation from the drop-down menu.
That's it, you're finished with ID reporting.
Read more: How to Hide Your Facebook Page Temporarily
Conclusion
In the end, though, we conclude that it is impossible to determine whether or not a profile is phony 100 percent of the time. If you are a social media influencer or have a large network of influencers, you may also want to look for any duplicate accounts. Somebody could be using an account with your name, image, or other identifying information without you knowing about it.
The lack of authentication details from Facebook or the lack of an authentication mechanism is the reason behind this problem. Consequently, you can conclude that there is no way to determine whether you are dealing with a false or genuine profile.
Was this article helpful?