Users can use spoilers tags on Discord by using these 4 methods. You can add any format to your message and reply to anyone or post it directly. When a user clicks on your spoiler tags, only then it will be visible.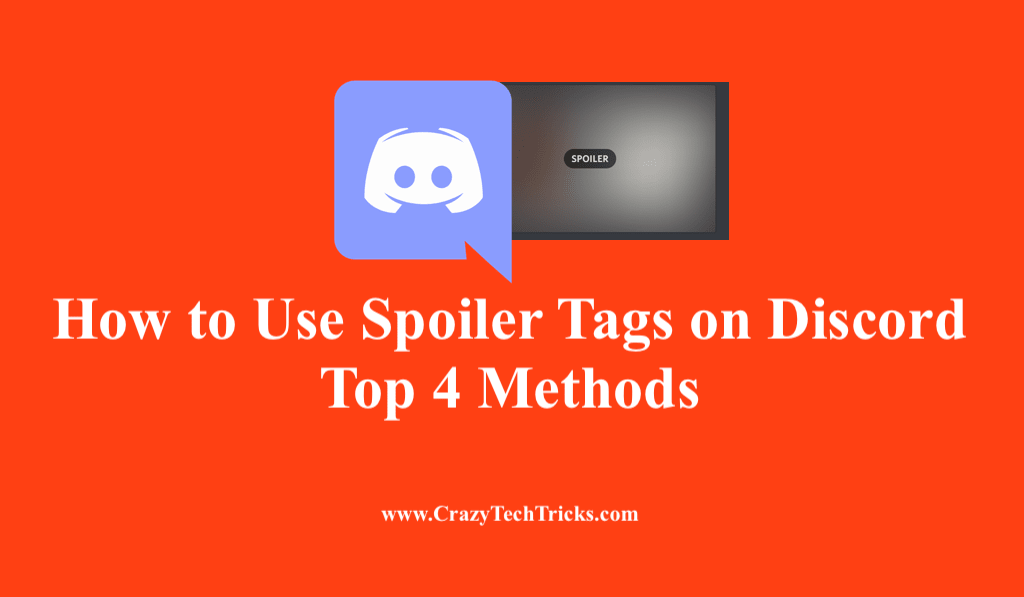 Discord is one of the fun places to hang out with friends over the Internet. It brings a lot of features to enhance the messages by adding emojis, gifs, and images. One unique feature that Discord offers is Spoiler tags. Let us dive into it.
Spoiler tags are the best way to add formatting to your message. You can also include extra formatting options for your text message.  Once this tag is set up, other users can know about it by the grey or box over the content. Here, we are going to discuss about the ways to use Spoiler tags on Discord.
How to Use Spoiler Tags on Discord
To apply formatting to your Discord messages, spoiler tags are the ones you should opt for. You can hide your messages from other users by using spoiler tags on Discord. There are many easy and convenient methods to use spoiler tags on Discord.
Type "/spoiler"
Mark as Spoiler
Using Markdown
Hiding Spoilers on Discord Mobile
Read more: How to Change your Playing Status on Discord
Method 1. Type "/spoiler"
To use spoiler tags on Discord, you have to type "/spoiler" at the beginning of your text message. This will hide your message from the other user until you reveal it by clicking on it.
Read more: How To Add Groovy To Discord
Method 2. Mark as Spoiler
To add spoiler tags on Discord is very much convenient using the Mark as Spoiler option. Here, two vertical pipes are appeared at the beginning and end of your content after highlighting it as a spoiler, making it hide for other users until you reveal it by clicking on it. It includes images, files, and other attachments marked as spoiler tags on the Discord server. This option generally runs on the desktop version of Discord.
Enter the file that is to be marked as a spoiler in the Discord server chat.
Click on the Eye icon which is located next to the chat bar.
Review your file and once reviewed done, select Mark as Spoiler option before posting it.
Tap on the upload option to post it.
Method 3. Using Markdown
Markdown is helpful to use spoiler tags on Discord. It puts two bars on both sides surrounding your required content, making that particular message hidden from other Discord users. When the phrase is concluded between these two bars, other users can have access to it by clicking on it to expand and read its content.
First you need to type your phrase out.
Put two vertical bars at the beginning and end of the required phrase by using the keyboard command Shift + Back Slash.
The required content is hidden with a spoiler tag by these vertical bars.
Read more: How to Use a Voice Changer on Discord
Method 4. Hiding Spoilers on Discord Mobile
You can achieve the spoiler tags on Discord mobile using the two vertical bars. These are included on either side of your required content. These bars are present on your Google Keyword and Apple Keyword, which can be found by double-clicking on the Symbols icon. If you are using other versions of your Keyboard, you can either dig a bit to find it or simply type these two vertical bars surrounding your message.
How to remove Spoiler Tags in Discord?
If you are not in favor to continue further with Spoiler tags in your Discord, you can choose to turn off it. To do so, head to the User Setting > Text and Images and select the necessary option as per your preference. There are three options available-
On click: This option allows your Discord members to see the spoilers by clicking on it.
On Servers I Moderate: This option allows you to have control of spoiler tags present in the servers managed by you.
Always: This option states no presence of any spoiler tags.
Read more: How to Enable Night Mode in Snapchat
Conclusion
Now, you can add extra formatting to your messages with the help of spoiler tags. You can mark the entire phrase or a part of it as a spoiler using spoiler tags. We have highlighted the straightforward ways to use it on Discord. People who wish to see the content marked as a spoiler by clicking on it or can pass through it without clicking on it if not interested. If you are new to Discord, then this reference will surely help you out. 
Was this article helpful?