You can play background music on Zoom meeting. You can even add any music or any of your favorite song as a background music. Add any music using your PC or Smartphone.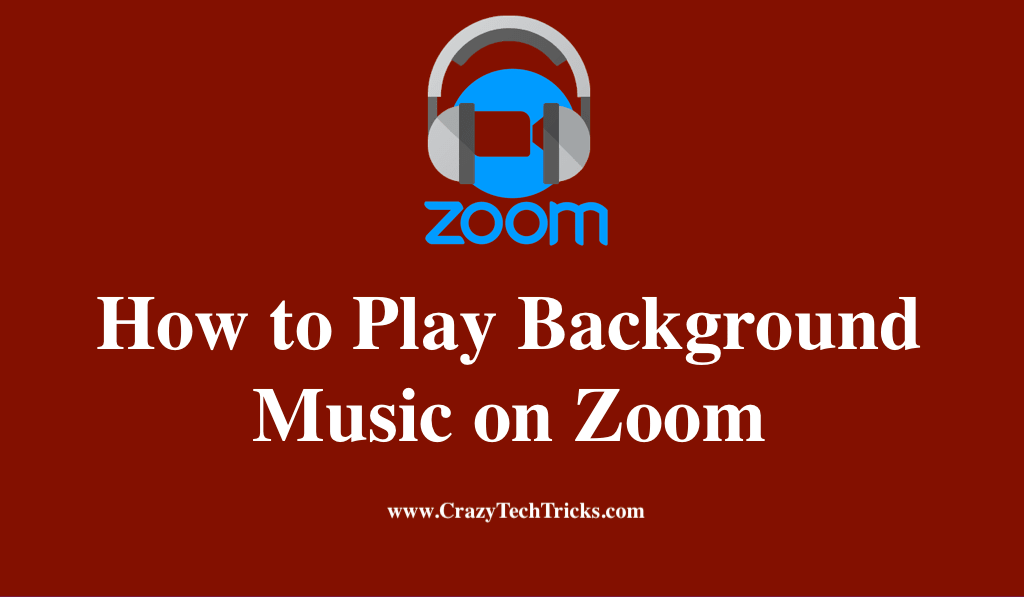 Zoom, which started as a video conferencing tool for businesses, has already made its way into practically every industry. As a result, the original concept of Zoom has had to be modified to suit the needs of a variety of users, including corporations, educational institutions, and individuals.
However, the process of including music in your Zoom sessions is simple and enjoyable to do. If you want to play music for your meetings, you can do so anywhere on your computer or online.
Read more: How to Make Campfire in Minecraft
How to Play Background Music on Zoom
Music plays a major role in effectively enhancing virtual fitness classes, gaming sessions, and other types of virtual meetings. Let's not waste any more time, so let's get started.
Play Background Music on Zoom
You will have poor sound quality even if you just play something and hope that your microphone picks it up. Alternatively, you can share high-quality audio with Zoom without revealing your screen. Here's how to locate background music on zoom as well as some instructions on how to use it.
Open your zoom app on your Desktop.
It's easy to share your screen by clicking over a video feed and clicking the "Share screen" option at the bottom.
Go to the 'Advanced' tab, then click the 'Music or computer sound only' button in the pop-up window that appears.
Now, when you return to your video call and choose "Share," you will see a green indicator bar saying that you are sharing your computer's audio. The "Stop sharing" button on the bar will allow you to stop sharing audio at any time.
On your PC, use any music streaming service or app to play background music on zoom.
Sharing a Audio via a Phone during a meeting
If a person joins a meeting from a computer and a phone, they will need their Meeting ID and Participant ID to connect the devices.
Using the Share Computer Sound option on their computer, the user can stream the audio to their phone and computer simultaneously.
The easiest way to stop sending audio is to select Stop Share at the top of your meeting screen or to muffle the speaker on your phone or PC.
Read more: How to Zoom on Apple Watch
Strategies to Ensure that your Musical Session goes smoothly:
Make sure your musical session goes smoothly by following these tips:
Use headphones: You can hear what you're playing through your microphone. Zoom does a decent job of screening it out, although some individuals may notice a strange echo when they use it. To avoid this, you can simply put on headphones.
Sound levels should be double-checked: People may have difficulty hearing the music or communicating with each other because of the background noise. Since hosts can't detect if this is happening, be proactive and ask another person on the line if they can also hear the music. You can fine-tune the volume in your music app or on your computer's system-level until you're happy with it.
Trail session: It may be necessary to install a special audio driver for the first time you have shared audio. Make sure all the drivers are in a test session before a call so you won't have to deal with them during the call
Read more: How to Zoom In on Minecraft
Tips to Play Background Music on Zoom
Several Zoom settings can be adjusted on your computer to enhance the quality of your audio. Depending on the way you play your music, you can choose either stereo or mono. The two ways are:
To do this, select "Stereo" from the drop-down menu next to "Computer Audio" on the "Advanced" tab. Your audio line will now be in stereo mode instead of mono.
Another way to increase music quality is by reducing background noise. Using Zoom, go to the profile menu > Settings > Audio and turn the volume down. Select "Low" in the "Suppress Background Noise" column.
Read more: How to Schedule a Zoom Meeting
Conclusion
Due to its mobile and web clients' inability to support audio sharing during meetings, Zoom cannot support audio sharing. Currently, Zoom's desktop software is the only place where you can use this feature. We hope this post helped you with a better understanding of how to play background music on zoom.
Was this article helpful?