You can remove your Card from DorrDash easily by following this method. Users can remove any type of debit or credit card from their DoorDash account.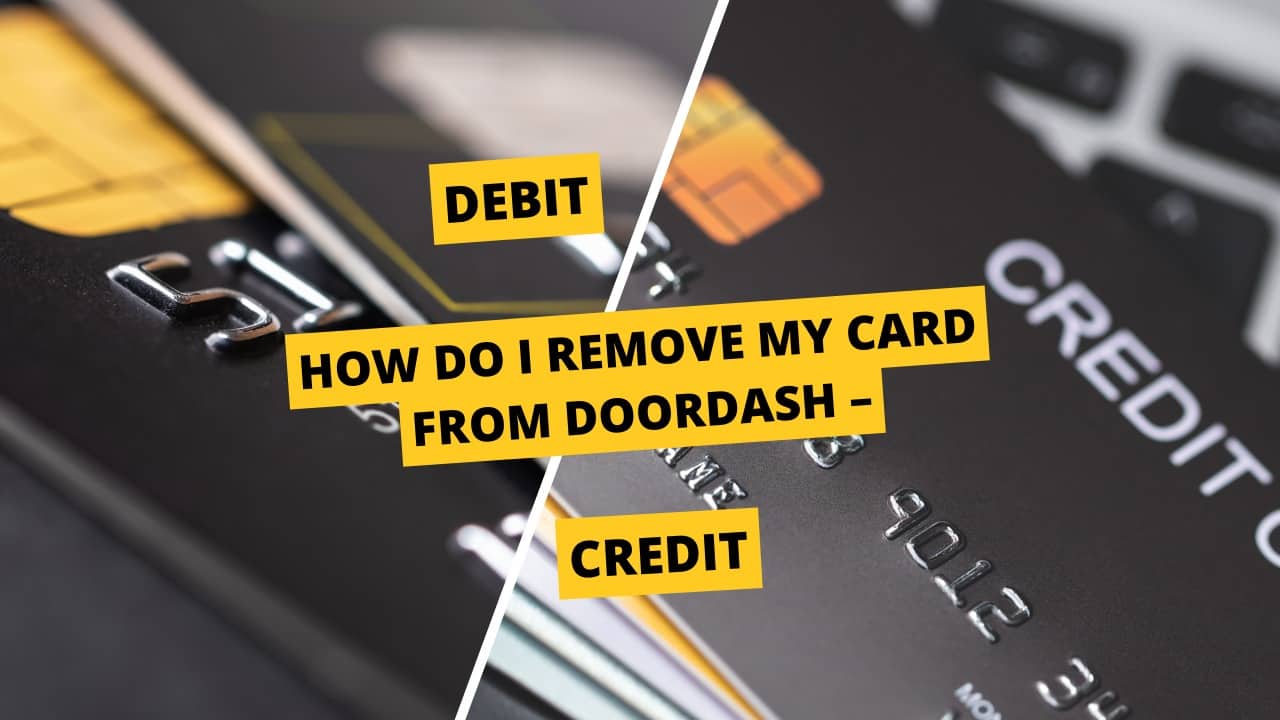 There may be chances that you are changing your phone and want to delete the payment details from it. The chances could also be that you wish to discontinue the use of the app due to some reasons.
At this point, you will think how do I remove my card from the DoorDash app? In such cases, you do have the option to remove your payment details from the app. To understand the process you need to go through the complete details. Let's go!
Read more: Whats is CVV Number on Credit Card
How do I remove my card from DoorDash?
Dear user, to remove your card (Debit/Credit) details from the app make sure you have the application already on your phone. The action to the question "How do I remove my card from Doordash" cannot be taken if you do not have access to your account. In case the app isn't there then kindly download the same and get access. You can also browse online through the company's website. Once it is set up, follow the below steps.
Open your phone and click on the DoorDash app or website link.
Click on the bar "Log in."
On signing into the app you will find various options. On the right down side corner, you will find the option of "Account."
Click on "Account" to find the other options.
After clicking on "Account" you will find the "Payment option." Click on it.
Once you click on the "Payment option" you will find all the payment cards you have added to the DoorDash account.
Swipe left on the card which you wish to remove.
On swiping left you will get the option to "Delete."
 Click on "Delete" and confirm your consent.
Read more: How to Remove Credit Card From iTunes
Tadaaa! you are done with deleting your card details!
Dear Friends, delete your payment details from the account before you hand in the phone to someone. Removing your account details from the phone before you hand them to someone is a crucial step. This is because the person having your account on the phone can access your personal details. To avoid this, deleting the account from the device becomes necessary.
Let's learn how you can delete your DoorDash account from the device.
Delete the DoorDash account from the device
If you've chosen to stop using the DoorDash meal delivery service or simply wish to delete your account from your device, deleting your DoorDash account is a simple process. This brief guide will lead you through the procedures required to remove your DoorDash account from your device permanently. By following these steps, you can be certain that all of your personal information and data related to your DoorDash account are effectively erased.
Click on the DoorDash app on your device.
Log in to your DoorDash account.
Click on "Account."
In the "Account" tab you will see the "Manage Account." Click on it.
Under the "Manage Account" tab, in the last, you will see "Delete Account."
Click on "Delete Account." When you click on this they will ask you to confirm the reason for deletion.
Confirm your deletion and click on "OK."
While you confirm to delete your account the terms and conditions will be mentioned. It will state that the gifts and voucher cards won from your account can no longer be accessed after deleting the account. This means that once you delete your account, you no longer can use the discount coupon or a gift card that was given to you as a user. All the vouchers and cards will go in vain.
Read more: How to Create Apple ID Without Credit Card
Why won't DoorDash allow you to delete your card?
If you are having trouble getting your card off the DoorDash platform, you might be thinking why this option is not more easily accessible. DoorDash may prevent you from removing your card for a variety of reasons.
In this piece, we will explore potential reasons for this issue and provide troubleshooting tips to help you overcome any obstacles. By understanding the possible causes and implementing the suggested solutions, you can navigate through the card removal process on DoorDash more effectively.
Active or pending orders: In many cases, DoorDash won't let you delete your card if there are any pending or ongoing orders connected to that specific payment method. If you have a current order or any pending charges, you won't be able to delete the card until those transactions are finished or cancelled as DoorDash needs an active payment method to handle orders. So, before attempting to delete your card, be sure there are no pending orders or charges.
Account verification issues: DoorDash can also refuse to let you remove your card if your account is being verified or if there are still open issues with your account. In order to completely verify your account or address any lingering concerns, DoorDash may limit some account management features. It is advised to contact DoorDash customer service in these circumstances for advice. They may provide you with information on the status of your account and walk you through the required procedures to fix any verification or account-related problems.
App updates or technical issues: DoorDash's platform is constantly changing, therefore there can occasionally be technical glitches or transient problems that block card removal. It's conceivable that the removal process is being hampered by a recent app update or a technical issue. Make sure the DoorDash app is installed on your smartphone with the most recent update before beginning to troubleshoot the issue. Try signing out of your account, emptying the app's cache, then logging back in if the problem continues. You can get more help from DoorDash customer service if the issue continues.
Various payment options: If you have numerous payment methods saved in your DoorDash account, the platform may demand that you always have at least one active payment method. This guarantees that you have a valid payment method for future orders. If you wish to delete a card, make sure you have another payment method selected as the primary payment option. You should be able to delete the desired card from your account once you have a legitimate substitute in place.
Contacting DoorDash customer support: When all other possible solutions have been tried and you are still unable to delete your card from DoorDash, it is advised that you get in touch with DoorDash customer care immediately. They have access to your account data and can offer specialized help to remedy the problem. Contact DoorDash customer service by using their website, app, or any other official means made available by the platform. To make the situation clearer, describe the issue you're having and include pertinent facts. They will walk you through the process or deal with any particular account-related concerns that could be stopping you from cancelling your card.
Read more: How to Transfer Money from Bank or Credit Card to PayPal
Conclusion
Do you still have a question about how do I remove my card from DoorDash? Pretty obvious, no! Dear users, deleting payment details from any application before deleting it is very vital. There are chances for your account to get hacked if it falls into the hands of the wrong person. How do I remove my card from DoorDash or any other online payment app is a very common question.
Make sure you delete all your details before inactivating the account. Remove your account details and be safe. Educate yourself and educate others!
Was this article helpful?