Hello friends, Today I will share several methods on how to change slide size in PowerPoint. I have shared different ways for every version of PowerPoint. You can also check the additional method to increase or decrease the size of the PowerPoint slide on a Mac or an online browser.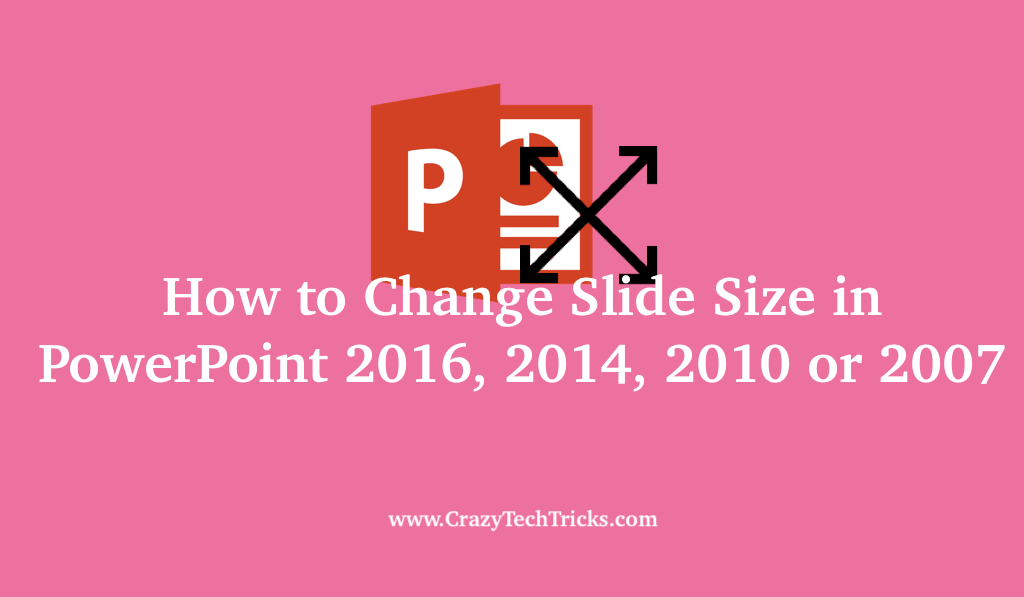 A variety of features are provided by MS PowerPoint for its users to make their presentation more interactive and easy to understand. Some of them include merge PowerPoint presentations, reordering slides, to change slide size in PowerPoint, customizable presentation templates, animations, highlight text in PowerPoint, sounds,  presentation notes, pre-recorded narration, auto-extend capability, Office 365 Integration, and etc.
Read more: How to Embed a YouTube Video in PowerPoint Slide
When you prepare your PowerPoint presentation, you should adapt it to the device which will be used for projecting it. Some devices have different sizes, so you need to change slide size in PowerPoint. This article will be elaborating on the ways to change slide size in PowerPoint.
When you start a new presentation in PowerPoint, the default slide size is 10 inches by 7.5 inches which is also 1024 x 768 pixels at 96dpi. There are ways to customize the dimensions of the slides as per your needs. The slide size can be changed from a new presentation to an existing presentation.
---
How to Change Slide Size in PowerPoint 2016
It has several features being released after so many PowerPoint versions. But still, there are several steps that a user needs to do before changing the size of their slide. Make sure you are following every step and then change the slide size to any custom size.
Go to the Design tab.
In the Customize group, select the Slide Size button.
You can either choose any of the predefined sizes, Standard or Widescreen.
Standard has a screen ratio of 4:3, and Widescreen has 16:9. Or click on Custom Slide Size.
In the Custom Slide Size dialog box, you can choose any predefined popular size from the Slides sized for a drop-down list or enter the custom sizes as per your need in the Width and Height fields.
Choose the slide orientation in the Orientation group.
After selecting specific options as per your need, click OK.
The Microsoft PowerPoint dialog box will appear showing two options on how to scale the existing slides to a new slide size.
Scale it down to Ensure Fit it on the new slide. Click OK.
Custom settings for the slide size have been applied now.
Note: It is impossible to change the size or orientation just for some slides. These settings are applied to all the slides of the presentation.
Read more: How to Create a Form in SharePoint
---
How to Change Slide Size in PowerPoint 2013
MS PowerPoint 2013 provided many new features like the latest range of design themes, a more comfortable sharing of ppts, improved presenter's view, better organization of the presentation.
Open your new or existing presentation.
Click on the Design at the top of your screen.
Select the Slide Size near the right end of the toolbar.
Click on the Standard (4:3 aspect ratio) or Widescreen (16:9) or Custom Slide Size. And select your specifications as per your requirements.
Hence, the slide size will be changed.
Read more: How to Add Audio to PowerPoint for all Slides
---
How to Change Slide Size in PowerPoint 2007-10
It is one of the oldest PowerPoints as compared to other versions of PowerPoint covered in this topic. So its very obvious that it has very fewer features. But still, it also has an inbuilt option to change slide size in PowerPoint.
Click on the Design tab of the toolbar ribbon.
Click on the Page Setup on the left end of the toolbar.
Under the Page Setup, you will find Slides Sized for > Choose the size you want.
Now select the custom and give your desired dimension.
Read more: How to Add Watermark in PowerPoint
---
How to Change Slide Size in PowerPoint on MacOS
The size of the Mac screen is comparatively smaller as compared to Windows. The majority of the users use 13 inch Mac. Now when the size of Mac is less than users sometime face difficulty in the presentation. However, PowerPoint itself reduces the size, but it makes things smaller which are already smaller. So in that such case, it is hard to view or read that smaller icon/images or text.
Click on the File menu.
Now Select the Page Setup.
Under Page Setup dialog box > Select the size you want.
You can even enter any dimension size.
Read more: How to Delete a Blank Page in Word
---
How to Change Slide Size in PowerPoint on Web
You must be using the Web version of PowerPoint. This method will work on every Internet browser. All you need to do is log in to your Office 365 account.
Log in to Office 365 account using this LINK.
Now create any new presentation, or you can even open the existing ppt.
Now click on the Design under the toolbar ribbon.
On the right side, click on the Slide Size.
Now select the size from three given options Standard, Widescreen, or Custom Slide Size.
Read more: How to Change Font Size in Windows 10
---
Conclusion
This article gave you the knowledge to change slide size in PowerPoint, either before or after you create your presentation. And although you are provided with a variety in the slide sizes, you are suggested to use the default slide sizes. Also, I recommend you to decide the slide size first before actually building up the whole presentation. As switching slide sizes after the whole presentation is made is going to be very time-consuming.
Was this article helpful?