You can change your Twitter handle or Username unlimited times. Users can use this method to change their Twitter handle on Android, iPhone or Windows PC/Laptop. I have also shared the limit of changing your twitter username and how you can change to a unique twitter handle.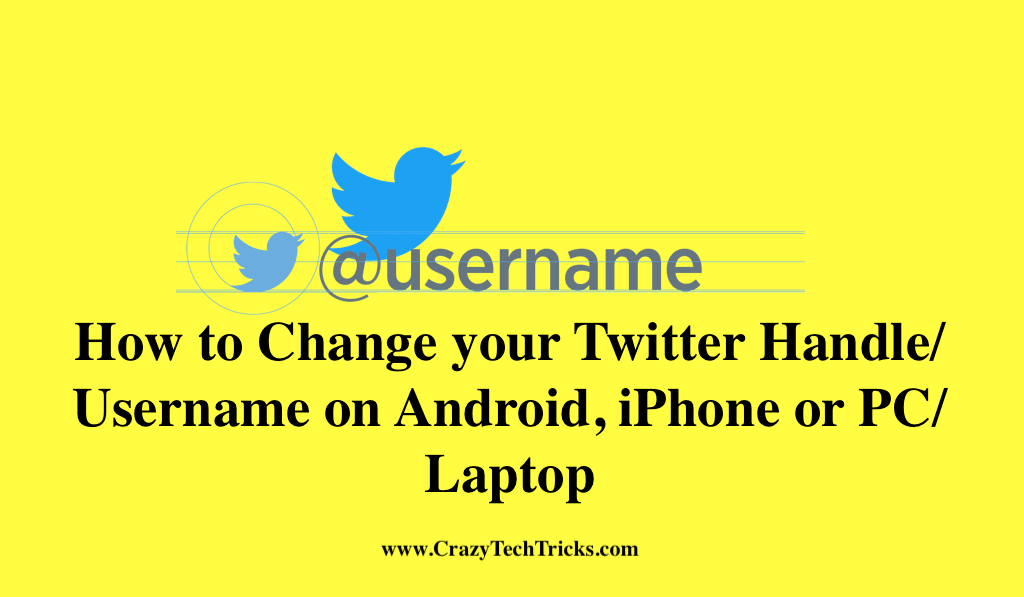 Twitter is a social media platform where users are allowed to share their feed all over the world. Nowadays, many of people are using Twitter to improve their professional connections, advertise their talents, information about education, news and etc. Twitter allows users to have unique usernames or handle, which helps to find the people.
Many users want to change their username or handle which suits their profession or work or interests. Not only this but also many of the users change their usernames for security concerns too. And learning became a continuous process these days especially. So when people are into an area of study, they think of having their usernames related to their area of study.
Users can have the same profile or display name, but it is not allowed to have the same handle or username, because users are identifies based on their handle names easily as compared to that of their display name. As there is unique usernames for every user. The username is the one that starts with the "@" symbol.
Read more: How to Make a Thread on Twitter
How to Change your Twitter Handle or Username
I will share two different ways to changes your Twitter handle. You can change the Twitter handle using any device. Make sure you follow every step carefully and change your Twitter username.
---
How to Change your Twitter Handle on Android or iPhone
The majority of people use their Smartphone app for using Twitter. You can use this method on both Android and iPhone. Make sure you have the official app of Twitter.
 Open the Twitter application on your Smartphone.
Tap on your Display Picture at the top left end you will be shown with the menu.
Now tap the Account.
Click on the Username under the Login and security section.
Now update the new username in the Username field.
If the username is accepted, then your handle will be updated if not then add some extra numbers, characters, and underscores to it so that it will be accepted.
Now tap on Done.
Read more: Best Twitter Bot Detection Tool
---
How to Change your Twitter Handle on PC/Laptop
This method is working on any PC. All you need is an internet connection and an Internet browser. Users can use Google Chrome to change their Twitter handle.
Log in to your Twitter account on your PC or laptop.
Now in the left side panel click on more ••• icon.
Click on Setting and privacy.
Now select Account, under this section click on Username.
Now either select a username from the suggestions shown or update it by entering your new username. If it is not available, then add some extra numbers or characters or underscore to your new handle.
Tap the Save button.
That's it. You have change your twitter handle successfully.
Read more: Where is Account Settings on Twitter
---
Limits on Changing your Twitter Username/Handle
This is an important note to all the users who are using Twitter.
You are not allowed to change or update your handle, which contains Twitter or Admin in it.
Your Username or Handle should not exceed 15 characters.
Make sure Display Name should not exceed 50 characters.
Changing your handle or username does not affect your followers.
Once you change your username the previous one will be available for use by someone.
The URL of your Profile will also change
Read more: How to Delete a Twitter Account
---
Conclusion
You can easily change your Twitter Handle. But remember, as i mentioned, the URL of your Twitter profile will be changed to your new username. So make sure you change your Twitter handle wisely else it can be a problem if your profile URL is submitted on several other sites. Twitter will start showing error "This account doesn't exist." 
Was this article helpful?