Hello friends, Today I will share a method on how to make a thread on Twitter. Users can create several threads and attach all tweets together. You can even do all tweets at once or later delete any individual thread from Twitter.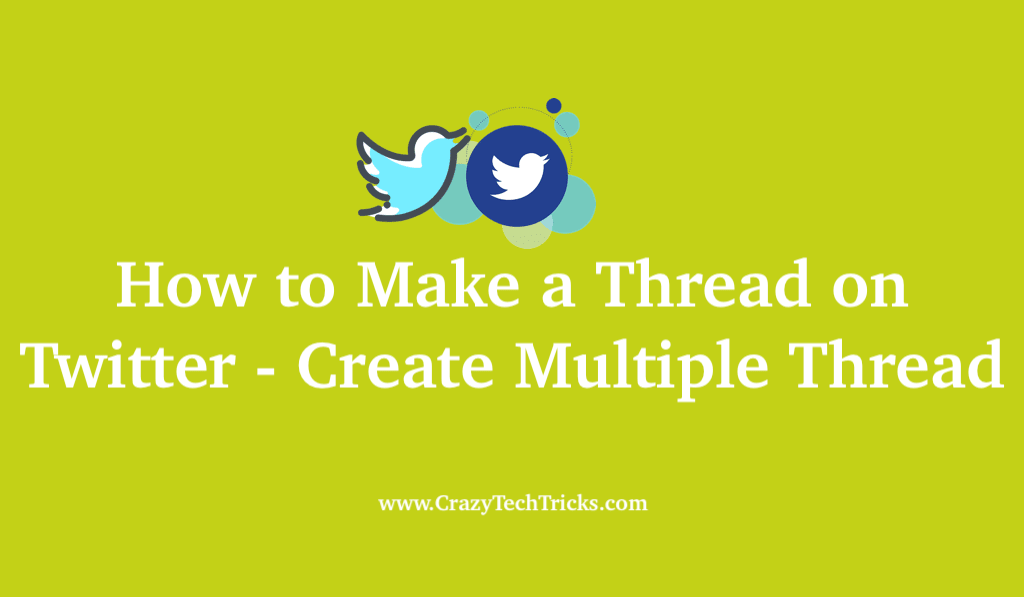 A Twitter thread is multiple tweets from the same user. It is the latest feature added by Twitter. Long topics cannot be covered in one tweet. For this purpose, users can make a Twitter thread as connecting tweets one after another.
Read more: Where is Account Settings on Twitter
How to Make a Thread on Twitter – Create Multiple Thread
As a matter of fact, these threads are being used for different motives. Some users prefer to share their stories in the thread which ultimately attracts several people. On the other hand, it is used to explain some serious stuff to the whole world, like the political leaders would come upon this platform.
Read more: Top 5 Best Twitter Bot Detection Tool 
More interestingly, you can break Twitter's 280 character limit when you make a thread on Twitter. These threads are also known as Tweetstorms. It is actually the replies sent out in a number of tweets to the original one.
This feature is available on every platform. You can use it on Android, iPhone, iPad as well as on Twitter website. Here are the steps you have to follow to make a thread on Twitter.
Log in to Twitter.
Click on the Tweet Button (blue feather icon).
It is available on the bottom right corner of the timeline in your mobile app. If you are using on the PC then its on the left sidebar.
Now, Write the Tweet.
But, you need to follow the character limit otherwise your tweet will be highlighted in red color.
Select (+) sign available on the bottom to add another tweet to make a thread on Twitter.
Don't select the Tweet button.

Now start writing for your another tweet in the writing area.
It works on everything like you can add GIFs or even videos.

Repeat this process of adding a series of tweets.
In this way, you can publish all the tweets at the same time. If you've written down all, select the Tweet all button on the top to make a thread on Twitter.
You'll find out that your Thread is published on twitter.
Click on Show this thread from your Tweet to see the whole thread.
In this way, you can make a thread on twitter easily.
Read more: How to Delete a Twitter Account Permanently
---
How to Add a Thread on Existing Tweets
Users can also add a thread to their existing Tweets by following this method. You can add several threads. This feature is only available for Android users. So iPhone users won't be able to add a thread to existing Tweets.
Select Add another Tweet on your existing Tweet.
You just have to go back to your published tweet where you want to add another one.
Compose your Tweet.
It will be directly added to your existing thread.
---
If you want to delete your tweet, you can simply tap on the downward arrow showing in the picture below to delete your Tweet.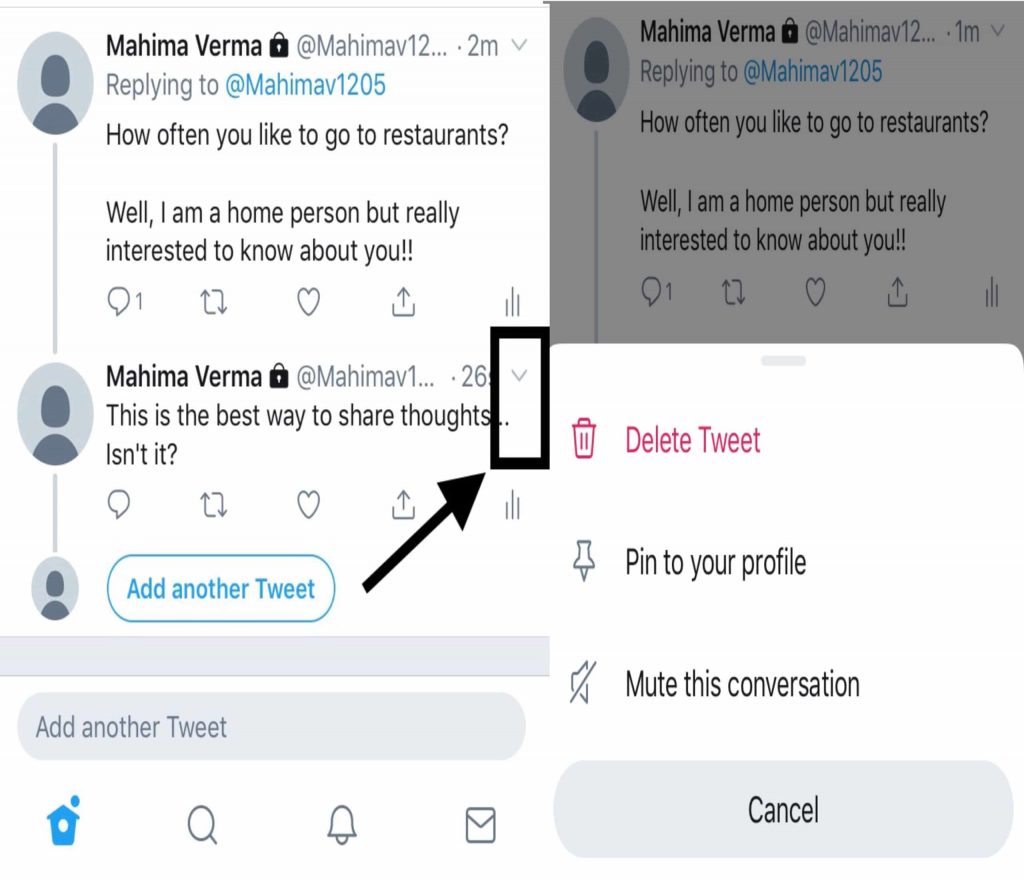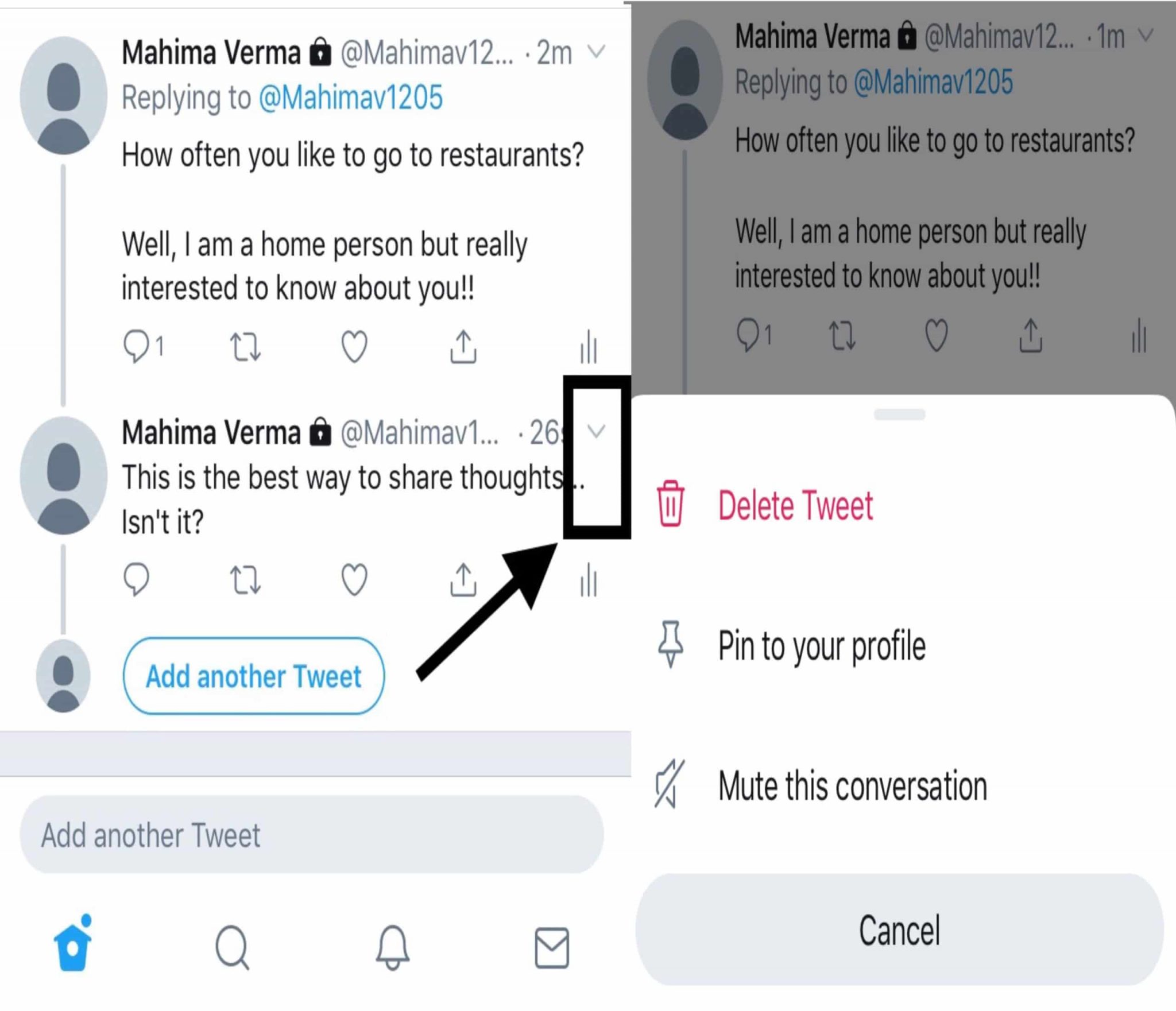 Must Read: This media is not available because it includes content you've chosen not to see
---
Conclusion
Twitter threads are in demand especially when users are discussing complex topics. By following the above steps, you can make a thread on twitter quickly. You can easily share your multiple thoughts by threads. It can let you publish all Tweets at the same time.
It is great as you can create several threads and also users can delete any single thread. This feature is great till Twitter has a word limit. Well, we all hope in the future Twitter will extend the limit of words in a single tweet. But till then we can create multiple threads by using this method.
Was this article helpful?