Hello friends, Today I will tell you a method on how to create Spotify Kids account. Users can add their kids by adding age and email. You can add Spotify Kids account under family subscription. All the content will be filtered and it will show content on your demographic. There will be no foul language or slang in the music and it will have kids learning content.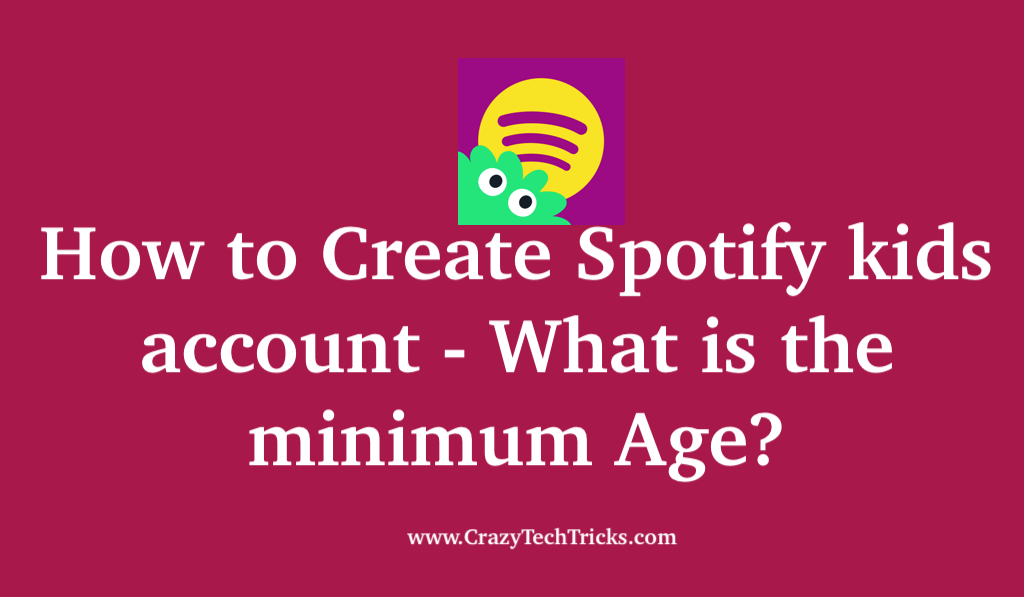 We all are aware of so many applications for teenagers, youth, and above them. But have you ever wondered about the kids below the age of 12? Strange, we always scream on kids don't touch our phones it's not their age to keep popping into phones. Have you ever thought the kids below 12 are more sharp and curious about the technology and learning new things?
However, being their parent, we are also afraid of handing over them our gadgets, which sometimes make our kids irritated. It is very difficult to make our kids understand what content is right for them and what is not, and that is the only reason we prefer to engage them with other activities. But not to forget kids love music, however again we are afraid of inappropriate videos, fouls languages and etc. How about having our kids to create Spotify Kids account.
---
What is Spotify Kids Account – What is the minimum Age?
So, Spotify has the solution for all of the above. Spotify launched Spotify kids app specifically for the kids from 0 to 12 years age group and can create Spotify Kids account. You can create Spotify kids account on both Android and iOS devices. The best thing is Human monitors the app, and no algorithm is used. They ensure whenever you search for content, then you will get a suggestion that is filtered by humans.
Spotify Kids app has a collection of songs, movies and TV, reading and also they can learn by watching some amazing videos. You can create Spotify kids account and have some amazing collection where kids can increase their mathematical skills by watching videos. You must be thinking that how you can create Spotify Kids account then let's move to another section.
Read more: Best Free apps to Listen to Music Without WiFi
---
How to Create Spotify kids account on Android or iPhone
It is straightforward to use this app but now let's talk about how to create Spotify kids account. To create a kid account, you must have a Spotify premium family subscription which will cost you $14.99 per month for both Android and iOS. Users can easily buy and if you are using a trial version then you can also cancel Spotify premium trial on Android or iPhone. You can share a family subscription with up to 5 family members.
Tap on the login button.
Enter the email id of your kid or any of the family members who have access under the login section and continue.
Now, enter the name of your kid and Age.
Age is optional you can also skip that.
You will receive an email regarding terms and conditions (GDPR).
Before accepting it make sure you read the terms and conditions.
Next, you will find two options for different age groups. Audio for older kids and Audio for younger kids. Continue once you made the selection.
You can tap on "Help me Choose" to know about the contents in detail for both the age groups.
Choose any of your kid favorite avatar from the options.
Must Read: Poweramp vs BlackPlayer
---
How to manage your Spotify kids account step by step
Once you have created a Spotify kids account. Now let's have a look at how we can manage Spotify kid's account. Here we will learn how we can change the funky cartoonish avatar for kids as we all know kids love such colorful images, how to select music as per the age group. Also, we will learn about parental settings in this section. So, let's talk about all this in detail.
Tap on the avatar on-screen to go to setting menu option.
You can edit or change the avatar any time by tapping the pencil icon.
Now on the top right, you will find an icon. Tap on the icon and will take you to the parental setting.
You will find a pop up asking for a four-digit password/PIN. If you are a new user, you need to create a new four-digit PIN. If you are already a member and already had four-digit PIN enter the same. You can change this PIN anytime by using this same menu option.
You can add the kids from the same menu as you use to change the PIN.
Spotify Premium Family plan allows you to add up to 5 family members.
If you want to delete Spotify account on Android or iOS then you can do that anytime. You can even claim your refund.
---
Conclusion
There are several other apps available in the market, but Spotify is the first app using Human control rather than using any algorithm. It is one of the most secured option as the content is filtered at the best level, so no chance that you can see any vulgar content. I will suggest you to use this kids app for entertainment. Yes, it is a bit costly, but the best thing is you can use a family plan, and it allows five users. So its okay to spend money on this fantastic app. Do share this article with your friends and help them to create Spotify kids account.
Was this article helpful?