Hello friends, Today I will share several methods on how to turn off YouTube notifications. Users can use this method on their Android, iPhone or Google Chrome. By using Chrome, users can block YouTube notification from Mac and Windows PC. I have also shared a method to turn off notification from YouTube specific channels.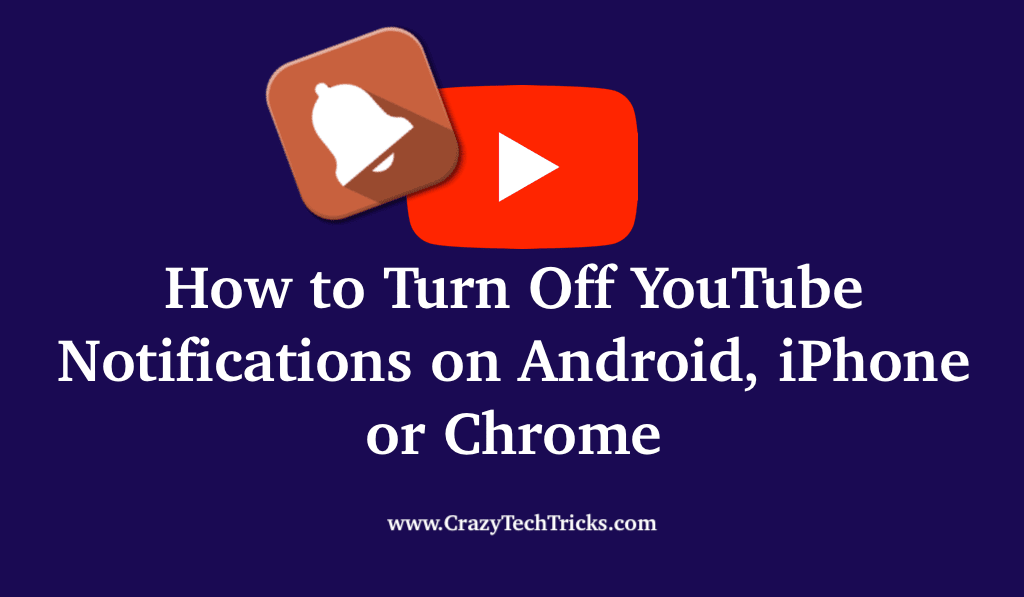 YouTube, as we all know, is a famous online video sharing platform that is being operated as one of the Google Subsidiaries. It provides its users with the best facilities to upload, view, rate, share videos, and comment on them. You can create playlists and subscribe to other users as well.
Read more: How to Queue Videos on YouTube
How to Turn Off YouTube Notifications for a Specific Channel or Whole YouTube
YouTube even provides the facility of turning on/off notifications for your subscribed channels to stay updated. It lets you know about the new content posted from your subscribed channels or channels based on your interests. The notifications can be in the form of e-mails/ inbox notifications on your devices.
These notifications come from the channel you have subscribed to or videos you subscribed to. When the channel owner uploads any content, users get notified. But sometimes getting a lot of notifications can be annoying too, so here I'll be sharing very easy steps to turn off the YouTube Notifications.
Read more: How To Use YouTube New Creator Studio
---
How to Turn Off YouTube Notifications using YouTube app
If you're a user of the YouTube App, regardless of the O.S. (Android. iOS or Windows) in your device; follow the following steps to Turn Off the notifications:
Open your app and make sure you're logged in with your account.

Tap your

profile icon

on the right top corner of your screen.

Select

Notifications

.

You can toggle off the type of notifications you want to turn off.
Read more: How Much Data Does YouTube Use on Android
---
How to Turn off the Notifications of YouTube from specific channels
If you want to shut the notifications for a specific channel, tap Channel Settings (under notifications). You'll see the list of subscribed channels. Tap the ringing/default bell icon to No Ring bell icon. Voila, No more notifications from the App. This method is best when you want to stop notification from a channel. And one more thing there is no notifications for the videos that are meant for Kids Only.
Must Read: How to Embed a YouTube Video in PowerPoint Slide
---
How to Turn Off YouTube Notifications online using Chrome or any Internet Browser
While using YouTube from Chrome or any other internet browser. Users can use this method on Windows or Mac.
Open

YouTube.com

on your browser.

Sign to your YouTube account.
Tap on your profile icon on the top right corner. 
Click settings >Notifications.

Toggle off your notifications.
Read more: How to go Frame by Frame in Youtube
---
How to Turn Off YouTube Notifications using Device Settings
You can even Turn Off your Notifications from your device's settings. You can do this by visiting the settings of your Android or iOS device. 
Note: This method will turn off all types of notification from YouTube. If you want to turn off notification from a specific channel, then use the above-listed method.
Open your Android/iOS device's settings.

Now open the apps > YouTube.
Click on Notifications.
Now Turn off your notifications. 
---
Conclusion
Turning Off notification is not a much difficult task. Even while subscribing to specific YouTube channel users get notified that they want to press the bell icon or not. The moment users tap on bell, it starts giving notification. You can even use the mail unsubscribe option or directly use these methods to stop all types of notifications from YouTube. 
But remember if you block all notification, then you won't get any update of any of your subscribed channels. Hope YouTube will soon feature some option to disable notification easily till then use these methods.
Was this article helpful?