Users can Turn off Trophy videos on PS5 and free up space from their PlayStation. I will also share a method to stop the recording and screenshot of any trophy videos. You can permanently disable trophy video from PS5.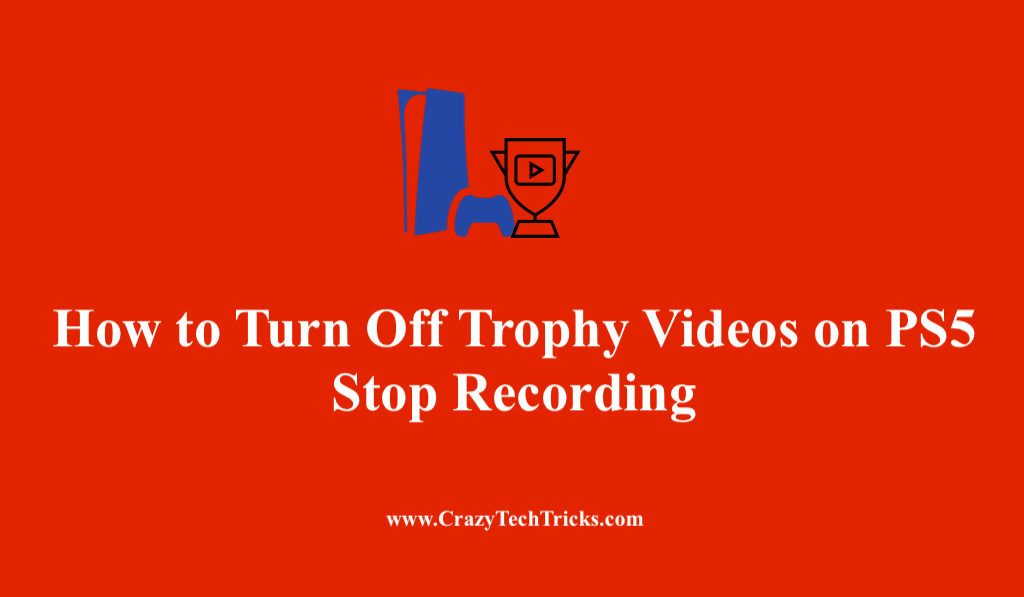 PlayStation 5 is a home video game console by Sony interactive entertainment. It succeeded the PlayStation 4 in 2019. It was released on November 12, 2020 in Australia, Japan, New Zealand, North America and South America and a week later in other countries.
When you play in your PlayStation 5 it automatically captures and saves moments of trophies and grades. These moments are stored in the form of videos. Unlike PlayStation 4 and PlayStation 4 Pro, which saves the trophy in the form of a screenshot. PlayStation 5 automatically saves your trophy and grades in the form of 15 seconds small video.
Read more: How to Fix PlayStation Network Sign in Failed
Why you Should Delete or Turn Off Trophy Videos on PS5
You should turn off trophy videos on PS5 because the videos of your trophy in a game are saved in the storage. As we all know play stations have limited storage like PlayStation 5 and has 885 GB but after updates it is more likely to be left with 650GB. The small videos of the game occupy the space that could be useful for other game saves, leaving you with more space. More space can make it work more efficiently and also you can have a bunch of new games.
Read more: How to Record Gameplay on PS4
So, you got a good reason to delete your videos of trophy! But you need not to worry because you can also turn of  trophy videos on PS5. Here is a step-by-step guide to stop recording the videos of your trophies in PlayStation5!
How to Turn Off Trophy Videos on PS5
You can turn Off Trophy videos on PS5 simply by using the system menu and settings option. Follow these steps to easily disable videos of trophies from your PlayStation 5.
In the system menu, keep navigating upwards until you find settings. Select the settings icon in the top right corner of the PlayStation 5 home screen.
In the settings menu scroll down to select captures and broadcasts.
Under Capture and broadcasts > select> trophies section.
In the trophies section, you have 3 options:
Save trophy screenshots (it automatically saves the screenshot when you win a trophy)
Save trophy videos (it automatically saves the video when you win a trophy).
Trophy video duration. (It lets you record videos in the duration of 15 seconds or 30 seconds).
Click on the Dropdown Menu > Under Save Trophy Videos > Select> None.
You can even press X to disable it! The videos won't be saved anymore. Hurray! You saved a lot of space in your PlayStation 5.
Read more: Best Games like Freelancer
How to Disable Trophy Screenshot on PS5
You can delete the trophy screenshot from the trophy section. you can easily find the trophy section under the heading of capture and broadcasts. Here is how you can delete trophy screenshot.
Under the Trophy Section > Click> the Dropdown Menu > Save Trophy screenshot > Select > None.
Read more: Windows vs Mac
How to Delete Recorded Trophy Videos on PS5
You must be playing from a long time and have videos which needs to be deleted. If yes, then you can manage your trophy videos from the media gallery.
Go to media gallery option in the home screen.
Select the game you got the trophy for.
You will find all the trophy videos > You can edit, share and delete them.
In this case you will delete recorded trophy videos on PS5.
Read more: Best Chromecast Audio Alternatives
Conclusion
It's easy to delete your existing trophy videos and also it is easy to disable them. Deleting and disabling the trophy videos and screenshots will ensure that your PlayStation remains healthy for a good period of time. I will suggest you to turn off trophy videos on PS5. Because it will make sure that you always have empty storage in your Play Station.
Was this article helpful?