Hello Friends, Today I will tell you a trick to merge Facebook page without losing likes. You can merge one more Facebook pages at once. Combine your Facebook page to increase likes on your Facebook page. You can merge pages with two different names.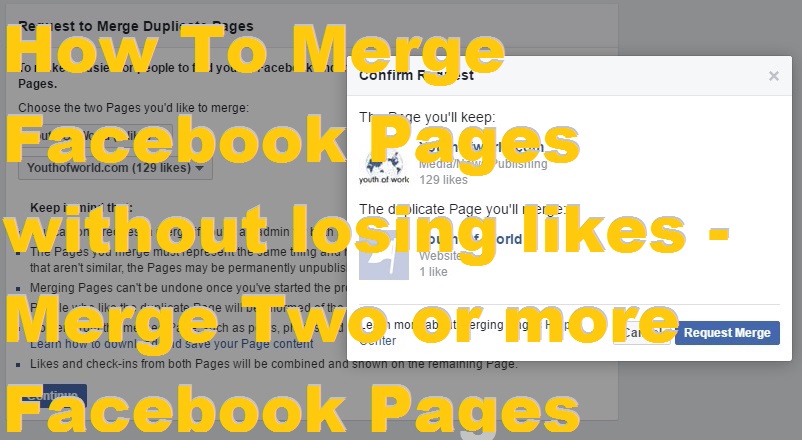 Among the topmost social networking sites, Facebook leads the house with millions of people around the world. Though the innovative idea of staying connected with people has attracted more numbers towards it; today, it turns out to be a center for marketing. Several renowned business and trademarks use Facebook's different pages and groups to lure consumers. And, it has proven a useful step of the business owners towards succeeding businesses. Thus, this heavy traffic carrying pages on Facebook are managed effectively by the admins.
They have authentication to content publications as well as controlling the likes and follows of people. Are you struggling in getting Facebook likes? Read the guidelines to amplify your likes on Facebook page. At times, Admins have to control more pages than they regularly do. If the requests are signifying one reason, then admins will allow merging of these pages so that more audience base can be engaged suitably. This is the followed process of admins to assemble the check-ins and likes of both Facebook pages to create a single page on Facebook. The benefit of doing this is to reduce the management work.
Therefore, here Facebook page admins will find tit-by-bit steps to merge Facebook pages without losing likes. All the necessary information are also provided here on "How to merge Facebook pages".
How To Merge Facebook Pages without losing likes – Merge Two or more Facebook Pages
The unique way of merging pages having similarity in name and appearance to describe the same item on Facebook is remarkable. But it requires some imperative changes before merging these Facebook pages.
You have to modify the pages' names into same. If you can't, then try to bring as much similarity as possible. For example, Safe tips & tricks and safe tip and trick appear almost similar; therefore, these two pages can be merged on Facebook. Plus, you have to bring changes to the about section of the pages and make them carrying similar contents. This could include your business details such as website information, description, and address.
Things to remember before merging pages: You will merge the page with lesser likes with the page containing more likes. So, the information of the merged page will have to be cleaned completely- take a note of that. Hence, it is suggested to download all your necessary images and stuff from the page before starting the merging process.
Request to Merge your Duplicate Pages
Following the easy guide mentioned below, any user can merge different pages on Facebook together:
Now, enter the password of your Facebook account.
Select the page you want to merge.
Note: Select the page you want to merge. You can add two pages at once.
Click on continue.
Now, select the page you want to keep and click on keep the page.
Now, wait for few second you will get a notification and your Facebook pages will be merged.
How to Merge Facebook pages with different Names
The policies of the Facebook page states that people can only merge similar name carrying pages on Facebook. There is nothing to worry about if you are aiming to merge pages with different names. Yes, you need to make some changes here too after which it will be easy to go with.
Let's assume that the Facebook pages containing two different names such as Crazy Tricks and Ekant's tips with fewer likes. Admin wants to merge Ekant's tips into Crazy Tricks. At first, the name of Ekant's tips has to change into Crazy Tricks. If the name (in your case) is different and lengthy, then break the process into 2 to 3 procedures.
In the first procedure, change the name "Ekant's tips" into "Crazy Tricks of Ekant".
In the second procedure, again change the name to "Crazy Tricks of Ekant".
These name changing procedures can be adjusted as per similarity and the name of the page.
Follow the guide if you wish to bring changes into Facebook page name.
Solution to the error "pages can't be merged"
People sometimes may face problem while merging pages on Facebook. Perhaps, it generates due to merging request for too many pages at a time. There is absolutely nothing to worry about, as solution is there to get you out of it. There are two proven methods in this case which you will find below.
Here's solution to the error "pages cannot be merged". Minimize the total number of pages that you want to merge. Still, you wish to merge numbers of pages on Facebook, follow the below-mentioned course of action.
The pairing of numbers of pages containing a similar number of likes is one of the best ways of merging numbers of pages on Facebook. For example, if you want to merge two pages with one another having 10k likes. Then,  merged Facebook page will have 20k likes. So, these two pages can be merged together and the process can be followed soon.
Appeal for the merge error to Facebook
The third one is a premium method to eliminate the error "pages cannot be merged" and is effective too. The method is "e-mail support request to merge Facebook pages without losing likes". It requires you to fill up a form manually for merging pages on Facebook. The link is available below; click to get the form.
Make a note that the above form is not available in public and is restricted to few accounts only. You need to carry out the little task in order to access this form. Here, it is mentioned to avoid further questions on form request and the link contains a document file for explaining the entire process.
Guide to merge small Facebook page with big
Are you seeking for help to merge the page with more likes into lesser page likes? If it is, then you don't have to seek anything else. As the above-given request form on Facebook is enough. Simply follow the process mentioned and you will get it done.
Last Words
Moving to the conclusion, it is anticipated that the described user-friendly guide on Facebook merging pages will help you achieve that merged page. For any discussions and/or assistance, you can drop us comments below in the prescribed box.
Was this article helpful?