You can delete shipping address on Amazon from Windows PC/Laptop. You can remove your shipping details from a PC to smartphone device. Users can delete shipping address from managed Amazon account.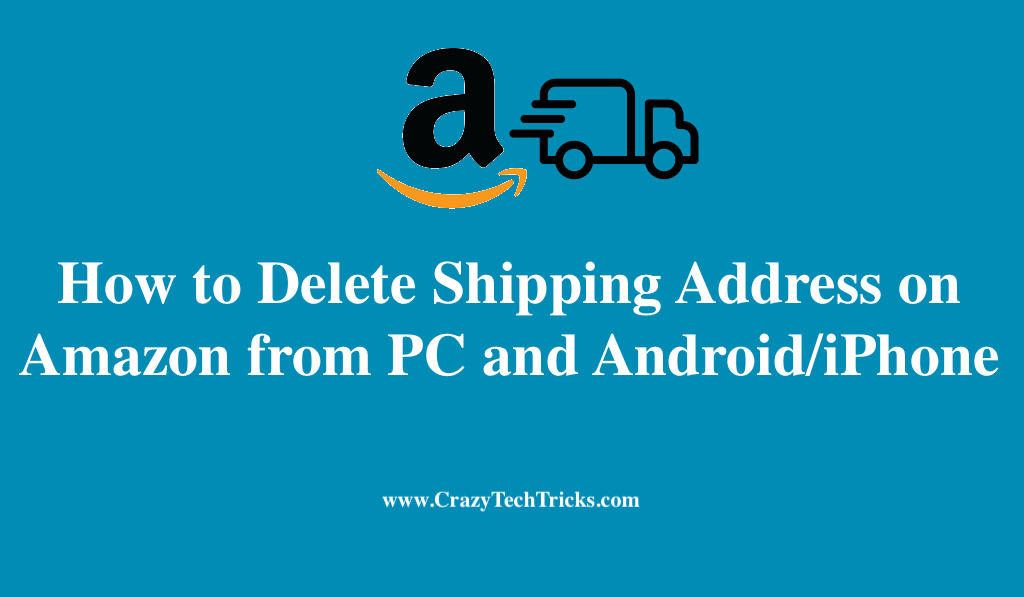 Sometimes it becomes frustrating when you get confused in choosing the proper address. We've sent Amazon packages and books as birthday and anniversary gifts to many friends and family members. For this, it is obvious that you might have saved their shipping address. Isn't it?
If this is the case, delete the unused shipping addresses on Amazon to keep the list simple. You can easily delete shipping addresses on Amazon address from your list of addresses for future purchases, whether you're using a desktop computer or an iPhone or Android app. In this guide, you will learn how to delete shipping address on Amazon easily on PCs, Android, and iPhones.
How to Delete Shipping Address on Amazon – Online
You can delete a saved address from any Windows, Mac, or Chromebook computer using the Amazon website.
Start by opening your favorite web browser and going to Amazon.com.
Enter your username and password to access your account on the website.
Drag your mouse over the "Account & Lists" menu in Amazon's upper-right corner and the submenu will appear.
Now, in this Select "Account."
In the newly opened "Your Account" page, you can find the "Ordering and Shopping Preferences" section. It will display "Your Addresses", click on it.
In "Your Addresses," you'll find all of your previously entered posts and email addresses. Now, To remove an address, click on the word "Remove" at the bottom of the address.
You'll see a "Confirm Removal" message pop up.
To delete the shipping address on Amazon, select "Yes."
An "Address Removed" notification confirms the deletion of your specified address.
Read more: How to Link your Amazon Prime to Twitch with Amazon Prime
Delete Shipping Address on Amazon using Android/iPhone
The methods to delete shipping address on Amazon on Android/iPhone are as follows:
Open the Amazon app on your Android/iPhone.
Login using username and password in your amazon account.
Proceed to "Your Account" > "Account Settings" > "Your Addresses."
Click "Remove" to delete shipping address on Amazon. Your contact information will be promptly removed.
Manage Shipping Address on Amazon account
The Amazon website or mobile app allows you to change your shipping addresses. New addresses can be added, existing addresses can be amended, and new default addresses can be set for new orders in the system as well.
Read more: How to Get Free Audiobooks on Audible using Registration
Manage shipping Address on Amazon using PC
Open your Amazon account page on a web browser on your PC and sign in.
Select Accounts & Lists > Ordering and shopping preferences > Your addresses.
In the Your Addresses section, you have the option to add or remove people from your address book. By clicking the Add Address button, you can enter your new address information. Select the undesirable address and click Remove if you wish to delete shipping address on Amazon.
You can also modify the shipping address by clicking on the edit option.
Read more: What is the meaning of Fulfilled by Amazon
Using your Android/iPhone:
Open your Amazon application.
Touch that three-line option on your app.
Now, choose the Account > Account settings >Your Addresses.
All remaining steps are the same as they are on the desktop.
On Mobile Devices, Manage Your Amazon Accounts
If your Amazon account is linked to a device that is public or shared with unknown people, then anyone with access to the device can also view your Amazon account information. If you add new Amazon accounts to your mobile app, the app will automatically inherit their rights and preferences, such as camera roll access and language. Changing app settings on a single Amazon account affects all other Amazon accounts as well.
To edit your Amazon account from an Android or PC, follow these steps:
Open an Amazon account and click the menu. 
Now select Settings > Switch account.
Select the Manage option to log out or to create a new account.
Read more: How to Clear Amazon Search History Permanently
Conclusion
Our resource center includes information about deleting your Amazon shipping address, managing your Amazon shipping account, etc. Let us know if our article was helpful and whether you were able to fix your problem by leaving a comment below.
Was this article helpful?