Users can Remix on Instagram Reels by following this method. You need to enable the feature on your Instagram, and you can Remix any of your video reels with anyone.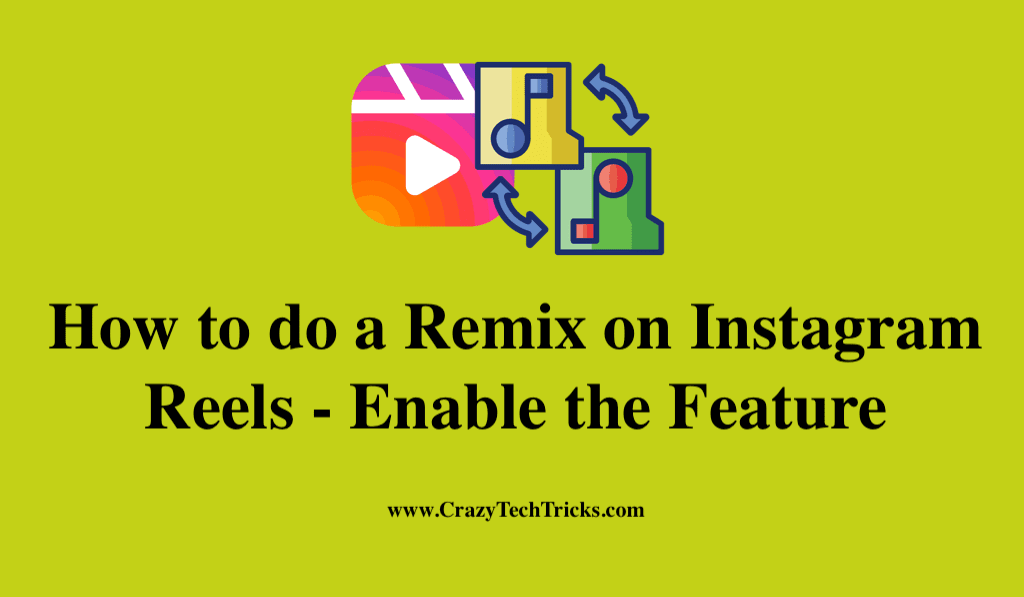 To compete with TikTok, Instagram Reel has just released its newest video editing option, which is called Remix. A remix is a tool that is quite similar to TikTok's incredibly popular Duet feature. It allows users to record a response to a video that already exists.
Read more: How To Edit a Comment On Instagram
In order to improve your video marketing or to respond to product demonstrations, you can use the Remix tool to do it all. In addition to funny responses, challenges, and dance collaborations, this platform helps small businesses and brands reach new audiences.
How to do a Remix on Instagram Reels
The brand-new Instagram Reels function has a user interface that is quite straightforward. You can begin by selecting the Instagram Reel you want to Remix from the drop-down menu. You are free to remix any of the Reels that you have already uploaded or those from other artists.
Open the Instagram.
Then, select remix this reel' to use as a starting point for your remix.
Record or submit a new reel of your activity. Right next to the video will be the new video. You can also change the speed, set a timer, and apply effects.
Afterwards, you'll be able to edit your video by drawing and writing, adding a narration, adjusting the audio, and adding stickers.
You can also make the volume louder by tapping the slider icon at the top. Use the microphone icon to record a voiceover. Set the caption and the video parameters.
Now, tap preview and then next.
 Click "Share" in order to publish your work. Upon clicking that your remix on Instagram reels is done.
Read more: How to See who Saved your Instagram Post
Enabling or Disabling Remix on Instagram Reels
With Remix enabled, your video can be remixed by anyone, anywhere, at any time, on any device. This is an excellent approach to expanding your audience and making your content more popular. Remixing involves showing the old video on one side, and the new video on the other side.
Upon posting a new video on Instagram, the original creator's name is automatically credited in the lower-left corner. In the case that you do not feel comfortable sharing your video with Instagram's hundreds of millions of users, you can turn the feature off entirely.
Select "Privacy" from the drop-down menu, then "Reels" to enable the feature.
Change the "Enable Remix" switch to enable or disable it. Instagram Reels can be enabled or disabled with this setting.
Note: If you have public account then only other users will be able to make remix with your video.
Read more: How to Post Multiple Pictures on Instagram Story
Advantages of using the Remix Feature in Instagram
There are many existing Reels that can be easily adapted. Additionally, it's also an excellent organic media and source of content ideas that will fill out your feed. Remixes aren't limited to a single genre, anyone can make them, whether they're in response to a dance craze or a comedy sketch.
As a result of posting multiple times, the material you generate has a greater chance of spreading and becoming popular. Moreover, whenever someone remix on Instagram reels, both the original reel and the remix will be shown to their audience.
Among other options, it's a type of content similar to reels, feed posts, IGTV, and stories. As a standalone feature, the Remixed Reels are a unique addition to the film.
Read more: How to Turn Off Business Account on Instagram
Conclusion
According to Instagram, new versions are constantly being released with increased functionality, and Instagram Reels is currently one of the most cutting-edge tools available. However, in order to become an expert at using Instagram for commercial purposes, there are a number of other elements that you need to be familiar with.
Was this article helpful?