Hello friends, Today I will share two methods on how to factory Reset Kindle fire. Users can fix all the issues in their Kindle Fire. These methods will completely delete the data from your Kindle Fire. You can use Settings or Boot Menu.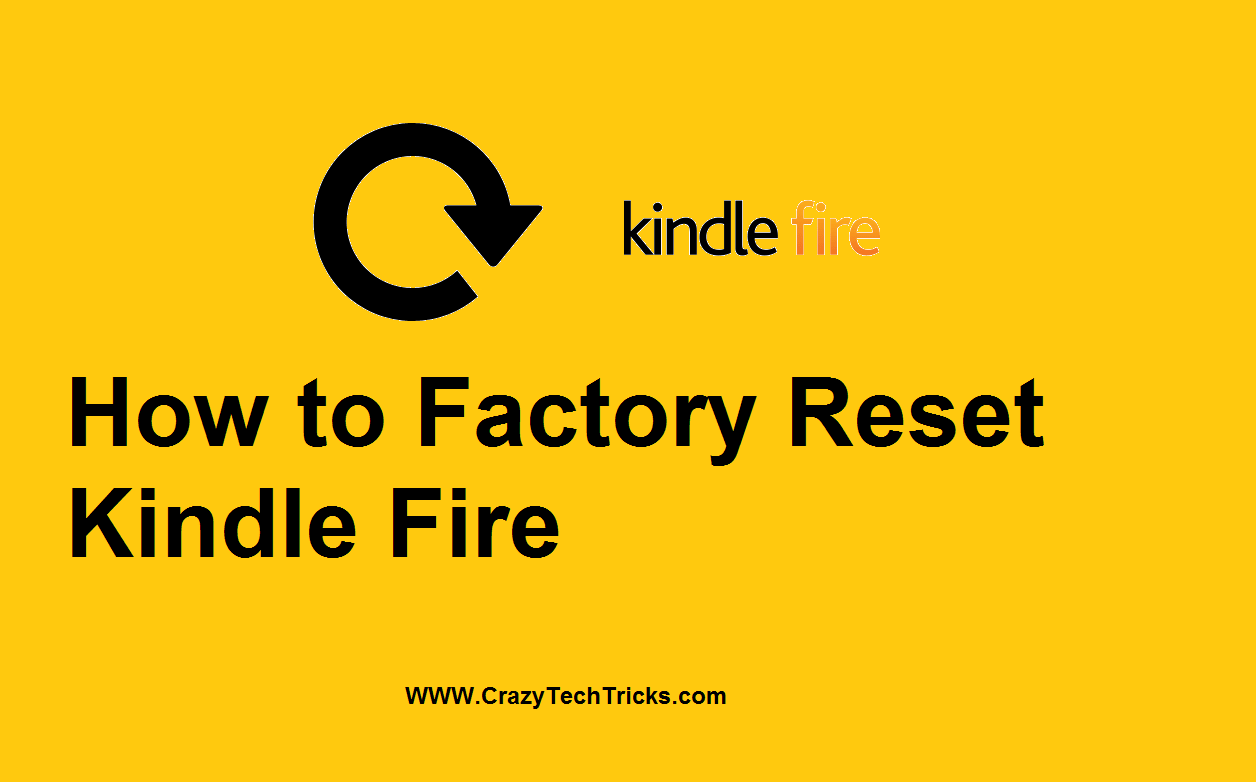 Amazon is the biggest e-commerce company in the world right now. It started with selling books and now has expanded into a multi-billion revenue-generating marketplace where both Amazon and its seller community provide different products and services. Amazon offers many products that are made by Amazon itself. One of which is the Kindle Fire.
What is a Kindle Fire?
Amazon provides a product that is Kindle, a light, portable and convenient e-book reader device. The first generation of Kindle was started in 2007, which helped Amazon in picking up the pace in the competition with Apple iPad. With its most recent addition in the Kindle series, Amazon came up with the "Fire", or Kindle Fire. Developed by Amazon, it is a tablet computer that was released in the year 2011. It has a 7-inch multiple – color display that sports the In-plane switching or IPS technology.
Kindle Fire is a handy tablet to own as it has much functionality. It can work as an E-reader, with a fantastic selection of e-books that are made available for every device. It can also work as a music player, a browser, and for streaming videos.
---
How to Factory Reset Kindle Fire Tablet
There are two scenarios where you would want to factory reset your Amazon Fire tablet.
1. If you are handing over the ownership of the device.
2. If you have run into some technical issues that require resetting the device.
For example, if your device is crashing while booting up an application or function or if your Kindle Fire is just stuck on its logo and does not start. Getting stuck while installing any application or if your keyboard/touch is not working properly. Then you can try factory resetting for these technical issues.
Read more: How to Install Google Play on Kindle Fire
---
How to Factory Reset Kindle Fire using Settings
Before moving to this method. I will suggest you back up your data. Because reset Kindle Fire will completely delete data from your device. So if your data is important, then do back up. In this method, we will use the inbuilt setting to reset Kindle Fire.
On the home screen of your device, tap on the "Menu" button.
Navigate to the Settings options from the home screen.
Then navigate to the option named "Device options".
Tap on the "Reset to Factory Defaults" setting in the page.
Finally, tap "Reset" to confirm the factory reset of your Amazon Fire Tablet.
After you tap "reset", your Kindle will start the resetting process and will power off or switch off automatically.
After following the above process, you would have successfully reset your Amazon Fire to factory reset.
Must Read: Kindle Fire vs iPad
---
Factory Reset Kindle Fire from Boot Menu
This method is most useful as some people reported that they are unable to turn on their Kindle Fire. So the only way left is to visit the store or Factory reset. And if your Kindle Fire is able to turn on then switch off your Kindle then follow the method.
Press and hold the "Volume Up" + "Power Button" simultaneously at the same time.
The Amazon logo will appear and then the boot menu will open up.
From the boot menu, choose "Wipe Data/Factory Reset" option by using Volume buttons to navigate or scroll.
Press the Power button for selection.
Now, from the confirmation steps, navigate using volume keys and scroll down and select "Yes delete all user data".
Now Press the Power button for selection.
Once the data wipe is complete, the boot-menu would pop-up on the screen again.
Finally, use the Power button to select and execute option "Reboot system now" so that your device starts. Once started, the device will take almost 10 minutes to boot up in the normal state.
Know more: Top 10 Best Free Online Romance Books
---
Conclusion
If you are selling your Amazon Kindle fire to someone and doing a factory reset, then its okay to reset Kindle Fire. But if there are some technical issues and still after factory reset its not working. Then I will suggest you to visit the service center. Also, if there is some issue related to hardware like screen issue or sound. Then remember that factory reset will not fix the issue. As it only fix the software, not the hardware. I will also suggest the Kindle Fire users to visit the official service center and not any third party vendor.
Was this article helpful?