Hello friends, Today we will do a complete comparison on Kindle Fire vs iPad. We will compare all important factors like Design, display, performance, battery and much more. You can get complete detail of both Kindle Fire and iPad. Do check this complete comparison and buy the best product for reading books and doing other tasks. 
Kindle Fire vs iPad
In 2018 many of us prefer reading on digital devices instead of traditional devices. While books will always be better than their digital counterparts, having a suitable reading device makes a lot of sense. Currently, the Amazon's Kindle Fire and the Apple iPad are one of the best devices for reading. Therefore today we are with a full comparison between these two to see who wins Kindle Fire vs iPad.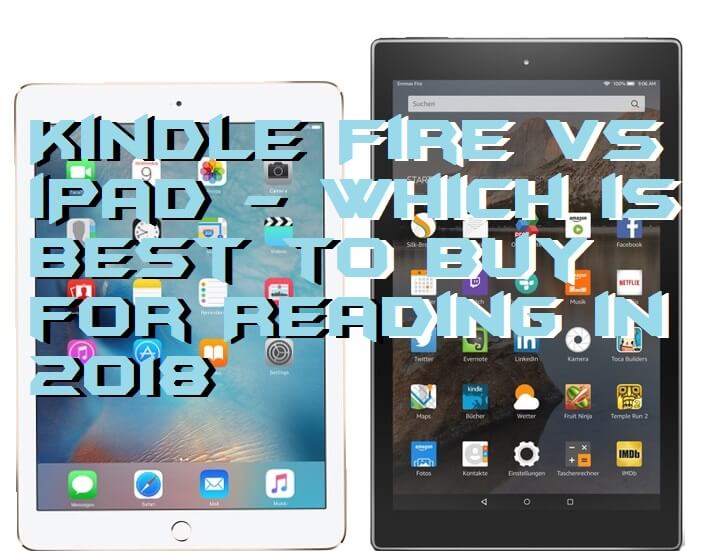 In this comparison, we have shown all of the differences between these two whether it's a big difference or not. This comparison is designed to help you in choosing that which device is better for your reading needs on the go. Therefore you will find every detail in this Kindle Fire vs iPad comparison that is out there. To help you better understand the differences between these two devices, we have divided this comparison. So without any further delay, let's get started with the Kindle Fire vs iPad Comparison.
Read more: Chromebook vs MacBook – Which is Best to Buy? Complete Comparison
Kindle Fire vs iPad – Build and Design
We are going to start off this comparison with the differences in the Build and Design of these devices. Since Apple makes the iPad, it beats the Amazon's Kindle Fire regarding their build. While the iPad is made out of premium metal, the Kindle has a plastic build. Even though both of the devices are built very well, the Apple iPad certainly feels more premium. The iPad is also thinner at 7.5mm when compared to Kindle's 9.8mm thickness. Not only that, but the iPad is also 30 grams lighter than the Kindle even though it is made out of metal. Overall the iPad is much better than the Kindle Fire which is justified by its much higher price tag.
Read more: AnyDesk vs TeamViewer – Which is Better for Remote Desktop?
Kindle Fire vs iPad – Which has the better Display?
Since both of the devices will be used for reading, having a good display is highly important. Both of the devices have a 10″ inch display, but the Amazon has a 16:10 display and the iPad has a 4:3 one. While the Kindle is better for watching videos, the iPad is undoubtedly better for reading. As for the resolutions of the display, the iPad takes the lead here with its retina display. The iPad has a resolution of 2048×1536 with a PPI of 264. This is much higher than Kindle's 1920×1200 resolution that has a PPI of 224. That being said for its 150$ price tag the Kindle also has a decent display.
Read more: Apple Watch vs Fitbit – Complete Comparison Which one is best to Buy?
Kindle Fire vs iPad – Performance in other Tasks
As both of these devices are smart tablets, chances are you will be doing things other than reading on them. The Apple iPad runs on iOS and the Kindle runs on a custom version of Android. Since the iPad has a much better optimized operating system, it delivers much better performance than the Kindle. Not only that but the processor of iPad is entirely new and powerful when compared to the Kindle. The iPad wins the performance comparison with flying colors because of its processor and operating system.
Read more: Chromebooks vs Windows – Which is Best Laptop to Buy
Kindle Fire vs iPad – Application Support
Both the Kindle and the iPad are running smart operating systems that allow you to install apps. This means that you can efficiently use them for things other than just reading books. The Amazon Kindle has the Amazon App store installed in it for installing apps, and the iPad has the Apple App Store. This means that if you chose to buy the Apple iPad, you could install apps from a store which has millions of apps on it. The app support on the Amazon site is just not anywhere close to the Apple iPad making it the champion in this department too.
Read more: LCD VS LED Monitor – What is the Difference? Which is Better?
Kindle Fire vs iPad – Battery Life, Cameras and Misc
Moving on to the battery life, it is highly essential that you have a good battery life on a device which you are going to use for reading. Therefore both the devices provide you with up to 10 hours of battery life. As for the cameras, the Kindle's cameras are just outdated and are just ok for skype calls. On the other hand, the iPad provides you a much better camera experience. Another great thing about the iPad is that it comes with Touch ID which makes unlocking your device much easier. The Kindle, on the other hand, does not have a fingerprint sensor as you would expect at its pricing.
Read more: Amazon Echo vs Google Home – Which one is better?
Kindle Fire vs iPad – The Reading Experience
The fact that our comparison is based on which device is better for reading, this section is quite interesting. The iPad is quite easier to hold in your hands for long periods of time due to its 4:3 design as well as its lightweight body. Talking about the display, since the iPad has a retina display with better color accuracy and pixel density. Such things make the reading experience on the iPad much better than the Amazon Kindle Fire.
Read more: How to Take a Screenshots on iPad – Best Method
Kindle Fire vs iPad – Variants and Pricing
The fact that Amazon Kindle is so much cheaper than the Apple iPad is the reason that we are making this comparison. Just because of its pricing, the Kindle makes a great contender for the iPad. While the Amazon Kindle starts at only 150$, you will have to shell out a whopping 330$ if you decide to go for the Apple iPad. Due to this reason, the Amazon Kindle makes a lot of sense for budget users. As for the variants, the iPad also offers you a cellular model that is more expensive than the WiFi one. Coming to the storage, the Kindle provides either a 32 or 64 gig model while the iPad has 32 and 128 gig variants. That being said the Amazon Kindle Fire also supports a micro SD card up to 256 GB.
Read more: [Updated 2018] Top 10 Best Parental Control Apps for iPad – iPad Child Lock Timer
Conclusion
As we come to the end of this comparison, it is time for a conclusion. If you are on a budget and want to do the reading, then the Amazon Kindle is an excellent choice. But if you want an all in one device that has everything that you expect from a premium device, then you should go for the Apple iPad. We hope that this article helps you in deciding which is better of these two. If we have helped you out in purchasing your next device, make sure to share this comparison with your friends as well as on social media. Doing so will also help others in deciding which is the Best Device for Reading.
Was this article helpful?