Get the complete details about What is access for iPhone 4G LTE W/ visual voicemail. And why you are being charged. I will also share the method to bypass the charging of money in your iPhone bill. Users can remove this billing from their next cycle.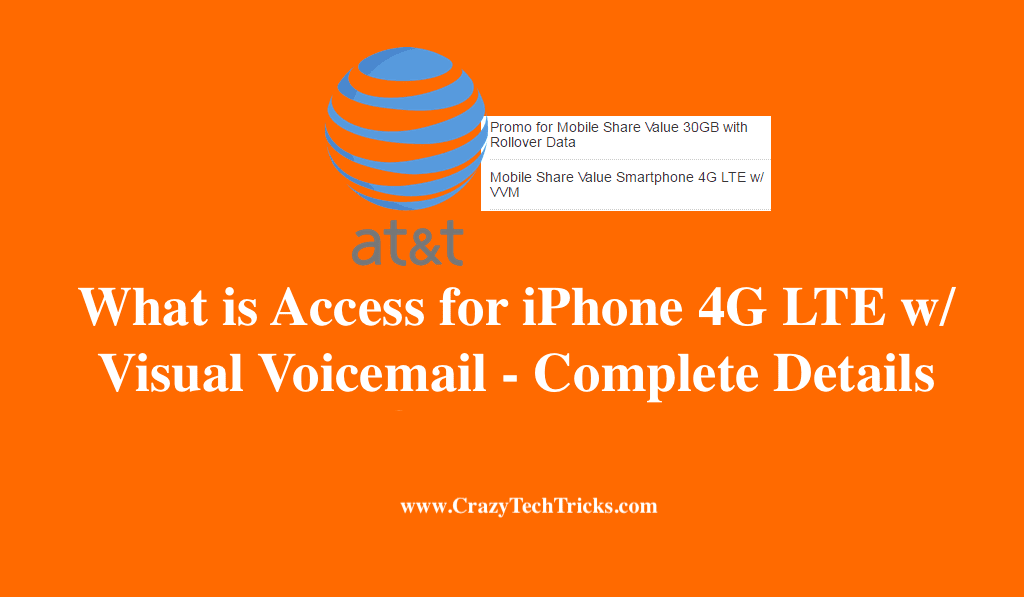 Upgrading your smartphone is very necessary in order to cope up with the pace with which the world is moving. You being an iPhone user, upgrade your phone, let's say from iPhone 8 to 10. Or you made that move which you were planning on to do, to switch to iPhone from Android, and bought yourself a brand-new iPhone. And you chose a well suitable plan from AT&T service providers.
What is Access for iPhone 4G LTE w/ Visual Voicemail
At the end of the month, you get your phone bill and you find yourself just staring at the total bill amounting to what you had not expected. Now when you take a closer look, you may find "Access for iPhone 4G LTE w/ Visual Voicemail".
Well on reading it for the first time, you may think that you are charged for the Visual voice mail on your iPhone. Well please do not misunderstand it. Follow along and know what are you ACTUALLY charged for.
Read more: How to Block someone on Instagram
First, let me clear this, you are not charged for Voicemail. It is charged for the access line. With the plan you buy, you will be charged for the data and there is this access fee for every line sharing the data. Now let's take a look at the plan from AT&T.
Unlimited Elite
This plan charges monthly $100 and the device access charges per device are-
Phone – $50
Tablet/Camera/Connected Car – $20
Harman Spark – $25
Read more: How to Setup Parental Controls on Roku TV on iPhone
How Much Does it Cost per line in AT&T
You also have autopay and paperless bill discount where you get a monthly discount of $10 per phone line. This discount starts within two billing cycles. We will have to pay the plan cost and the access fee until the discount starts. We also have a discount on phone lines. The more lines you buy, more the discount. It goes like this:
$55 for One Line
$30 for Two Lines
$40 for Three Lines
$60 for Four Lines
$75 for Five Lines
$100 for more than Six Lines
If you have used 100 GB of data in a billing cycle, AT&T may slow down data speed on that line when the network gets busy. Now let's bring out the math genius in us. Let's check how must does it cost for each line.
The monthly plan charge is $100, monthly device access charge is $50(for phone), the discount you get from autopay and paperless bill is $10 and the phone line discount you get (according to the number of lines you have opted).
One Line -> 100+50 -10-55 = $85
Two Lines -> 100+(50*2) – (10*2)-30 = $150
Three Lines -> 100+(50*3) – (10*3)-40 = $180
Four Lines -> 100+(50*4) – (10*4)-60 = $200
Five Lines -> 100+(50*5) – (10*5)-75 = $225
Again, the Access for iPhone 4G LTE w/ Visual Voicemail is the fee which is being charged as the access charge for the line. You may not find the line fees in prepaid plans as the company sums it up and displays, whereas in post-paid, plans are priced as ala carte- data plan and line plan.
Read more: How to use your iPhone as a Webcam for Recording
This is basically a part of the plan which you sign up for. It will identify what device you are using so that it can send right voicemail. The information which I put forward is solely my own opinion after a long research process.
Conclusion
The access for iPhone 4G LTE w/ visual voicemail charges are part of billing. So don't worry much as you are not charged any external amount for your connection. But yes you can remove it but the quality of the network will be affected.
Was this article helpful?