I have shared the 2 best Video Doorbells without subscription. You don't need to pay any amount for storage, video recording, control, and any premium feature. You will get all paid premium features for free.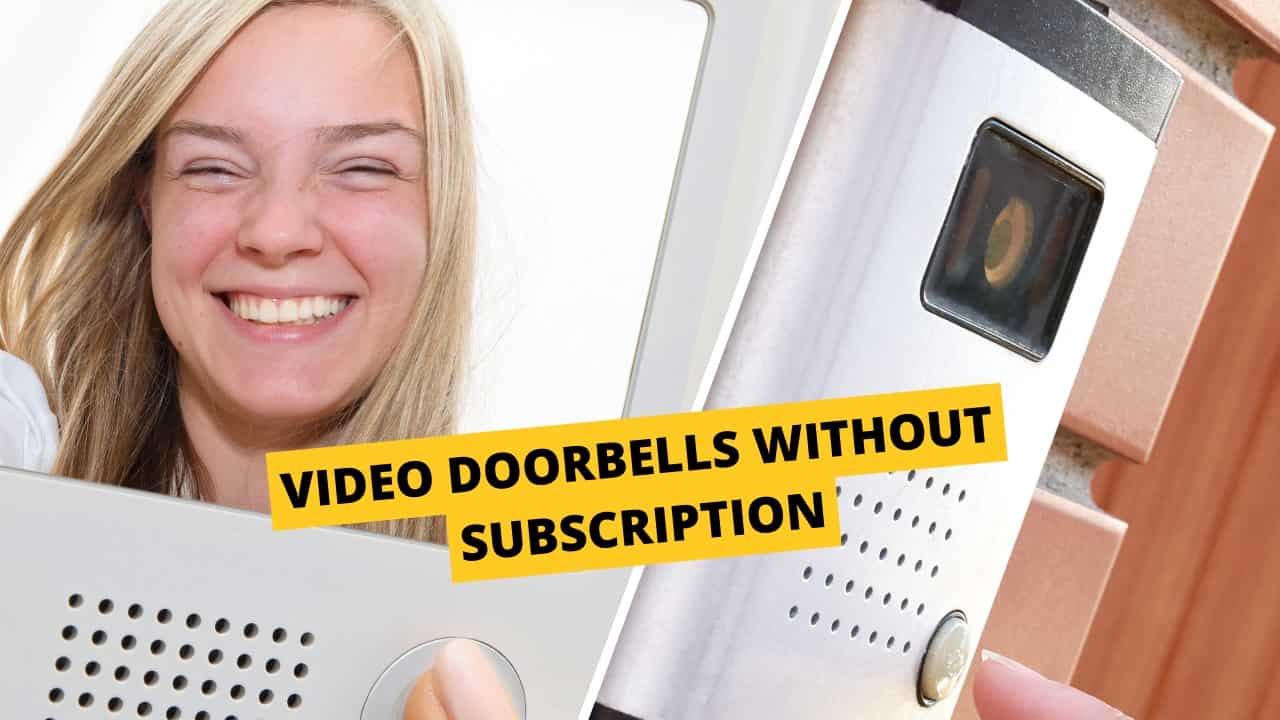 Video doorbells have become an increasingly popular alternative for homeowners seeking increased protection and convenience in home security. However, many video doorbell companies require customers to subscribe to a subscription service to access premium features and cloud storage.
Read more: What Video Doorbells work with Google Home
Luckily, there are video doorbell choices on the market that provide outstanding features without the requirement for a subscription. In this post, we will look at the advantages of video doorbells without subscription and showcase some of the best solutions available today.
Video Doorbells Without Subscription
These non-subscription video doorbells come with features like improved security, user-friendly interfaces, local storage choices, customized notifications, two-way voice communication, and quick installation. So, In this post, we'll look at the advantages of video doorbells without subscription and highlight some of the finest ones on the market right now. By the end of this blog, you will acknowledge why video doorbells without subscription may be a cost-effective and handy way to improve your home security.
Read more: Nest Hello vs Ring
However, let's explore the advantages of video doorbells without subscription and discover some of the best choices available in the market right now.
1. No Subscription Fees for Enhanced Security
The absence of periodic expenses is one of the key advantages of video doorbells without subscription. As traditional video doorbell products occasionally ask customers to pay monthly or annual membership fees to have access to features like cloud storage for video recordings or enhanced detection of movement. By choosing a subscription-free video doorbell, homeowners may save money over time while still benefiting from advanced security features.
2. Local Storage and Data Control
Users may usually store video recordings straight to a memory card or a local network storage device with video doorbells without subscription. This eliminates the requirement for cloud storage subscriptions while simultaneously granting consumers total control over their data.
Read more: How to do Ring Doorbell Installation
Instead of depending on external cloud services, homeowners can decide to preserve their video recordings on-site, guaranteeing the security and privacy of their material.
3. Customizable Notifications and Alerts
Many video doorbells that do not require a subscription include configurable notification settings, allowing users to fine-tune their alert choices. When someone approaches their door or the motion sensors are triggered, homeowners may receive real-time notifications on their cellphones. Moreover, Users are instantly alerted of any prospective guests or security problems because of this degree of personalization, which comes at no additional cost.
4. Two-Way Audio and Remote Control
Two-way audio features are frequently included in video doorbells without a monthly fee, allowing homeowners to converse with guests through their smartphone or tablet. The ability to communicate with delivery persons, receive items, or even dissuade prospective invaders makes use of this function particularly well. Moreover, Users may feel secure and in control even when they are not at home thanks to the capability of remote communication with guests.
Read more: Program Garage Door Opener
5. Simple Installation and an Easy-to-Use Interface
Video doorbells without a monthly fee are made to be user-friendly, with easy-to-follow instructions for installation that don't need a specialist. These gadgets often work with existing doorbell wire or run-on batteries, allowing for flexible placement in various places.
Additionally, the majority of manufacturers offer user-friendly smartphone applications that make it simple for customers to set up settings, see live video feeds, and retrieve recorded content.
6. Enhanced Security and Mindfulness
Homeowners may still benefit from the increased protection and peace of mind that these devices offer by installing a video doorbell without a subscription. Users can keep an eye on their front entrance and communicate with guests remotely via features like motion detection and real-time notifications. This degree of command and awareness is crucial for preventing prospective intruders and monitoring package delivery.
Recommended Subscription-Free Video Doorbells
There are numerous prominent alternatives on the market for video doorbells without subscriptions that offer superior performance and capabilities without the requirement for ongoing costs. Let's examine two well-regarded video doorbells that don't require a membership in more detail:
Read more: How to Setup Alexa Guard
1. Brand A: XYZ Video Doorbell
The XYZ Video Doorbell is a high-rated choice that provides a variety of capabilities without requiring a membership. With high-definition video resolution, adjustable motion detection, and dependable night vision, this doorbell provides outstanding monitoring capabilities. The gadget provides local storage via an SD card and convenient remote access via its user-friendly mobile app.
Additionally, the XYZ Video Doorbell excels in night vision, offering crystal-clear visibility even in dim lighting. This guarantees that the property owners may keep an eye on their homes whenever they choose, day or night. The two-way audio technology allows for simple communication with guests or delivery employees, improving both safety and comfort.
2. Brand B: ABC Video Doorbell
The ABC Video Doorbell is another interesting option for those looking for a subscription-free alternative. It has superior motion detection technology, two-way audio, and live streaming capabilities, all without the need for a subscription plan. The stylish appearance of the doorbell, as well as its ease of setup and connectivity with leading smart home platforms, makes it a handy and practical solution for homeowners.
Read more: How to Download Amazon Prime Music to PC
The ABC Video Doorbell is designed for simple installation. It may be readily linked to existing doorbell wiring or run on battery power, giving it the flexibility to be installed in a variety of places. The doorbell's connectivity with common smart home platforms enables connectivity with other gadgets and effortless operation via voice commands or specialist smart home applications.
Conclusion
Video doorbells without a subscription provide homeowners with a cost-effective and simple way to improve their home security. These devices allow customers to take control of their security without sacrificing efficiency by removing the need for recurring payments, giving local storage alternatives, and delivering configurable features.
Whether you select the XYZ Video Doorbell or the ABC Video Doorbell, you may benefit from innovative security, remote access, and simple installation while also making long-term financial savings. Make a knowledgeable choice when purchasing a video doorbell, and you will have peace of mind knowing that your house is safeguarded without the inconvenience of a membership. Moreover, the advantages of advanced safety features may be had by homes without incurring additional costs by selecting a subscription-free video doorbell.
Was this article helpful?