You can check all these best Chromecast audio alternatives. All these are best and easy to use. Users can buy them from Amazon and get a discount. These are the most compatible devices when compared to Chromecast and you can use it to connect any device.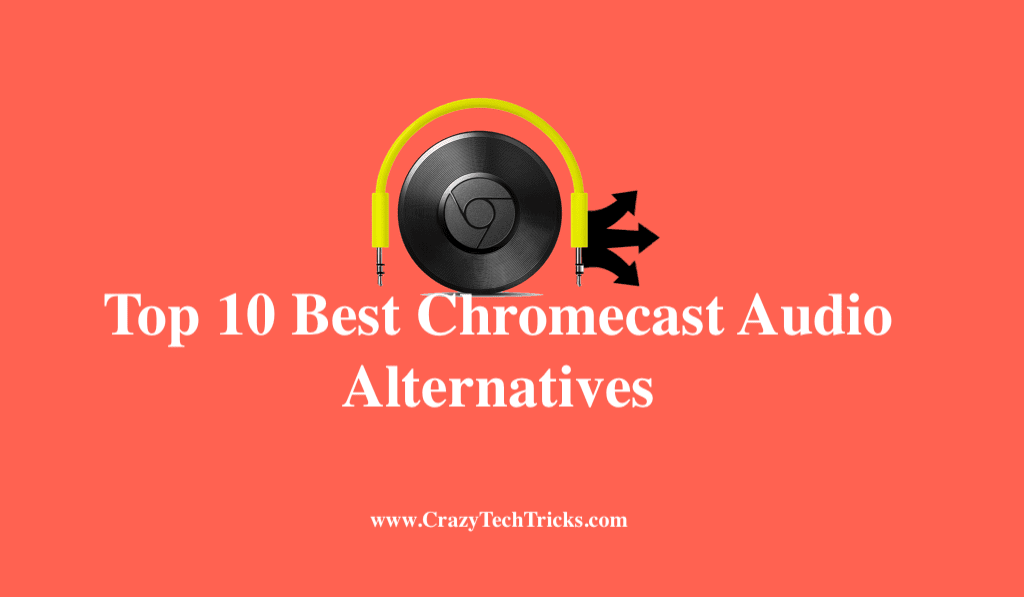 Chromecast Audio was a great product of for music lovers. Playing music on a Bluetooth speaker might just not be good enough. Chromecast was the cheap and best solution for home audio. As this amazing device is no longer available in market to buy, So I will share some alternatives which can replace Chromecast.
It was a device which connects to WiFi and has the ability to turn any of your speaker having AUX input in to a WiFi connected speaker. You can play music and media from any application. This device is a great solution for home audio. You can play music from any corner of your room rather than playing it in one specific speaker.
Well, there is no exact reason why did Google stop its production. But having Google home in the market, both these devices offered home audio solutions. It is also believed that Google is planning on creating speakers.
10 Best Chromecast Audio Alternatives
Here are the best alternatives to replace Chromecast Audio.
AudioCast
Sonos Speakers
Audio Pro
Amazon Echo
Bose SoundTech
Cobblestone
August WR320
Roku Streaming Stick
Avantree Priva III
Marantz PM700N
AudioCast
AudioCast is my top recommendation, because it is almost the same size as Chromecast Audio, and is nearly the same price. It works just like Chromecast Audio. Plug it into your speakers. Install a free application called AudioCast from the app store. Enjoy streaming music from any corner of your room.
Read more: Free Chromecast Streaming Apps for Android
Sonos Speakers
Sonos speakers are also a great alternative. It comes at a very high price. You will have to install the Sonos application first. Create an account and then go through the setup process. Configure your WiFi network and connection. Enjoy streaming music from any application. You can also add additional Sonos speakers from the Sonos application.
Audio Pro
Audio pro offers exciting multi room audio solutions. You can play music from audio device seamlessly through wifi connection. The device is big compared to Chromecast audio. There is also Airplay support for your iPhone, Spotify connects etc.
Read more: Chromecast Alternatives
Amazon Echo
Amazon Echo is one of a kind. Echo dot actually falls under smart speaker's category. It has the support for voice commands. If you like to have an ecosystem of connected audio streaming devices, then this is a perfect choice. Also, this is far cheaper than Sonos or other high-end Audio streaming devices.
Bose SoundTouch
Bose SoundTouch connects your old speakers to the internet using WiFi. There is no need to buy a new set of speakers. You can just connect Bose SoundTech to adapter your speakers. You can also play music via Bluetooth also, its all up to you. You have a choice. You must install the SoundTouch application and play music. You can either play same music in every room or you can play different music.
Read more: How to Host Someone on Twitch
Muzo Cobblestone
The Cobblestone WiFi Audio receiver adapter syncs with multiple sets, and provides support to DLNA, Airplay, iHeart Radio, Spotify, Tune-in and many stations. You must install MUZO player or 4STREAM application to enjoy streaming. The setup is easy. You must connect it to the router to give it access to the internet and then connect to your speakers, receivers or amplifiers.
August WR320
The August WR320 – wireless audio receiver takes the content from wifi router and then feeds it to the speakers. You can also play music through Bluetooth feature. You can also play the same music in every room or different. It is compatible with both IOS and Android.
Roku Streaming Stick
The price of this product is very similar to that of Chromecast Audio. Along with casting audio, you can also watch live TV. The Roku streaming stick is said to be very straight forward.
Read more: How to Setup Parental Controls on Roku TV
Avantree Priva IIA
Avantree Priva casts your TV audio to your speakers seamlessly. The company says it should not have any audio delay as it reaches a 30m range. This device requires USB power. You need not remember to charge it all the time. When you connect it to the TV's USB port, it will get charged automatically.
Marantz PM7000N
Marantz PM7000N is quite costly as it comes at around 940EUR. This device is compatible with virtual home assistants and other streaming services from Google, Amazon, and Apple.
Conclusion
These best Chromecast Audio alternatives are best if you are looking to move on from earlier Chromecast. You can easily use these alternatives and start using them. These devices can be connected to any device and will do the same work as Chromecast.
Was this article helpful?