Hey, Today I shared the article on how to Fix AirPods case not charging. Users can fix all the problems related to their Apple AirPods. We have done deep research and found these 5 ways to fix AirPods not charging. You can use any of the method listed and start charging your AirPods at a much faster speed.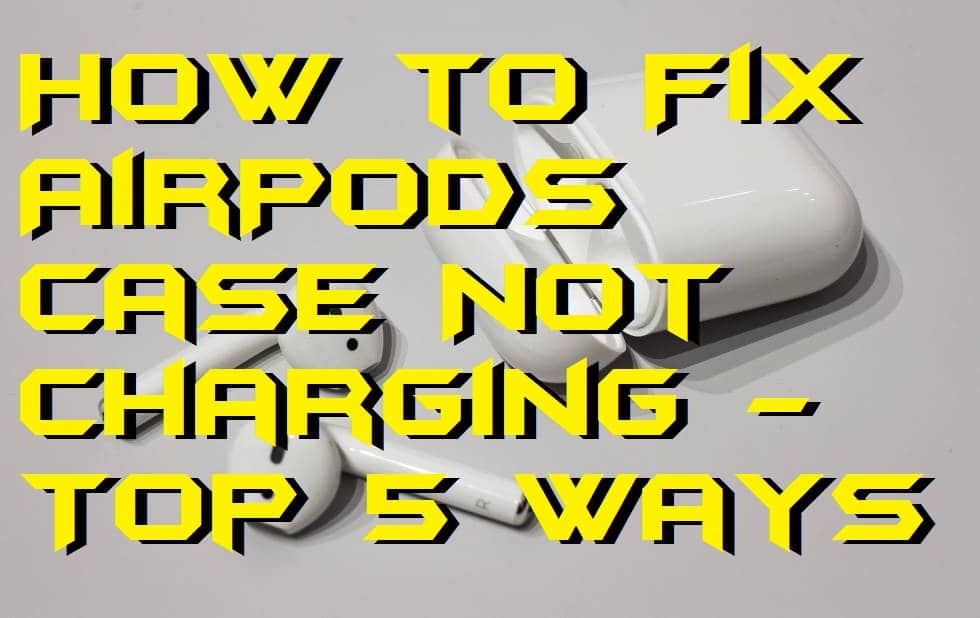 Many of the Apple product users are using Apple AirPods. Because of the fantastic clear crystal sound quality, the Apple AirPods are making a massive place in the market. Apple AirPods can not only work with Apple products such as iPhone, Mac, Apple TV but can also work well with other devices such as Android, Windows PC, etc. But, what if you have purchased a brand new Apple AirPods and the AirPods case not charging up? You will feel depressed. Alright, hold on. You can fix yourself if your Apple AirPods case is not charging.
How to Fix AirPods Case Not Charging – Top 5 Ways
There are many ways available if someone would like to fix the Apple AirPods case not charging issue. But, not every method is found to be working. Though, I have listed the top five different ways by which you can quickly fix the AirPods case not charging problem yourself. Generally, Apple AirPods don't have any technical issues, but if somehow you are facing any problem then you can fix it using these easiest ways. So, what are you waiting for? Let us head up to the methods shared below.
Read more: How to Install the iOS 12 Beta on Your iPhone, iPad or iPod
---
Method 1: Clean the charging port
The first thing which you can try to solve this problem is to clean the charging port of your Apple AirPods. Sometimes what happens is that the dust particles block the pipes of the charging port this led to the blocking of charging port. You can use brush, toothpick, and any other item to clean the charging port. Just make sure that you clean the charging port very carefully because it is a very sensitive thing.
---
Method 2: Use different charging cable
Sometimes the charging cable got damaged that is why we face the AirPods case not charging problem. To check that did the charging cable is got damaged or not, you can do so by charging any other Apple AirPods using it. Once you have figured out the problem, then you can buy a new charging cable to charge the AirPods and use it freely.
---
Method 3: Use direct electric connection
Using a direct electric connection means that do not use any extension to charge your Apple AirPods. Sometimes the extensions are got damaged, and meanwhile, we connect our charger to it and start charging the AirPods. But, later on, we realise that the AirPods case not charging up. So, in that case, the fault is all of the extension which you are now using.
Know more: How to Downgrade from iOS 11 beta to iOS 10
---
Method 4: Reset the AirPods case
Resetting the Apple AirPods means that all the customised settings will be revert to the default settings. Also, this is very helpful if someone wants to troubleshoot the AirPods. To reset your Apple AirPods juts press and hold the setup button which is at the back side of the AirPods case. Wait for few minutes till the white light do not flashes up. After it does so then you can try to charge your AirPods again.
---
Method 5: Visit the Apple Service Center
If none of the above methods found to be helpful for you. Then, the last option which you can try to sort out the AirPods case not charging issue is that take it to the Apple Service Center. Because the Apple Service center is the best service center in the world so that can be said blindly that they will help you in fixing the AirPods case not charging issue very well.
Trending: Top 5 Best Apps for Time Lapse Photography on DSLR, Android & iPhone – How to Shoot
---
Conclusion
These were the top five different methods about how you can fix the AirPods case not charging problem. As I told earlier, there is more method available to solve the AirPods case not charging issue. But, I would like to recommend to you that if the above four methods are not solving. Then you must go with the fifth method. I am sure that the last method will help you. If you have solved the AirPods case not charging issue successfully then make sure that you share this article with other peoples as well so that he or she can also fix it.
Was this article helpful?