Hello friends, Today I will share the top 5 best apps for Time Lapse photography on DSLR, Android, and iPhone. Try these free time-lapse photography apps for Android or iPhone. These apps are easy to use, and you can do any Time Lapse photography on any device. Users can connect and make HD quality Time-Lapse photography. You can even make a video using these apps. They are great for editing photos and videos.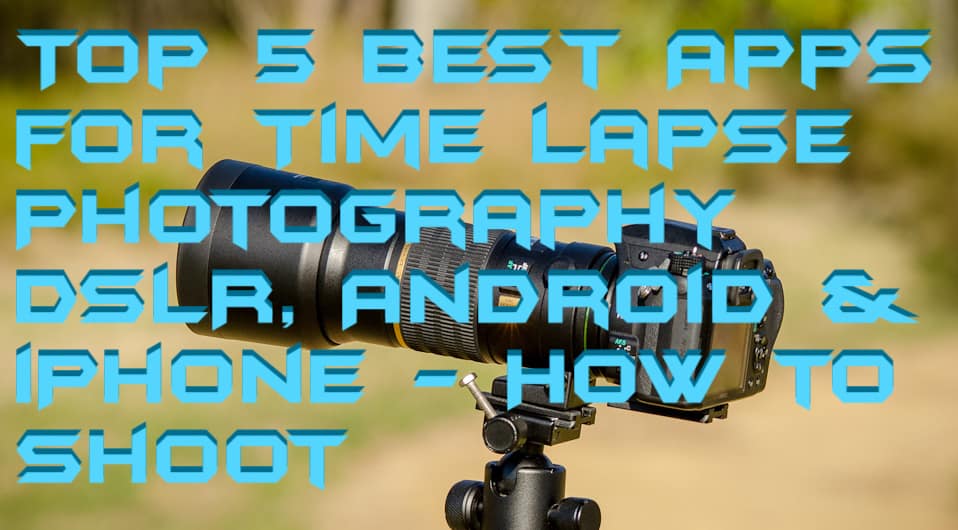 How to do Time Lapse photography on DSLR 
We have shared every way to do time-lapse photography on DSLR. Users can use these five apps for photography on DSRL and other devices like Android/iPhone. I have also shared the required equipment to do time-lapse photography. You can do HD quality photography without any superior devices.
Top 5 Best Apps for Time Lapse Photography on DSLR, Android & iPhone
Time-lapse photography is gaining a lot of popularity these days. For some people, it is freedom and a very effective way to connect with nature. It speeds up time, so the name time lapse. Moreover, it is not limited to just DSLR now. You can click time-lapse photographs from your phones too. Some apps bring out your photography skills. These are some best apps that make time-lapse photography possible.    
---
Lapse It
This app is available for both Android and iPhone users. It is available on Play Store and App Store for free. You can purchase Lapse It Pro which costs around $3 for extra features. There is provision for focusing, adjusting ISO and white balance. You can shoot amazing stop-motion videos. Another add-on is, you can also change video resolution, codec, frames per second (fps), and add an audio track. It is simple, fast and intuitive. You don't need any expensive photography equipment. Uses full potential of your camera, has a fast rendering engine and you can share directly to your favorite social media site.
---
Hyperlapse Instagram
Hyperlapse Instagram is only available for iOS devices, and you can get it on the App Store. It uses Instagram's in-house stabilization for capturing time-lapse videos that weren't possible without DSLR and other equipment and gives a fantastic cinematic effect. Since this app provides stabilization, you can capture videos in motion too. The app is easy to use and understand and requires almost no knowledge of photography. You can speed up to 12 times the speed. You can share the videos instantly on Instagram, or save it to your gallery. The app does not require any sign-up or login to Instagram for capturing masterpieces.
Read more: How To Watch NFL Games Without Cable TV for FREE- Top 6 Ways
---
Microsoft Hyperlapse Mobile
Microsoft Hyperlapse Mobile comes for free on Android only. Instant gratification provided, meaning you instantly get to see the hyperlapse as soon as you capture the video. You can easily convert any pre-shot video to hyperlapse. There are multiple options for choosing speeds ranging from 1x to 32x and 1080p or 720p HD resolutions if your phone supports. Changing the speed does not change the speed of the audio and keeps it intact. Share and save your captured videos easily. The user interface is straightforward and requires no efforts. It is a good app for capturing stabilized videos.  
---
Framelapse – Time Lapse Camera   
Framelapse is blessed with a simple, fast and intuitive interface and enables capturing high-quality time-lapse clips. There is a provision for setting a timer for the video capturing which automatically stops shooting as timer ends. It comes with zoom and autofocus options plus works with the rear as well as the front camera. Customization is available in white balance, color effects, and exposure compensation. Sizing of dynamic preview available but no preview cropping. Requires no rendering time. The videos are recorded in mp4 format. If you don't understand how to operate, check for the in-built guide available in the app.  
---
iTimeLapse Pro – Time Lapse Videos
Pro means you need to purchase the app and it costs $2.99 to be apt. iTimeLapse allows you to capture a series of images rapidly and convert them into a lapse video. You can create as many sessions as you want. You can add music for the lapse from your iPod library and now add original music tracks. Shoot professional stop-motion videos with 'overlay last frame' feature. There is a facility to edit individual frames, and it is possible to render videos at different frame rates and resolutions. You can capture frames at a certain time interval. This app is worth the cost you pay because it comes with a lot of good features than any other apps can provide. 
---
Timelapse Photography Equipment
You require a DSLR camera and should know how to operate it. If you have enough knowledge of what and how to capture, you are good to go. Digital photographers usually have all the equipment they need.  So let's start with the basic gear necessary for time-lapse photography.
Read more: What is the Difference Between 3D Touch vs Haptic Touch vs Long Press
---
Tripod Stand
Stability is essential when you are capturing frames for time-lapse. You need to stabilize the DSLR, and for that, you would need a tripod stand to rest the camera ON. The tripod stand must be sturdy and heavy so that it rests well on any surface.
Some tripod stands that you should go for buying are:
Manfrotto MK293C4-A0RC2 4 Section Carbon Tripod Kit with Quick Release Ball Head

Benro A0690T Travel Angel Tripod Kit with Aluminum Twist Lock Legs with BH00 Head
---
Camera
You would require a good DSLR or a mirrorless camera. Here are some good time-lapse cameras that you should head for buying if you wish to make photography as a career.
Sony Alpha a7s

Canon EOS Rebel T3i

Canon 7D  
---
Remote timers and Timelapse Intervalometers
You need an accurate and reliable automatic shutter triggering to capture some good time lapse videos. This is where the intervalometer comes into the picture. Intervalometer may come inbuilt in your camera, but in some models, you won't find it. You have to buy it separately. Some intervalometers with good reviews are:
Aperture timer remote

Timelapse+

Ramper Pro from Elysia Visuals

Trigger Trap
---
Filters
These work like sunglasses for your lens. Natural density filters, without modifying the colors, reduce the light intensity. They allow slower shutter speed. Motion blur and shutter dragging are significant for time-lapse photography.
Other accessories that you might require for time-lapse photography are:
Battery Grip – for expanding battery compartment

Extra Batteries

Extra Memory Cards

Card Reader
Read more: How to Use Google Lens on iPhone & iPad
---
For good time-lapse photography, here is a workflow one needs to understand

:
Explore and analyze the object. Look for a scene or expect how a scene might change.  

Decide the speed, length of the clip you wish to keep, number of shots, and set your intervalometer.

Stay consistent with the exposure you are using. ISO, aperture, shutter, focus, white balance should be set to constant values until you complete your time-lapse shooting.

Review time-to-time if the shoot is coming right or not. After these checks are made, you are good to start your final shoot.
Was this article helpful?