You can fix Xbox Error Code 0x8027025A by following any of these five methods. By following these methods, you can fix all types of sign in error in your profile. In addition, users can even fix the loading time of the Xbox app.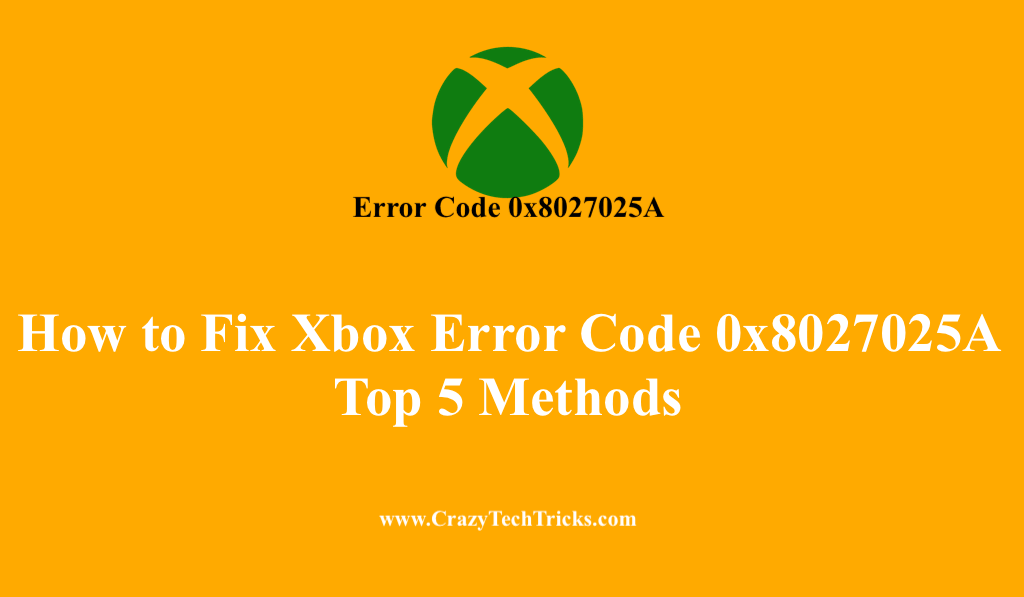 Xbox is one of the popular video game consoles for home. This game console is widely admired for providing realistic game graphics. However, some errors can tear down your whole excitement of playing the game.
Today, we will deal with one such Xbox error. Here, we are going to discuss the ways to fix Xbox error code 0x8027025A and also see the possible reasons for the Xbox taking a long time to start.
What are the Possible Causes of Xbox Error Code 0x8027025A?
The Xbox error code 0x8027025A usually suggests a provisional problem in the service of Xbox Live Core that prevents signing in to your profile. There could also be chances of sign-in issues to your account while starting the Xbox. In some cases, it would probably be because of the exceeding loading time of the problematic Xbox app.
Many users have reported that they need to sign in to their Xbox account or start the complicated Xbox app again while this Xbox error code is encountered.
Read more: How to Connect Bluetooth Headphones With Xbox Series X|S
How to Fix Xbox Error Code 0x8027025A
This Xbox error which restricts you to sign in to your profile or starting any Xbox applications is a serious concern and should not be taken for granted. Let us dive into the easy and convenient ways to resolve this issue.
Check the Xbox Live Core Service status
Restart the game console
Restart the Xbox app again
Sign in & out of your Xbox account
Factory Reset
Read more: How to Sync Xbox One Controller to Xbox One
Method 1. Check the Xbox Live Core Services status
To fix the Xbox error, head to the Xbox Live Services status and check if any alerts or service issues have been mentioned or not. You need to go to the Xbox website and make sure that the services of Xbox Live Core are working or not.
Read more: How to Get Game Sound Through Xbox One Chat Headset
Method 2. Restart the Game Console
Xbox keeps all types of temporary files stored in the cache which though helps you to start the Xbox applications in a faster way but sometimes these files get corrupted and can cause errors like the one we are talking about right now. You can get rid of the cached data in simple steps. All you need is to restart your gaming console.
Go to the Guide by scrolling left to the Home Screen.
Click on Settings > Restart Console > Yes.
Otherwise, you can hold the power button for about 10 seconds till the game console gets turn off. Once done, turn it on by pressing the power button to restart the console.
Your problem should get resolved after restarting the console and clearing the cached data.
Method 3. Restart the Xbox App Again
Users have suggested that they were able to fix the Xbox error code 0x8027025A by simply starting the app again. You need to first stop that particular app before restarting the app.
To do so, press Xbox button to go to Guide and click on Home.
Choose the problematic app and tap the Menu button.
Select Quit.
You need to wait for at least about 10 seconds to start the app again.
Read more: How to Connect Wireless Headphones to Xbox One Controller
Method 4. Sign-in & out of your Xbox account
There is a common issue of synchronization with the Xbox consoles which restricts you from entering into the game. To fix this issue, all you need is to just get sign-in & out of your Xbox account.
Method 5. Factory Reset
Factory Reset is the ultimate method to fix the Xbox error code 0x8027025A, if nothing is mentioned ways work for you. This will delete all your Xbox data and the settings will get reset to default. However, you can keep the important key binds, progress, and settings of graphics stored in the cloud so that you can access it later on after using the Factory Reset.
To do so, go to Main Menu > All Settings > System > Console Information Tab > Reset Console.
Once done, two options will be made available – Reset and keep my games & apps and Reset and Remove Everything. If you opt for the first one, you are performing a hard reset and not Factory Reset. Your corrupted data will still prevail in this option and won't fix this error. If you opt for the other option, then it will do the appropriate Factory Reset and hence the issues will get resolved.
Read more: How to Play Xbox 360 Games on PC
Conclusion
Xbox is immensely popular among game enthusiasts worldwide. It is always a great time to play video games with friends and family at home using gaming consoles like Xbox. But, we know how it feels when the excitement level of playing games drops down due to errors. That's why we have brought for you the safe and straightforward steps to fix the Xbox error code 0x8027025A. Now, you can easily solve this problem whenever you need to encounter it using this reference.
Was this article helpful?