I will share 5 methods to make Chrome your default browser. You can use these methods on Windows and Mac. Users can even select Google Chrome as their primary internet browser and all sites will automatically open in Google Chrome.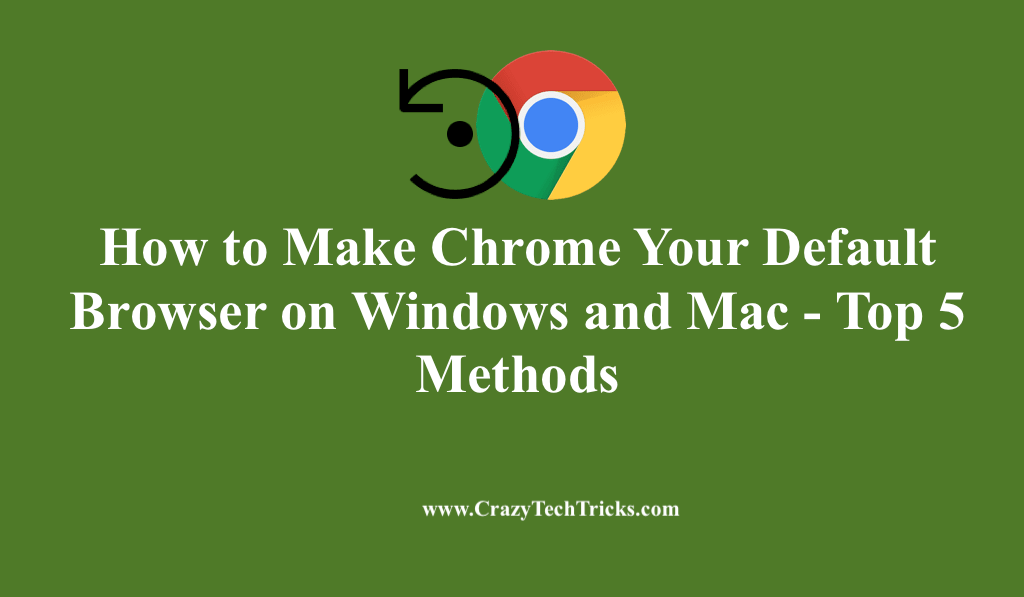 Google Chrome, one of the most used web browsers worldwide, holds a market share of about 65% across mobile phones and desktops. Chrome is reliable and is compatible with most operating systems. As Chrome is developed by Google, so security and privacy concerns are handled well using it. Hence, users are more inclined to set Chrome as the default browser on their PC with Windows and macOS.
How to Make Chrome your Default Browser on Windows
To install Chrome as the default browser on Windows, there are three methods that we are going to highlight depending upon your convenience and the device you are operating. These are as follows:
Chrome Settings
Settings
Control Panel
Mac System Settings
Safari Application
Let us peek into each step one by one.
Method 1. Chrome Settings
In this method, you can directly make Chrome your default browser using the Chrome Settings only. It is convenient and does not need to open any further application on the system to do so.
Launch Chrome web browser on PC with Windows.
Select default browser under Setting section.
Search and select the option "make Chrome default browser" and toggle to turn it on.
Hence, Google Chrome has been set up as your default browser now on Windows.
Read more: How to Remove Adware From Google Chrome
Method 2. Settings
If you are operating Windows 10, then we are going to tell you the process to make the default browser to Chrome. This method is an alternative to the first method, where directly you can do so using the Chrome Setting. Here, you need to go to system settings to do the same.
Go to the Start menu and click on the gear icon to open Settings. Use the shortcut Windows + I to open directly.
Select Apps> Default Apps > Web browser > Google Chrome.
Finally, the default browser on your PC with Windows 10 is Google Chrome.
Read more: Why Google Chrome May Perform Slow
Method 3. Control Panel
Since many users operate on older Windows operating systems, they want to know how to have Chrome as the default browser to their systems. We have come with the steps to do so. If you are using Windows 8, Windows 7, or older versions, then the upcoming steps will surely help you out.
Go to Start menu > Control Panel > Programs > Default Programs.
Click on Set your default programs > Select Google Chrome.
Click on Set this program as the default > Select OK.
Enjoy using Google Chrome as the default browser on your mentioned Windows versions.
Read more: How to Fix Google Chrome Black Screen Issue
Method 4. How to make Chrome your default browser on Mac using System Settings
For macOS users, we have two alternative methods to get Chrome as the default browser on their Mac.
If you want to get this done using the Mac system settings, you have to head upon these ways.
In the menu bar, select the Apple icon > System Preferences > General.
Click on the drop-down list next to Default web browser and select Chrome.
Now, Google Chrome is considered the default browser on your Mac.
Read more: How to Enable Google Chrome Dark Theme on Android
Method 5. Safari Application
The method we are going to deal with now will help you change to Chrome as the default browser on Mac even though you are operating on older versions of Mac OS like Mac OS X Mavericks 10.9 or the earlier versions. This will be done by using the Safari application.
Go to the Safari app. In Menu bar, select Safari > Preferences. Otherwise, you can use the keyboard shortcut: Command + comma (,).
Tap the General tab.
Select Google hrome to make Chrome your default browser  from the Default web browser drop-down list.
Read more: How to Enable Google Chrome Dark Theme on Windows 10
Conclusion
Google Chrome is one of the most trustworthy web browsers admired by millions of users each day globally. So, why not make it your default web browser. In this article, we have tried to help you out to make chrome your default browser using these straightforward steps without creating any tussle for you. Check out these steps and enjoy using Chrome every time you browse.
Was this article helpful?