Hello friends, Today I will share a method on how to play BUP files on Windows 10. Users can even use this method on their Windows 8, 8.1, and 10. You can also convert these files and reduce the size of .bup file and play on your Android or iPhone.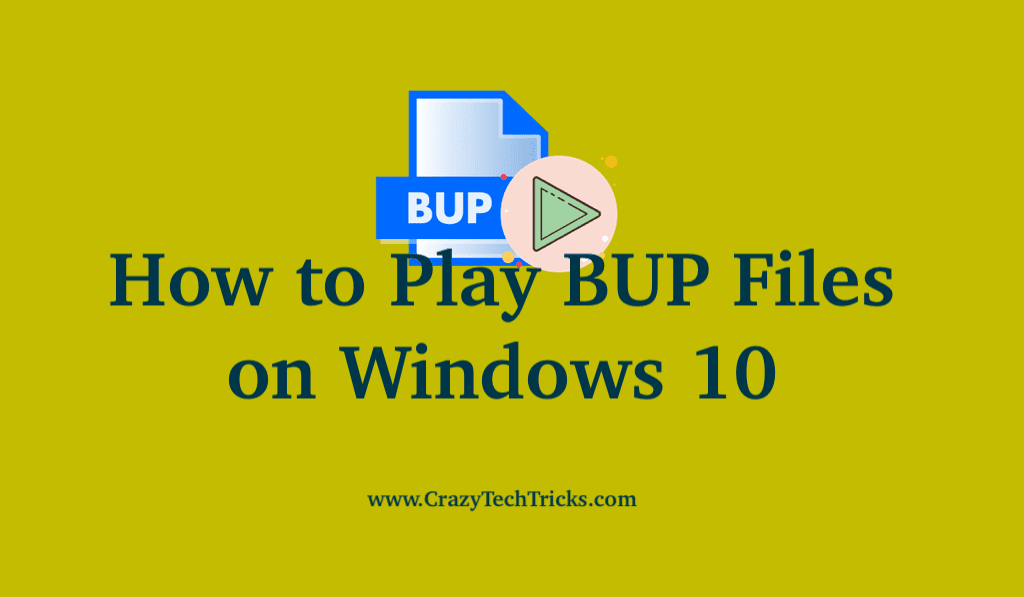 You must be wondering what kind of files are these and how can we play it. These BUP files are found on media playing files like video. So you must be trying to view a video, but the system shows an error. Well, a .bup file is not enough to play a video. So how to play BUP files on Windows 10?
Read more: How to Download Private Instagram Videos Android
In the past, we used to see movies on DVD, and there was no Netflix no Amazon Prime. But have you ever thought what file format did the video stored in the DVD had and how the player reads the data? It is important to know about the DVD format because it has a direct connection with BUP files.
Read more: How to Convert YouTube Videos to GIFs for FREE
---
How to Play BUP Files on Windows 10
We will use this method to play BUP files on Windows 10 PC/Laptop. You need to have WinRAR for extraction and for playing the file, we are using VLC. But you can also use any other software. A BUP file alone is of no use as it holds the information for the video player. So mostly whenever you get a BUP file, it will have VOB + IFO + BUP. So follow the next step to play all of them to see the video. Apart from Windows 10, this applies to Windows 8 and 8.1
Open WinRAR or if you don't have, download it from Link.
Make sure you downloaded the correct version of WinRAR to play BUP files on Windows 10 as per you Windows(32bit or 64bit)
Right-click on the BUP files.
Now click open it with WinRAR.
You can also go to WinRAR > Click on Files on Left Top>Open Archive.
Now, Place all the files together in a single folder to play the BUP file on Windows 10.
Open or download the VLC player on Windows 10. Link
Open the VOB file, and the data from the other two files will be fetched automatically.
Now you will see your .BUP file starts playing.
Read more: How to Convert DVD to MP4
---
How to Convert .bup file to Play Video in a Smartphone
There is an issue with these VOB files. They take a lot of space and not adaptable, so if you want to convert. Then you can do it by using a VLC player. Also, there is complexity when you try to play the file on mobile or on a television via Pendrive. So converting is the best option and why should we use a different application to convert when already we are working with VLC media player.
Open VLC and click on Media on the left top corner.
You will find a Convert and save option Click on that.
After that, Choose your file which you want to convert by browsing.
Now select the type of the desired format.
Select the destination to save.
Read more: How to Convert MOV to MP4
---
Conclusion
There are several other ways to play BUP files on Windows 10. But these ways consist of several untrusted Softwares. So I will suggest users to use this method as it is working. And the majority of the users are having the softwares installed in their system. You can later compress .bup file and can transfer using a pen drive or even play on your Android or iPhone.
Was this article helpful?