Users can block someone on LinkedIn very easily. This method will work on both Android/iPhone and computer. You can block anyone at any time and unblock too.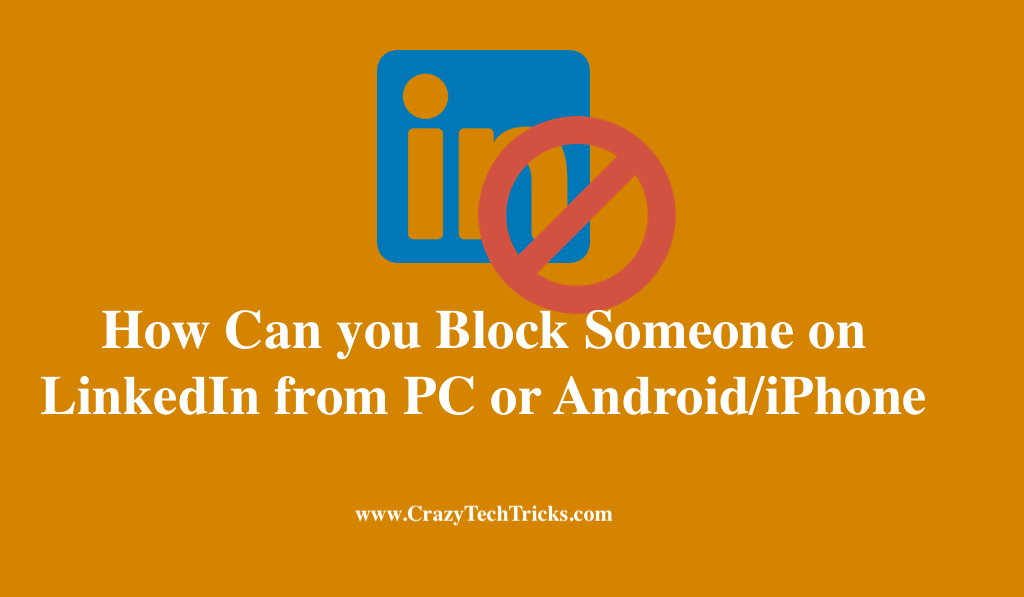 The United States-based company with its websites and mobile app named LinkedIn helps people find jobs. Founded on 5, 2003, the site primarily serves job searches and companies by allowing them to upload resumes and listings of open positions. On LinkedIn In, Employer, and employees can create profiles and connect through an online social network that symbolizes professional ties in the real world.
The acquisition of LinkedIn by Microsoft earlier this year, in December 2016, brought together the world's most comprehensive professional cloud and the world's largest professional network. Also, it can be used to arrange online as well as offline meetings, join different communities, submit publications, promote job ads., and any more stuff.
On what grounds users are permissible to Block someone on LinkedIn?
In certain cases, banning an annoying LinkedIn user is the best option! They utilize LinkedIn as a dating site. They contact your connections without your knowledge or consent, posing as a close friend. Their LinkedIn profile is false, since the profile image, name, job description, and overview paragraph differ.
Read more: How to Write a LinkedIn Summary
lthough you have no interest in the topic and have given no indication that you are interested in promoting their website, they attempt to sign you up as an affiliate. Additionally, if they terrify you. In such cases, users are permissible to block someone on LinkedIn.
How to Block someone on LinkedIn
Here's is a brief guide to block someone on LinkedIn. You can block your any friend or any professional person.
Start by logging into the LinkedIn mobile app and finding the account of the user you wish to ban.
You may have to scroll down to see the three-dot option that says "Report or Block".
Once that is done, click the "Block" option on the "Report" window.
Hit Block at the bottom of the display to finalize the decision.
That's all! Your account has now disabled the access of the selected user.
Read more: How to Add Interests on LinkedIn
Once you block someone on LinkedIn, the following happens:
A person who has been blocked from seeing your LinkedIn profile will no more have the ability to do so.
At any given moment, you can block up to 1400 members. Once you block someone on LinkedIn, they won't be notified of your action.
It is, however, possible that the site will inform the users about the intention to block them if you have shared LinkedIn Recruiter with that individual.
Blocking a subscriber who has subscribed up for your newsletter will get prohibited from receiving any further notifications.
People who are unpleasant without any reason or who try cyberbullying are just a couple of examples.
Read more: How to Upload Resume on LinkedIn
How to Unblock someone on LinkedIn
By following this method you can unlock someone from your LinkedIn.
After unblocking someone, you must wait 48 hours before blocking him/her again. Also, this means that you will not be able to enable/disable your account as quickly as possible.
Read more: How to Cancel LinkedIn Premium
Conclusion
Blocking someone on any platform is usually an anxiety-inducing experience. So, if you block someone on LinkedIn, they won't know about it either. Additionally, they will be unaware of your actions. If you want to block someone on LinkedIn, and the process is the same for the desktop as said for the smartphone. Therefore, blocking them is not impolite if someone insults you, bothers you, or makes threatening and nasty comments to you.
Was this article helpful?