Hello friends, Today I will tell you how to edit and use Firefox permission manager. Users can edit Firefox permission manager and change the settings. I will also share the top 6 Firefox security features to secure your internet browser.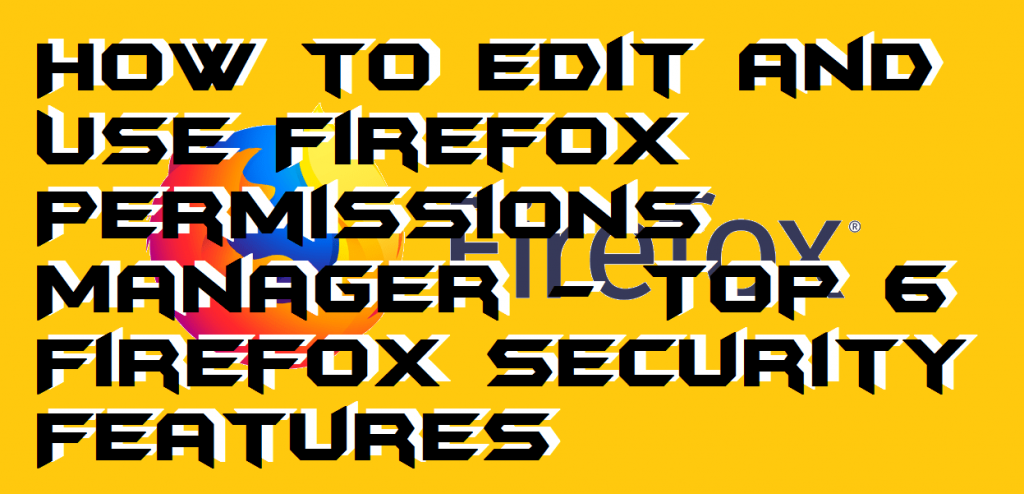 How to Edit and Use Firefox Permissions Manager – Top 6 Firefox Security Features
As far as web browsers are concerned for pc, Mozilla Firefox and google chrome are people's first and foremost choice. Because of the features, they provide as well as the security patches. But today, I am not going to talk about google chrome features, but Mozilla Firefox, instead. Because of the new features, the number of downloads in the past few months has increased. Many people have started giving priority to Mozilla Firefox over Google Chrome web browser. So, today, I am going to tell you about a great feature of the Mozilla Firefox. This exciting feature is "Firefox permissions manager." The firefox permissions manager is a great facility that lets the user control several settings and manage the site permissions on your fingertips and some clicks.
Read more: How to Disable Ads on YouTube – Remove YouTube Ads from Safari, Android, Chrome, FireFox
What is Firefox Permissions Manager
While visiting any site, the user needs to allow some cookies from the sites for better assistance from the site. But sometimes, users do not want to share any information with the site they visit. In such cases users of the web browser block the cookies which used to be a complex task, until Firefox permissions manager provided this great facility. The Firefox permissions manager provides some great features to control the access of the website. So that it gives a classic interaction to the user. So, let's proceed with our concerned topic.
Read more: Best Way to Block Websites on your PC – Block Websites in Chrome, Firefox, Computer & Laptop
How to Open Firefox Permission Manager
While using Mozilla Firefox, there may or may not be a direct option of opening the Firefox permissions manager. There here is a directory which will redirect you to the permission page of the Mozilla Firefox. Follow the simple steps to open the Firefox permissions manager in the browser. You can set Firefox permissions assigned to different sites.
Open the Mozilla Firefox web browser.
Type down " About permissions" in URL box and enter. The browser will redirect you to the permission page.
Read more: How to open Recently Closed Tab in Google Chrome, Firefox and Internet Explorer 11
Top 6 Firefox Security Features
So here are the Firefox security features, that Firefox permissions manager provides. There are six Firefox privacy settings main along with some others. It depends upon the version of the Mozilla Firefox web browser. When you open the Firefox permission manager, there are some website names that you have visited on the left side of the screen. Every site has its own settings by default or set by you. Select a site of your choice from this window. Then you will set the settings associated with that site. So, here are some features that you will find out in that window.
Store Passwords

Whenever you visit a site that requires you to log in. The username, email ID or the password that you enter need to be saved. When you click on log in, the browser will ask your permission to save that information for you. It happens because next time you visit that site, you will not have to log in again, which means the site will automatically fill the information for you. You can allow or block that site to save the passwords for you. Just click on the box then select "allow" or "block" to give the permission to the website.

Some websites need to locate your physical location to track you. This is because of the site's marketing process and advertises some popular products. Whenever you visit such types of website, you will see a pop-up menu seeking for your permission to let the website access your location. You can either allow, Block or tell the website to ask you every time to track you. In future, your these settings will affect your next visit to the website.

Set Cookies

Cookies are the files that store the information about you and your pc and save them onto your pc and the server. Next time you visit that site again your references in the past will let you select your favorite things — for example, the Ekart sites or E-commerce websites. These files allow the servers to track how many visitors are on the website at the time, how many users have revisited the site or how many times they have visited this site. You can either clear those cookies or clear them manually. Clearing the cookies will never let the server to know that you have visited their site again.

Pop-up Windows

The pop-up window settings are for the ads or that windows that could redirect you to next window. While downloading any files, this often happens. Even sometimes, user feds up while interacting with them. Therefore, keeping this in mind the Firefox permissions manager lets you block or allow these pop-up windows so that they can never interrupt you. If you select "Always ask," then in the future web browser will always ask for your permission to pop-up a new window.

Maintain Offline Storage

The offline storage is also known as application cache or log file. This is a file that is saved on your computer when you download any website to use it offline. Users sometimes use this feature, because they might not have an internet connection in the future so that they can check the contents of the website in the future. To maintain offline storage, you can either allow the site to download to be downloaded into your computer or block it. Also, you can set the browser to ask you everytime you need to download any content from the website.

Forget About the Site

In the upper right-hand corner of the Firefox, permissions manager provides a feature so-called "Forget about the site." When you click on this option, the whole detail about the site will be deleted from your computer. Next time you visit that, you will be a new client for that site. Also, for your computer, that site will also be a site that has never been visited by your computer. This is the best option for the sites that have some transactions. Such as ticket booking sites. Whenever you visit such sites, again and again, the server will recognize you and will increase the price for you. This is a fact. So, whenever you visit these types of sites again, always make sure that you have clicked on the "Forget about the site" option.
Read more: How to Fix Chrome PDF Viewer Not Working 2018 – Top 5 Methods
Last words on 

How to Edit and Use Firefox Permissions Manager
These were the features of the Firefox permissions manager that are the best among the Firefox privacy. Now you know how can you access the permission page and set the settings manually for the website you have visited. Always keep in your mind that the browser controls the default settings. If in the future you need to change them, you better make sure that it will not reflect your privacy or personal data. Because there are some sites that sell user's private data to the hackers to other officials. There are many cases and hackers threatening the user's data. Therefore, while controlling the settings manually be aware. If you have any question regarding this, please feel free to ask — good luck.
Trending: SafeDNS vs OpenDNS – What is the Difference? Which is Best?
Get more stuff like this
Subscribe to our mailing list and get interesting stuff and updates to your email inbox.
Thank you for subscribing.
Something went wrong. Try Again!