Users can setup Parental controls on Roku TV very easily. I have shared a detailed method to setup 4 digit PIN to lock your Roku TV. Users can also block individually Roku channel from their Roku device. You can enable parental control from Online site to any Smartphone Official app.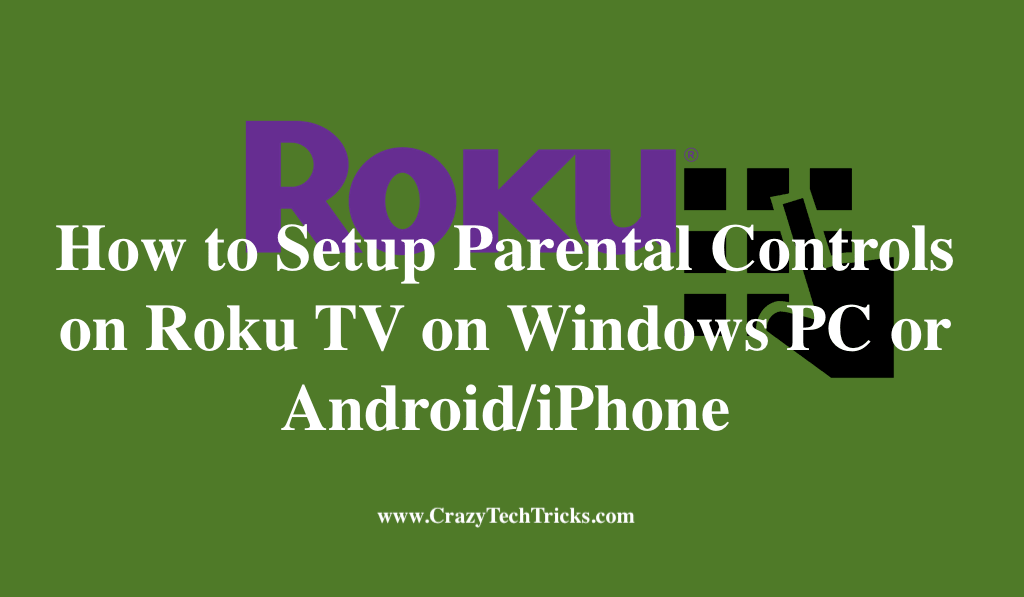 As we all know it streams to the users with available top online streaming sources. So there will also be some contents that will not be suitable for children. To overcome ROKU introduced parental control, which allows users to restrict access to content across all streaming channels. This parental controls on ROKU work on PIN-based security. It allows users to set a 4 digit pin to control the playback streaming content on the ROKU channel in the signed-in state.
Read more: Best Free Chromecast Streaming Apps for Android
---
How to Setup PIN on Roku TV
Before we proceed to set up parental controls on Roku. We will first set up the four digit PIN. Users can use any mode to set a PIN. Make sure you set a PIN properly as this PIN will be used to unlock Roku account.
Login to your ROKU account. You can login online site or official app.
Click on the Update button under PIN preferences to view the PIN settings menu.
Now Update your PIN by entering a new 4 -digit pin in the given fields.
Pin in both fields must match.
Now select the PIN usage preference from the list provided.
Then click Save Changes to update your PIN and settings.
Initially, if you have ROKU TV, you can restrict the access based on TV/movie ratings. The streaming will be blocked if users cross the specified limit.
Read more: How to Cancel Hulu Subscription
---
How to Setup Parental Controls on Roku
In this method, we will enable the parental controls on Roku. We will use the same PIN to unlock are Roku.
Press the Home button in your remote.
Now click on settings
Now head on to Parental controls and select it.
Enter your PIN.
Now, you will be redirected to the TV Tuner page.
Now click Enable parental controls and on it.
Select the Movie ratings option. Select all the required categories to restrict.
After selecting the required categories to restrict, you will see a lock icon opposite to that category.
If you are planning to block all unrated contents, including movies, then select Block all unrated programs option.
Now, if you want to reset all the parental controls on ROKU. Then Select Reset parental controls option.
Read more: How to Set Up a Firestick with Kodi
---
Enable Parental controls on Roku Channel
Users can not only set parental controls on the whole Roku TV. But you can also set up parental controls on Roku Channel. It is a great way to add parental controls on any specific channel.
Login to the ROKU Account with your ROKU PIN.
Scroll down to the ROKU channel parental control section.
Select the level of parental control and then save it.
That's it now you have also completed setting up parental controls on the ROKU channel too.
Read more: What Is Quibi TV
---
Conclusion
By setting up these parental controls on ROKU. It will help parents to stop their children from viewing some restricted content. Although some parents may avoid this feature as there is no ability to create individual profiles so that the same restrictions are also applicable for parents too.
And one last thing ROKU parental controls don't work on third-party streaming apps. If you want to restrict the content on third-party streaming apps. Then you have to use parental controls of individual third-party streaming apps.
Was this article helpful?