You can sideload Peacock on Amazon Fire TV by following these two methods. You can use manual downloading or using Alexa. Users can sideload Peacock on Samsung, LG, Sony, Apple, or any TV.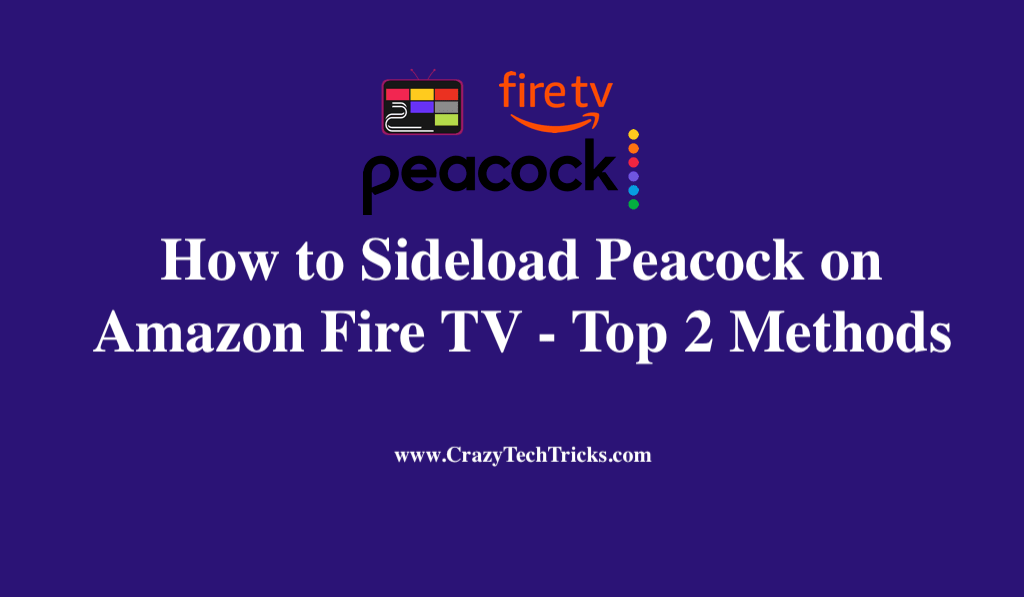 Amazon Fire TV is an excellent method to immediately stream your favourite episodes and films. With so many streaming options available, it's easy to find something you like. There is a chance that the Amazon App Store can download all of your apps simultaneously. All you'll need is the Peacock TV app, which you can download and set up in seconds.
Peacock can be downloaded directly through Alexa or the Appstore if you are in the United States. Also using a VPN server and the Peacock app, you can watch your favourite shows while travelling overseas. Though Peacock is widely available in some regions, how about if you'd want to utilize a different version of the app? In this instance, your only option is to sideload Peacock on Amazon Fire Tv.
Read more: How Do I Get Peacock on my TV
Sideload Peacock on Amazon Fire TV
Sideloading is extremely similar to the terms "downloading" and "uploading," so if you are familiar with those concepts, you should be able to understand what it is much more easily. Sideloading doesn't use the internet, so you'll have to find another way to move data.
Read more: How to Setup Parental Controls on Roku TV
Method 1. Manually Downloading
Using the Downloader app, you can manually download the Peacock TV APK to your Fire TV, after which you will have to sideload it. Also, in order to download Peacock from a reliable source, you must enable sideload peacock on Amazon Fire TV.
Once you've turned on your Amazon Fire TV, pick the Find icon and begin searching.
That's where you'll find the search box. Type the app name there.
The Downloader application is entirely free to download and use. Moreover, Click on the download.
The following step involves navigating to the Amazon Fire TV's settings and selecting the My Fire TV button.
Click Apps from Unknown Sources in the Uder Developer Tools.
Turn it on by clicking it.
Start the Downloader software now.
Choose the URL bar in the Browser. https://www.apkmirror.com/apk/peacock-tv-llc/peacock-tv-android-tv/
To update Peacock TV, scroll to the bottom of the page and choose the most recent version.
Click DOWNLOAD APK from the drop-down menu.
Make sure your Fire TV device has enough time to download the file.
Choose Install.
Choose either DONE or OPEN to close the Peacock app and begin using it immediately.
If you don't already have an account, select Sign Up or Sign In to proceed.
Then click Continue to enter your email and password.
With Peacock TV, you will be able to sideload Peacock on Amazon Fire TV.
Read more: How to Set Up a Firestick with Kodi
Method 2. Alexa
With the help of Alexa also you can install and sideload Peacock on Amazon Fire tv. Using Alexa is the most straightforward manner of accomplishing this. The procedure is quite simple.
When using your Fire Stick control, press and hold the Alexa button to activate the virtual assistant.
While pressing the Alexa button, request that she open the Peacock.
Whenever you press the Select button on your remote control, the download begins.
Peacock should be open.
Once you open Peacock for the first time, you will be prompted to sign in or create an account.
To get access to Peacock, you need to create an account.
Simply create an account at https://peacocktv.com on your computer, phone, or tablet, then log in on your Fire Stick using your account credentials.
Read more: How to Get Disney Plus on my TV
Conclusion
Although virtually any kind of file can be sideloaded, the majority of sideloading consists of moving media files such as MP3s and digital films from a computer to a phone, or installing software from a phone to a computer. Large media files can be sideloaded without incurring data charges.
However, it's important to be aware of this risk and only install apps from sources you trust to be safe so sideloading apps is not a great idea.
Was this article helpful?