I have shared the 10 best Plex alternatives. You can use this Plex alternative to improve the streaming of movies and another thing at a faster speed.
Among the many media server options available today, Plex is consistently one of the most popular, but it is not the only one. But if you're looking for the best Plex alternatives with similar features or features unique to the Plex system, you've come to the right place.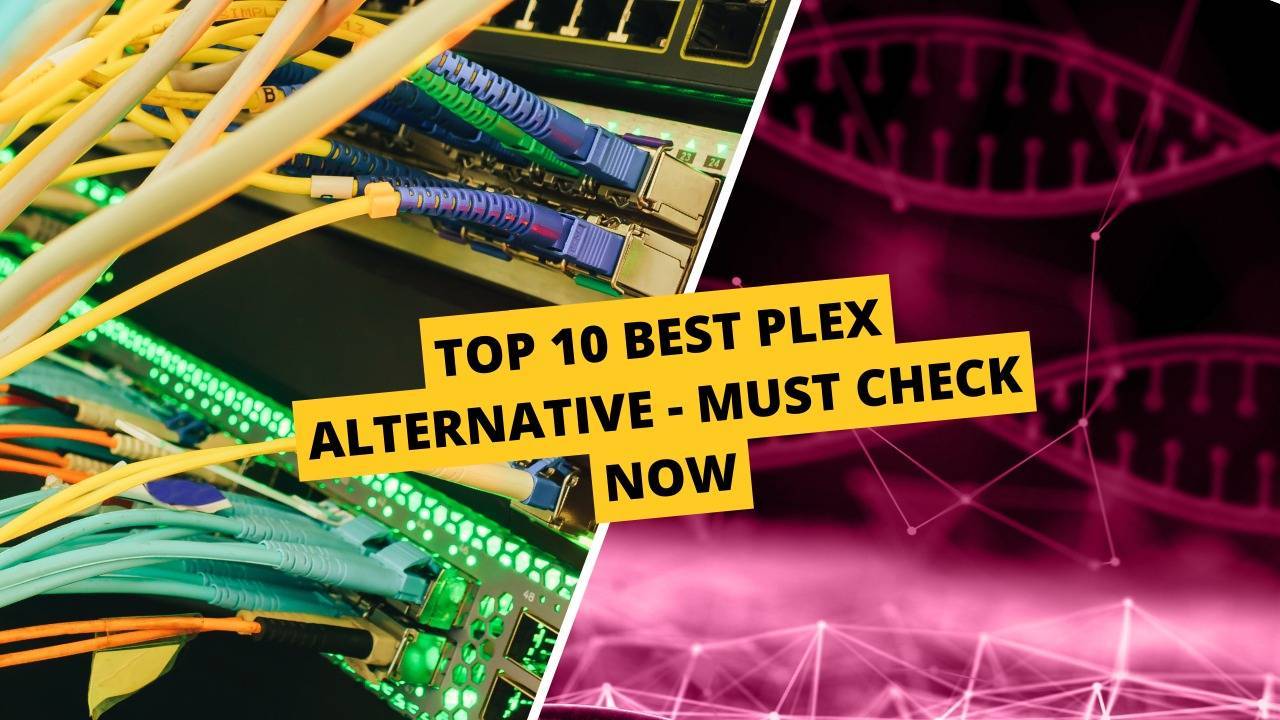 In this post, we'll look at the top ten best Plex alternative to think about for your media streaming requirements.
Top 10 Best Plex Alternative
Whether you're looking for more features, open-source choices, or platform compatibility, looking at Plex competitors can improve your video streaming experience. So, in this post, we will expose you to the top ten best Plex alternatives that are worth considering. From Emby's sophisticated media organizing skills to Kodi's vast plugin support and Jellyfin's open-source nature, there is a solution to meet the demands of any media aficionado. Let's get started!
Read more: Top 10 Best WeTransfer Alternatives
1. Emby
Emby is an effective media server that enables you to manage, stream, and access your media files from a variety of devices. It has an easy-to-use interface and works on a variety of systems, including Windows, macOS, Linux, Android, iOS, and others. Emby is also a flexible option for media lovers because it offers features like parental controls, live TV streaming, and cloud sync.
2. Jellyfin
For managing and streaming your media library, Jellyfin is an open-source media server program that offers a full range of functionality. Numerous clients, including web browsers, smart TVs, mobile phones, and gaming consoles, are supported by it. You may take use of Jellyfin's capabilities like transcoding, user management, and configurable interfaces. Due to its open-source nature, it also gains from a vibrant development and user community.
Read more: Top 10 Best Apps like PUBG
3. Kodi
Kodi is a well-known media center program that may turn your device into a fully functional video hub. It is compatible with a wide variety of plugins and add-ons, allowing you to personalize and enhance its features. Kodi works with a variety of operating systems and devices, including Windows, macOS, Linux, Android, iOS, and Raspberry Pi. It has an aesthetically pleasing interface, media playback, and the ability to stream material from several sources.
4. Serviio
A DLNA media server like Serviio enables you to stream media files to gadgets like smart TVs, game consoles, and mobile phones that are compatible with it. It supports a broad range of media types and has transcoding features, providing seamless playback on many devices. Additionally, Serviio includes capabilities like online content retrieval, metadata collecting, and remote access and gives a straightforward web interface for managing your media collection.
Read more: Best Alternatives to GoToMeeting
5. Universal Media Server
Using the cross-platform Universal video Server, you may stream video to a variety of gadgets, including smart TVs, game consoles, and smartphones. It supports a broad range of media types and provides on-the-fly transcoding for smooth playing. Universal Media Server is simple to install and use, with features such as web-based management, automated media file categorization, and subtitle compatibility.
6. MediaPortal
MediaPortal is an all-in-one media center application that transforms your computer into a powerful media hub. It has live TV streaming, DVR capabilities, and compatibility with a variety of plugins and extensions. MediaPortal is Windows-compatible and has an easy-to-use user interface that can be operated by a remote or a mobile app. It's a terrific choice for customers searching for a comprehensive media solution.
7. Madsonic
A media server program called Madsonic focuses on providing a top-notch audio streaming experience. It includes features such as personal media streaming, podcast support, and dynamic playlists. Additionally, Madsonic offers cutting-edge audio capabilities including equalizers, loudness equalization, and automated genre identification. You may access your music library from any location with its mobile apps and web-based interface.
8. Infuse
When it comes to playing your media files, Infuse concentrates on offering a stylish and simple user experience. It includes features including library organization, automated metadata fetching, and subtitle support in addition to supporting a broad variety of video formats. For Apple customers who desire a seamless video viewing experience across their devices, Infuse is the best option because it is available for iOS, Apple TV, and macOS.
9. Subsonic
Subsonic is a media server program built for music fans who wish to stream and access their music library from anywhere. It includes features including playlist management, podcast streaming, and offline listening in addition to supporting several audio formats. Additionally, Subsonic offers a web-based user interface, and mobile apps, and allows interaction with third-party programs to ensure that you may listen to your music wherever you are.
10. Stremio
A media center program called Stremio combines all of your favorite films, TV shows, and internet streaming providers onto a single, centralized platform. It has an easy-to-use interface and works on a variety of platforms, including Windows, macOS, Linux, Android, and iOS. Stremio provides tools for managing media libraries, supporting subtitles, and finding new material. It also allows you to cast your media to compatible devices for a more seamless watching experience.
Conclusion
Although Plex has become a very popular media server option, there are a number of respectable alternatives. From Emby's adaptability to Jellyfin's open-source nature and Kodi's rich customization choices, each solution has its own set of features and capabilities. Whether you enjoy music or movies, this list of the top ten best Plex alternative offers a wide selection of options to improve your media streaming experience. Find the ideal match for your requirements by investigating these possibilities.
Was this article helpful?