You can turn off Mouse acceleration in Windows 10 PC/laptop very easily. Users can even calibrate and cursor will move the same distance the mouse moves. It is very helpful for gamers and designers.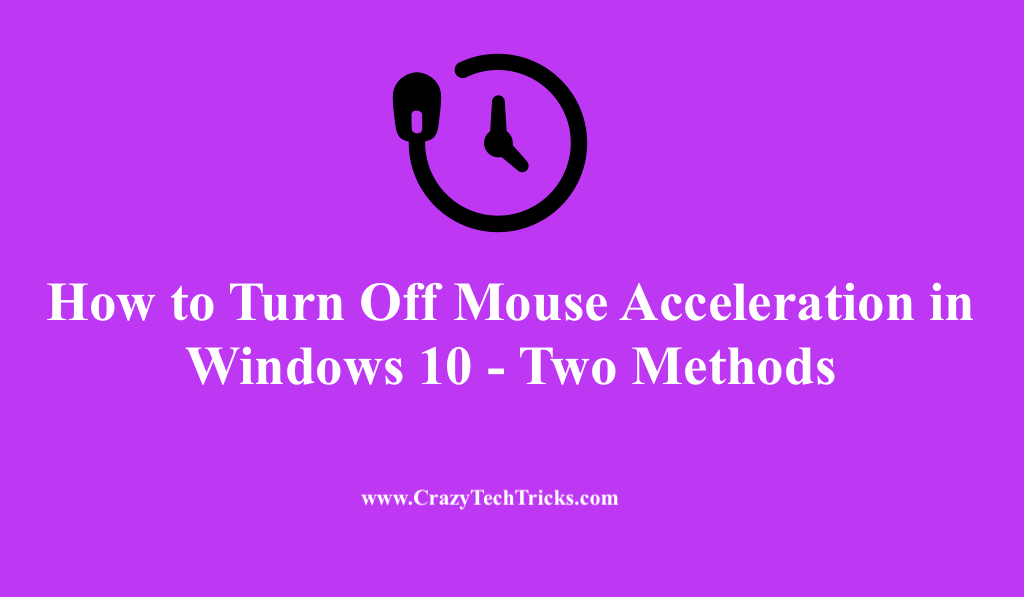 This is the feature in Windows 10 through which you can do any work faster. It can save time which is very precious for the people as they can go for further things they want to do in their PC/Laptops. Their work gets completed on time without any glitch of the mouse movement or any slow speed of curser in Windows 10.
Why you should Turn Off Mouse Acceleration
Gamers need this feature mostly without any bewildered cause they want the speed of curser faster across a big screen. This is a feature that helps to play more smoothly on their PC without any glitch? Also, Graphic designer designs the best outlet for their task to perform in lesser time. As they want better speed through this feature to get better opportunities to work. Their designs need the default response to the graphics.
Read more: How to Customize Mouse Cursors for Windows 10
When a user turn off mouse acceleration in Windows 10, your cursor will move at the right speed and same distance as your mouse moves and it will develop muscle memory. Not everyone needs to keep it on or off. Most gamers need to keep it off but keeps it on and plays very well just because they have the habit of playing easily. Real joy is only when you keep it off genuinely.
Read more: How to Fix LogiLDA.dll Error Permanently
How to Turn Off Mouse Acceleration in Windows 10
To disable this feature in Windows 10, you only need to turn off the option of "enhance pointer precision". This feature in Windows 10 assists the speed of the mouse through which you can move your cursor faster across the screen. In this way, you reach your goal more efficiently and effectively.
Click on the Windows icon.
Open the Windows Setting tab.
Select the mouse from the left side of the menu.
Click on the additional mouse option.
On the right side, go to the pointer option tab > Uncheck "enhance pointer precision".
Now Click on the apply.
Read more: How to Right Click on Mac Without Mouse
How Turn Off Mouse Acceleration in Windows 10 Using Control Panel
Users can even turn off mouse acceleration in Windows 10 using control panel. This method is little bit different from the above method.
Open the Control Panel of your Windows 10 PC/Laptops.
Now Set View Mode to Categories.
On the Left hand Side, Click on the Hardware Sound.
Under Device and Printers > Click on the Mouse.
A Popup window will open with name Mouse Properties.
Under Motion UnCheck the Enchance Pointer Precision.
Click on the OK.
Read more: How to Take a Screenshot on a Mac
How Turn ON Mouse Acceleration in Windows
If you want to go back to the default mouse acceleration speed of your Mouse. Then do follow the above method and at step 6 click on UnCheck the Enchance ponter precison.
Read more: How to Use Phone as Keyboard For Laptop
Conlusion
If you keep it off then guys try one time and switch to this turning off the feature, in beginning, you will feel awkward or face problems but after one or two days it will improve and you will like it, certainly!
Thus, by turning off this feature, you will be able to move your mouse at a faster rate which leads to fluent play of games like shooting, etc. There are some other software available in the market to control mouse speed. But I will suggest you to follow this official method only.
Was this article helpful?