You can rent movies from YouTube on Windows, Mac, Android or iPhone. You can buy or rent any Hollywood movie. I have shared the step by step guide to Rent several movies on YouTube.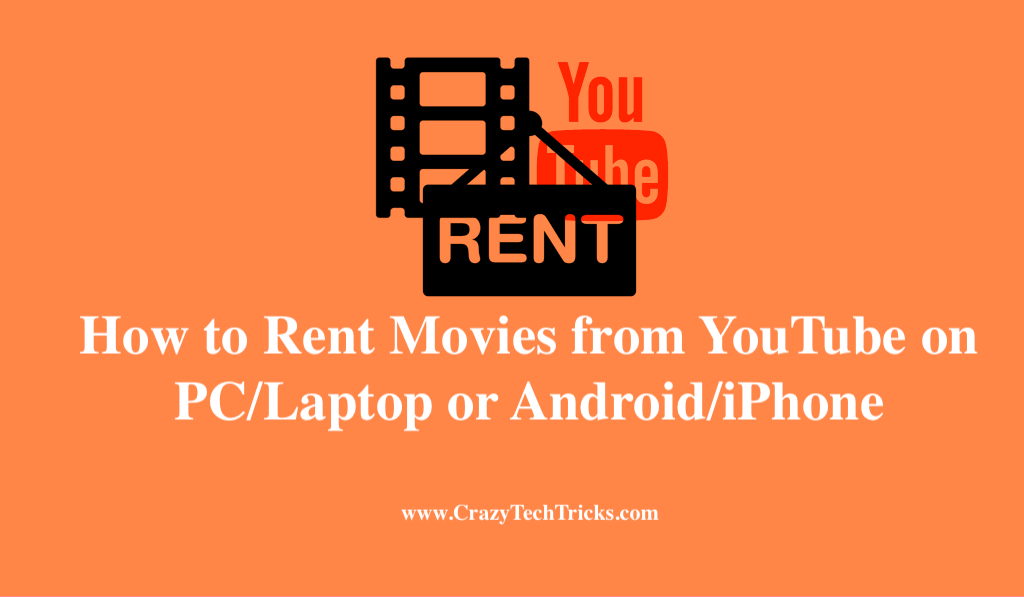 Youtube Rentals is a website that allows users to watch a variety of models at a modest charge. It's possible to make money with this strategy by utilizing the world's largest online video network. YouTube Rentals was initially offered as a beta and was limited to content creators based in the United States. Renting a movie on YouTube costs between $2.99 and $19.99 depending on the resolution.
Additionally, users can purchase a film, which is significantly more expensive than renting. However, the topic of how to rent movies from YouTube will be coming up in your mind. Isn't it? So, in this blog, we'll show you how to rent and buy movies via YouTube's movie rental service.
Read more: How to Queue Videos on YouTube
Set of Guidelines:
Before we get started, here are some things to keep in mind while buying or rent movies from YouTube:
To buy or rent movies from YouYube or any other content, the user must be 18 years old.
Buying and renting movies and TV shows can only be done on a few specific types of devices.
Individual titles' accessibility varies by region and is subject to change.
Users need proper internet connectivity to buy or rent movies from YouTube.
You can start watching the movie within 30 days of receiving the DVD after you rent it. This rental period allows unlimited viewings of the film.
There is usually a 48-hour rental period. The duration of the rental will be specified on the last page of the rental checkout process.
Read more: How to Create YouTube Shorts
How to Rent Movies from YouTube
For those who want to watch a movie on YouTube with a web browser. You can use this method on Google Chrome or any browser.
When you open YouTube, click the Movies option in the menu bar.
To access YouTube Movies on a smart TV, media streamer, or game console, type movies of your choice into the search bar.
Also choose from the latest releases, different genres of films, or simply go through the list of available free movies.
Choose the movie you want to watch by clicking the headline or cover art.
After pressing "play," the trailer will start playing in full-screen mode. It includes trailers, clips, and user comments, so you can find out everything about the film right here.
Buying or renting the movie (or TV show) is as easy as clicking BUY or RENT. Some films are available for rental and buy, while others are only available for purchase.
You need to sign up for a YouTube account or Google Gmail account if you don't already have one.
The first time you make a purchase on Google, a credit card and payment details will be required.
If you want HD or SD, select the one that best suits your needs. You can receive a discount on your rental if you have a promo code.
Following the above steps, you can watch the movie right away or wait up to 30 days before watching it.
Note: If you rent a movie, make sure to watch it within 24 or 48 hours after pressing the Play button for the first time. Within the rental period, you can watch the film as often as you like.
Read more: How to Fix YouTube Not Working
How to Rent Movies from YouTube on Android.
You can buy movies and TV series on Android or iPhone.
Open YouTube and go to the bottom of the screen. There is a library icon there.
Following this, a page titled browse and purchased will appear.
Go to the Browse area and enter the title of the film you wish to rent, or just select from the list below.
A trailer for the selected film will appear when you click on it.
You'll notice an option to buy or rent there; simply click on it.
You will be redirected to the googly pay page after clicking on the buy or rent button. You can also pay through different modes.
Now, fill in your payment information, whether it's a credit or debit card.
Click on the Pay Now option to finish this transaction.
This concludes our discussion! Now, sit back and relax with your friends and family while watching your movie.
Read more: How to Turn Off YouTube Notifications
Conclusion
You can watch films like you normally would on YouTube with YouTube movie rentals. Though YouTube's video quality is acceptable, many of the same movies are available from competitors including Amazon Prime Video, and Netflix. Additionally, you can get additional possibilities in 4K, if your television and internet connection support it.
To begin viewing leased videos, users must start viewing them within 30 days and fully watch them within 48 hours. Following the expiration of the rental agreement, it will also terminate. However, such restrictions do not apply to purchased videos.
Was this article helpful?