Send Emails to Primary Tab in Gmail. An easy method to place your email in a Primary tab instead of Promotion or Social Tab. Always place your emails in the Primary tab of Gmail. Remove your email from the Spam folder. Follow the simple and easy steps to send emails directly to the Primary section of Gmail.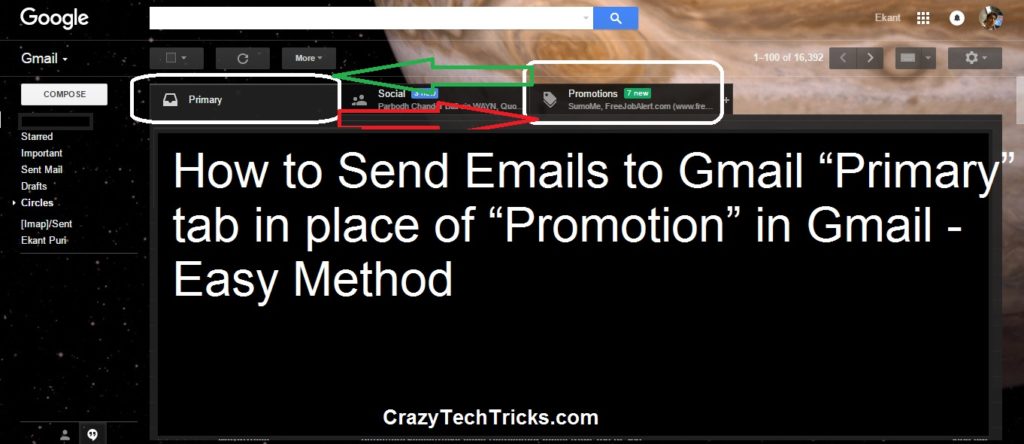 Almost all of us have Gmail ID and have noticed that it has three sections namely "Primary" "Social" and "Promotion."  Whatever emails we receive are being delivered separately to these three sections. We usually open the Primary section because it contains all essential emails that we receive but what about rest two parts? I have a solution for you guys it's of landing your emails in the Promotional section of the Primary section.
Send Emails to Gmail "Primary" tab instead of Promotion in Gmail
I will tell you few ways to send emails directly to Primary tag instead sending in Promotion Tab in Gmail.
Know more: How to Email Large Files on iPhone – Easy Method
Add the person's name you are sending the mail to:
This step will provide you two benefits, the first one is your mail will look like a personal email, and it would get landed in the "Primary" section of your Gmail account.
The second thing would be the person will get a feeling that this mail is written for him/her.
Keep a check on links and pictures you attach to your mail:
Try to be very sensitive to whatever link or photo you are connecting to your mail. This thing put a great effort in diverting the Promotional mail to the "Primary" section. Make sure that you are not attaching more than 2 links or 3 photographs with the email.
Know more: How to Check whether your Email Read or Not on Gmail Yahoo Outlook
Use HTML Editor without Using Pre-designed Templates to write a mail:
This experiment will mail proved to be a great one as it works well in landing emails to "Primary" section. I have seen many people using pre-designed templates but do you know extra codes of pre-designed templates can make your mail land in the "Spam" option. Yes, unwanted pre-designed templates make your mail spam.
Turn off the RSS campaign when you are emailing somebody:
It is known to most of us that RSS is automated. If you will not turn it off before sending the mail your mail would be considered as a fake or promotional mail. It will make your mail be dropped in the "Promotional" section.
Last Words on How to Send Emails to Gmail "Primary" tab in place of "Promotion" or "Social" – Easy Method
Aren't these tips mentioned above amazing? I think these points are clear to all of you out there. You just have to find out what is making your mail landing in the "Promotional" section and sort it out.
Was this article helpful?