HTC RE Camera is specially designed for capturing images. HTC RE Camera Specifications shows its cool features. It has the capability of clicking picture underwater also. It full-time camera which can be connected to another device. HTC RE Camera can be connected to both iPhone and Android devices.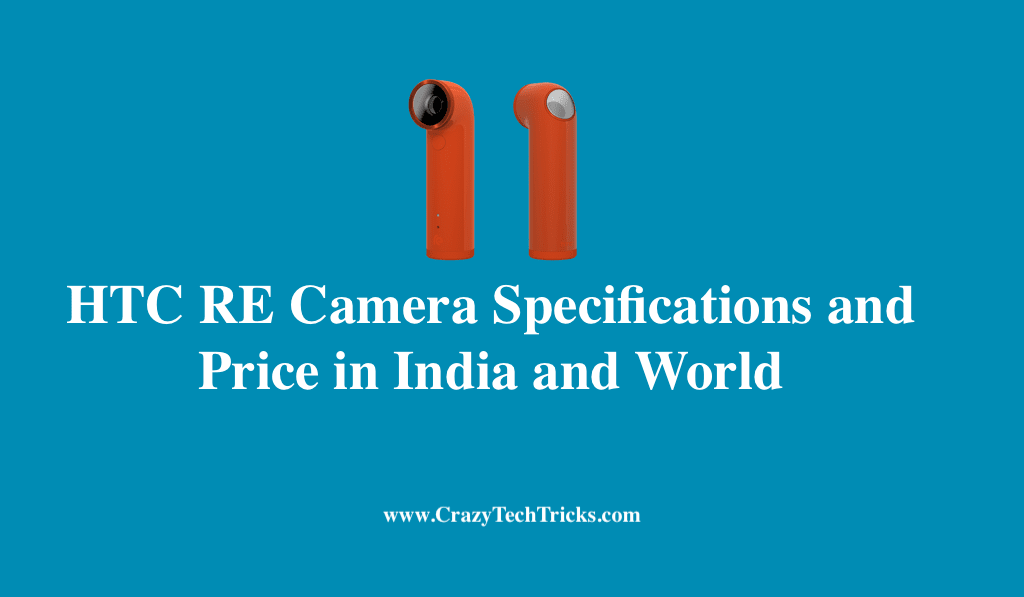 HTC RE Camera Specifications and Price in India
The HTC RE is a camera which is introduced by HTC Company in 2014. It is also able to connect with smartphones through a separate application. It works on both the operating system whether it's Android or iOS. Its major job is to capture your all precious moments not just an image. This is a really very cool gadget which you must try. It has some disadvantages too which we will get to know below. Before knowing the disadvantages let us check its specifications.
Read more: Never judge a smartphone on its camera pixels
HTC RE camera specifications
HTC RE camera specifications. We will discuss everything about HTC RE camera, sensor, pixel, micro SD and speakers. We will talk about every pro about HTC RE camera.
HTC RE has 16 MP Camera.
CMOS Sensor.
Lens of 2.8 apertures with scratch resistance.
It has 1080 pixels and 720 pixels video capturing system.
Micro SD Card slot.
Record slow motion image and recording.
Standard tripod mount system.
Timed lap capturing configuration system.
Speaker also.
Dust and water proof device.
Runs on both the OS Android and iOS.
Press button for videos.
Grip sensor with on and off the system.
One button control for captured images.
HTC RE Disadvantages
The major disadvantages are no screen. Yes! No screen which means users don't know what they are recording. To check they always need another device and synchronize it to keep checking the moments you are creating.
HTC RE is not having 60 fps option.
Plastic tripod body.
No function to display view captured images.
Read more: Samsung Galaxy S8 Full Specifications
HTC Camera Price in India and World
HTC RE camera is available at price around Rs 8000/- to Rs 9000/- in India. You can buy HTC RE in World at a price tag of $63 to $67 on various online website like Amazon.
Read more: iPhone SE Full specifications
Last Words
HTC RE camera was made by the company for a travel photographer. It has the capability to click images in every environment. Users can connect their HTC RE camera to any Android or iOS device. These devices allow the user to share the image worldwide. So are you looking to buy HTC RE Camera? Do you suggest other to buy HTC RE camera? Do share with us in comments below and don't forget to share this article with your friends.
Was this article helpful?