You can update Roku TV to latest version by following these easy methods. I have shared a method to update Roku TV on Windows and Mac using Chrome.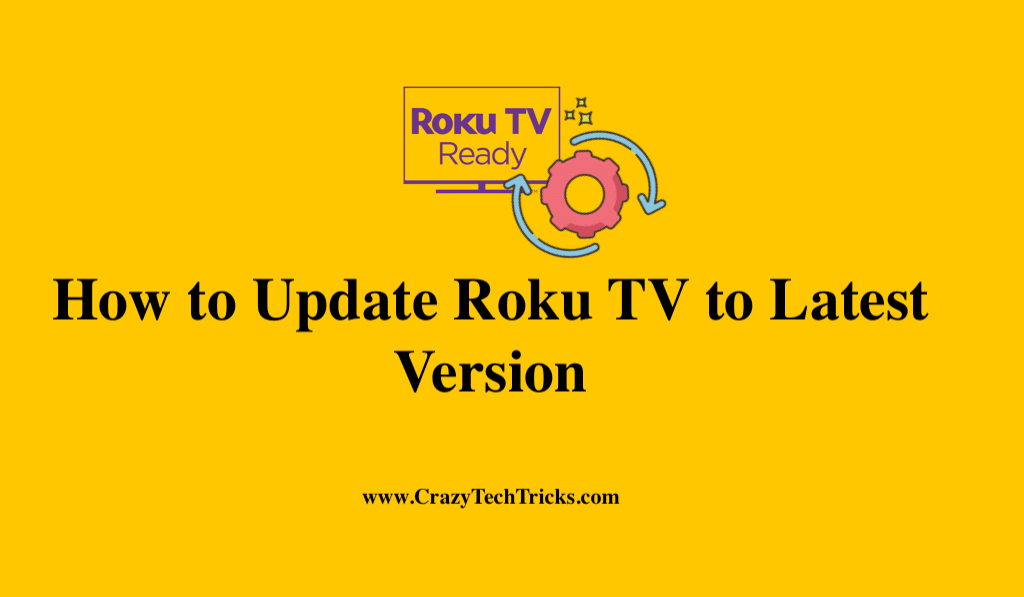 With the Roku Channel, you can stream free TV, movies, sports, and news to anyone with a Roku account for as long as they have an active subscription to the Roku service. The Roku Channel can be viewed almost anywhere using a free Roku account.
The service includes a large collection of on-demand and lives content for no extra charge. Now you can subscribe to premium channels on the Roku Channel. The Roku Channel features a diverse selection of entertainment.
Read more: How to Setup Parental Controls on Roku TV on PC
Unlike other streaming providers (and traditional cable/satellite), the Roku Channel is free to use, and you just pay for premium channels, instead of paying for access and subscriptions. Regardless of whether you own a Roku device or not, you can sign up for a free Roku account.
How to Update Roku TV software if you haven't enabled it yourself
In the event of a system malfunction or being unplugged for a long period, simply you can Update Roku TV. As a connected device featuring an always-on internet connection, your Roku is intended to automatically search for software upgrades without interrupting or affecting your viewing experience. This procedure demonstrates how activating your Roku TV ensures it is running the latest version are:
To access the home screen of your Roku remote, press the Home button.
Choose "Settings" by scrolling to the bottom and tapping the right arrow.
Select System from the appropriate drop-down menu.
You can find system updates in this list. Choose it.
You'll be able to view your current version and other relevant information here.
To perform a manual update search and installation, select "Check now".
It is recommended that you reboot your Roku if you have any outstanding system updates.
Read more: How to Disable Ads on Your Roku TV
In addition to switching between your computer and Roku TV (not your smartphone), follow the steps below.
How to Update Roku TV on Chrome
You can use this method to Update Roku TV on your Google Chrome browser.
Navigate to tvupdate.roku.com via a web browser.
Select the manufacturer of your Roku TV.
You will need to enter the Roku model and serial number. Models are determined by four digits followed by a letter (for example, 6104X), while serial numbers are composed of twelve digits and/or letters. Go to the Settings > System > About section of your Roku TV to get this information.
Click Download Software to download to update Roku TV. Installed Roku on your PC after downloading the installation file.
On your PC, look for the update.roku file. It is frequently located in the Downloads folder by default.
Install the update.roku file on a USB flash drive. There is no need to place it in a subdirectory.
Connect the USB stick to the USB port on your Roku TV.
Then use the Roku TV remote to press the home button on the Roku remote.
You can find the configuration by clicking on the settings.
The system option should be chosen.
You need to select a system update to update Roku TV. Then select Unable to connect.
When you return to your computer, enter the 12-digit code in the appropriate fields.
If you enter the code successfully, the new 6-digit code will appear on your computer screen.
Using the Roku TV remote control, return to Roku TV and enter the 6-digit code.
The software upgrade is immediate and RokuTV will restart when complete. After you update Roku TV successfully, you can remove the USB flash drive and start Roku TV.
Read more: How to Set up Kodi on Android TV
Conslusion
You must activate your Roku TV to ensure you are running the most recent version of the Roku OS software. Every 24 to 36 hours, your Roku TV checks for software upgrades when connected to the internet.  Automatically we can update Roku TV to the latest version when it is released without causing interference with its operation.
Was this article helpful?