You can convert GIF to video on Windows/Mac or Android iPhone. I have shared two separate methods for PC/Laptops and smartphones. You can convert unlimited GIFs to videos.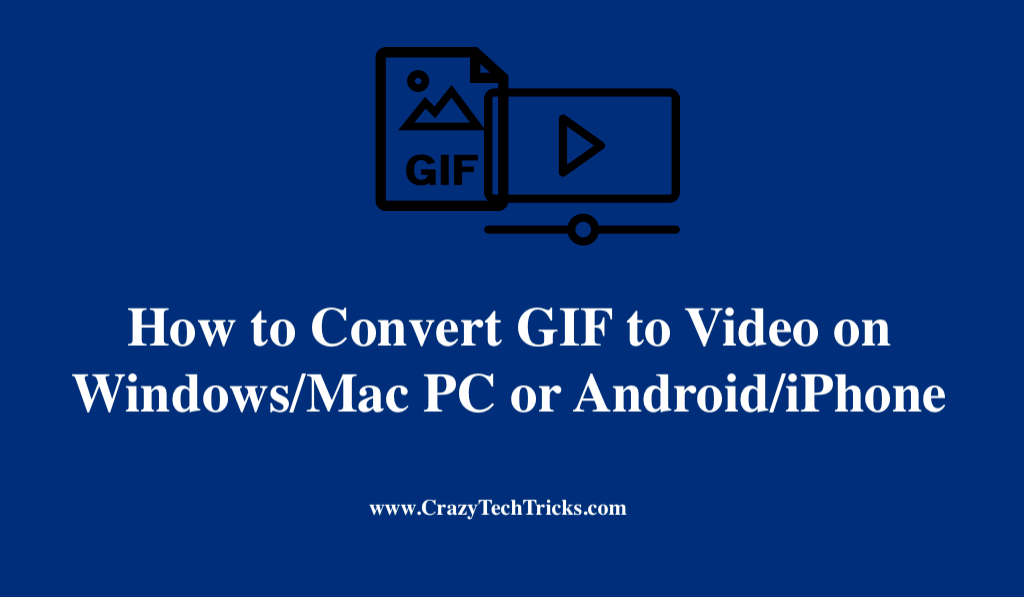 GIFs are a quick and easy method to share your preferred video snippets with friends and family members on social media. These files are a series of short animated graphics that repeat themselves. GIF graphics have become so popular over the past few years that you can now find them on social networking sites like Facebook and Twitter. They are popular on most social media platforms and texting apps because they are small and easy to read.
Read more: How to Make a GIF Your Wallpaper on iPhone
Since GIFs are image formats, many video players and apps cannot play them. In addition, GIF images cannot be resized or edited in any way. Among all these positive approaches, there are some disadvantages to using animated GIFs, conversely. You can't pause, rewind, or fast-forward a GIF, so if you miss an essential portion, you'll have to wait until it loops back. In addition, GIFs have a low frame rate, which gives them a jerky, low-quality appearance when viewed.
Thanks to technological advances, you may convert GIF to video on your PC or mobile device in a matter of minutes and with no difficulty. When you convert GIF to video you will have more control over your viewing experience and you will be able to apply visual effects to these media formats more easily. With this blog, you'll learn how to convert GIF to video that you can play on your Windows/Mac PC or Android/iPhone.
Read more: How to Convert YouTube Videos to GIFs
How to Convert GIF to Video on Windows
Online software is the most convenient and easy way to convert GIF to video on Windows/Mac PC. Zamzar link is the best software to go with. This software allows you to convert several GIF files simultaneously into viewable video streams with a variety of output options. Additionally, it is capable of converting non-animated image formats. It can not only convert GIF files to MP4 as well as other formats, including 3GPP Multimedia File, 3GPP2 Multimedia File, AC3 Audio File, and Advanced Audio File.
Before you begin the conversion process, you must first enter the URL of the GIF file that you wish to convert to MP4.
If the software has completed its input and you have yet to select an output file, it displays the "Convert files to" bar. This can be set to MP4.
By selecting "I agree to our terms", you can now enter your email address to receive the converted file. During the wait, you won't encounter many inconveniences.
Read more: How to Send GIF on WhatsApp
Convert GIF to Video on Android/iPhone and Send to WhatsApp or Facebook
To convert GIF to video on Android/iPhone, the Video2me app is the best option. It is a powerful all-in-one video GIF photo editor that enables you to merge videos, prepare video collages, create video collages, trim videos, convert MP4 to GIF, GIF to MP4 and other video formats, among other functions. However, let's proceed with the steps:
Afterwards, you may select GIF from which you want to modify into video file specifications.
After that, you can convert GIF to MP4 in the appropriate manner.
Read more: Best Free MP3 Tag Editors
Conclusion
Animated GIFs (GIFs) are quite prevalent and widely utilized on websites to elicit emotional responses, introduce new themes, and keep users interested. There are a large number of GIF to video converter tools available on the internet, but only a few are capable of being paired with social media sites. By following the instructions in this article and using the appropriate software, you will no longer have a difficult time converting gif to video.
Was this article helpful?