RAM is the most critical part of your Android Phone. It allows your Smartphone to work faster and smoother. RAM is the primary storage for your device. When you open an application, it is saved on RAM until you close the app or ultimately save the file on your memory card. More the applications began more the RAM is consumed. You must have sometimes observed your phone become hang. It is due to lots of apps are opened on your Smartphone.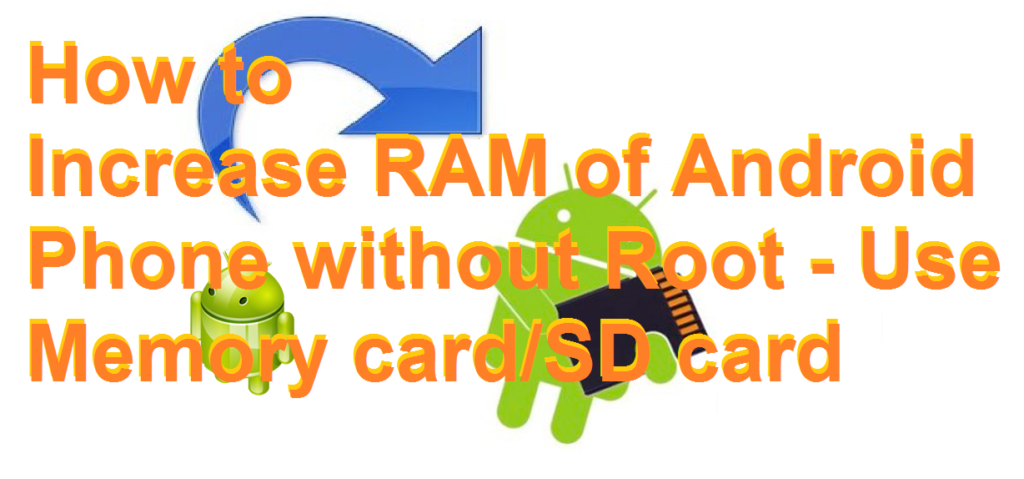 If you have a bigger RAM size then, you can do multitask smoothly. You can see the RAM size by visiting on your phone settings. Usually, RAM size is an even number for example 1 GB and 2 GB. However, you can increase the RAM size with the help of your phone or a Micro-SD card. You can expand the RAM size to your desired RAM size. Use your free space of Micro-SD card to increase the RAM of your Android device.
How to Increase RAM of Android Phone without Root 
I will share easy and best method to increase RAM on Android mobile phone. Increase RAM of Android Phone without Root. Download free apps and increase RAM using MicroSD card. Increase Android Device RAM in Mobile Phone in few steps.
Open Google Play store and download ROEHSOFT RAM Expander (SWAP).
It is an application which uses your free space and changes into a working a RAM. You can also convert your open space into permanent RAM.
You can also download the free version which is similar to above application.
Download and Install Smart Booster – Free Cleaner.
I would personally recommend you to buy the premium version of ROEHSOFT RAM Expander (SWAP). It has several prebuilt features. It automatically calculates the amount of storage needed for your RAM and does all work by doing one click. Whereas, in the free software. You need to do all the setting on your own.
Read more: How to Increase RAM on Windows XP, Windows Vista, Windows 7 and 8
After, installing ROEHSOFT RAM Expander (SWAP application on your Android Mobile phone.
Now, tap on Swap Active.
Now, it will create a swap file.
tap on Enable.
Now, tap on Active Swap.
Requirements to Increase Android phone RAM 
You need a class 4 memory card. It is one of the latest Memory cards. You can see it here,
Your Android device must be rooted.
You need a Computer/Laptop which can be connected to your Android device.
It is one of the risky methods. It can destroy all your stored files from MicroSD card. So, make sure you copy all the files from your Memory card.
Download Mini tool partition wizard on your Windows OS and install it.
Now, connect your MicroSD card to Computer/Laptop.
It will optimize your MicroSD card and provide your variety of space.
Now, create the partition on your memory card using Mini-tool.
Creat Fat32 which is similar we do on the computer.
Now, Assign about 1GB memory for the next partition.
Tap on Done.
Now, click on Make partition and select a primary partition.
Note: This time change the file system EXT2, EXT3 or EXT4.
Click on Apply changes to complete the partition process.
Increase Android phone RAM using a Rooted Android device

Now, insert your MicroSD card on a Rooted Android device
Now, Visit Google play store, and download Link2SD.
Install the application on your Android Phone.
Now, open the Link2SD and allow root permission by choosing a .ext partition.
Visit Google play store and download Swapper for Root application.
Now, Open Swapper for Root and increase Android Phone RAM as much you want.
Conclusion
That was it! These are two best possible methods to increase RAM on Android Phone. But, I would recommend you to go for a technique without root. It has no risk and keeps all your data safe. Whereas rooting your Android device allows the leakage of several files from your Mobile Phone. If you have any query related to this article then, comment below and don't forget to share this article with your friends.
Was this article helpful?