I have shared the method to delete watched shows on YouTube TV using Windows PC/Laptops or Android and iPhone. You can remove any watched shows on YouTube TV and completely wipe the history of YouTube TV or specific shows.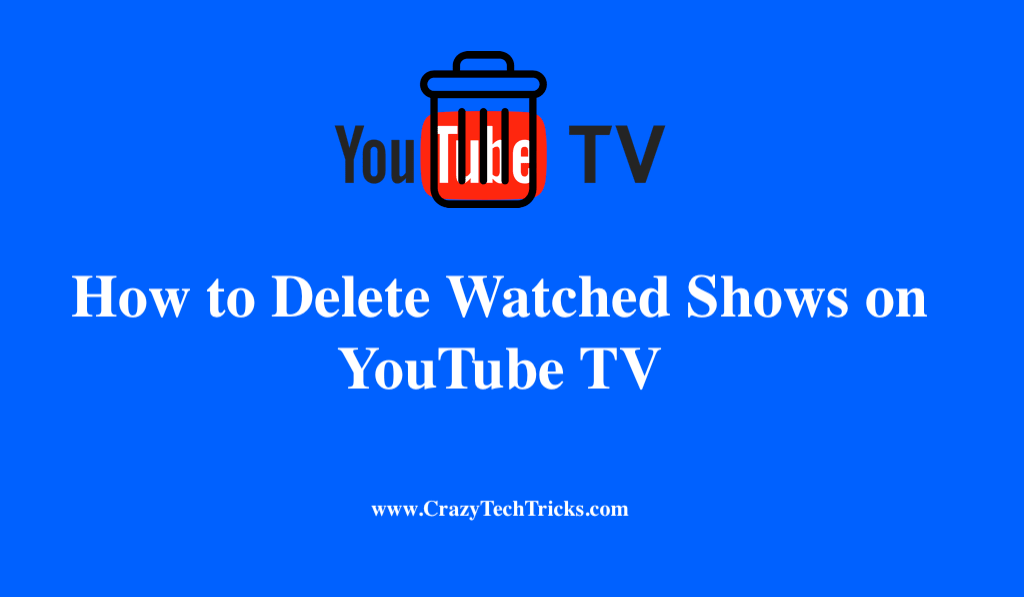 YouTube TV is a source of entertainment for everyone. It includes a variety of subjects. Sometimes many of you watch some live shows or anything on YouTube TV but later wish to remove it so that no one knows about it.
It may be due to your parents fear or you might have taken somebody's phone to watch something secret and wanted not to reveal them to anyone. In such a case, the first thing you will think of doing is to delete watched shows on Youtube TV.
Read more: How to See Your Subscribers on YouTube on PC
How to Delete Watched Shows on YouTube TV
When you watch some content on your YouTube TV, that specific content gets added to the website library of recently viewed content. In addition to that, YouTube TV also has its own library where you can store your favourite movies and live shows channels that you want to watch on a regular basis. Similary, just like you add them to your favourites, removing them is also quite easy.
Now, for this, there are two methods to delete watched shows on Youtube TV.
Mobile application
Through website
Read more: How to Rent Movies from YouTube on PC
Method 1. Mobile application
It doesn't matter if you're using an iPhone or an Android device to view and manage your YouTube TV watch history, the process is the same and straightforward. On this page, depending on your selection of the checkbox button, you can either delete all items or select specific ones. Make sure you are using the official app.
Download the YouTube TV application.
Login using your Gmail.
Click on the Library.
Find the content you wish to remove from the list by scrolling down.
Simply Tap on the symbol to be taken to the website for the content.
Tap the checkbox button in the upper right corner, to remove it from the library.
Read more: How to Create YouTube Shorts
Method 2. Through Website
When it comes to removing live shows and movies from your favourites on websites and mobile applications then there is not much of a difference between the two. Both systems method is nearly identical. You can use Google Chrome or any online browser to delete watched shows on YouTube TV.
Go to Youtube TV official site.
Sign in to your TV channel.
Select the Library option.
The remaining steps are identical to those that are used in the mobile app.
Additionally, if you are using the YouTube TV app, you should try deleting the cache and data on your device. If that doesn't work, you might also delete your browser's cache and data.
Read more: How to Fix YouTube Not Working on Android
When using YouTube TV, is it possible to remove episodes?
The answer to this query is "yes," it is possible to delete episodes from a YouTube TV. As we are all aware, the web series comprises a variety of episodes. There are web series that are really brief and some that are extremely lengthy. Now, some people including me prefer to download the episodes of favourite web series in advance.
As a result, it may display an out-of-storage error message or refuse to accept any additional downloads. To overcome this error, there are two ways to do it.
By managing all history.
From the main screen.
Process 1. By managing all history
Open your Youtube TV by following the link given here.
Select the displayed profile by clicking on it.
Select the Manage All History option. The Google privacy screen is now shown.
Now, choose the More icon, to delete the episodes.
Process 2. From the main screen.
Open your Youtube TV app.
Click and hold on the three horizontal lines in the upper left-hand corner of the display.
Select the "My Episodes" from the drop-down menu.
Here, select the episode you wish to remove.
Now, select the three vertical dots located near the episode.
After that, click the delete option.
Read more: How to Turn Off YouTube Notifications on Android
Conclusion
The procedure to delete watched shows on YouTube TV is nearly identical across all of the available devices, whether on a laptop, Tab, television, iPhone, MacBook, etc. In addition to deleting watched history, users of YouTube TV can delete scheduled recordings from their library, but only those that aren't yet filmed. A simple tap on the "Added to Library" button will remove all previously scheduled recordings from your computer.
Was this article helpful?