"iPhone." Who does not know about the iPhone? This brand is on the tongue of every individual. It is also a dream of every person to own an iPhone. What makes the iPhone so special that people are crazy about it?
It is the brand! iPhone is one of the most popular brands in the mobile industry. People wait for its launch in order to purchase it. iPhone 14 advantages have a long list to go.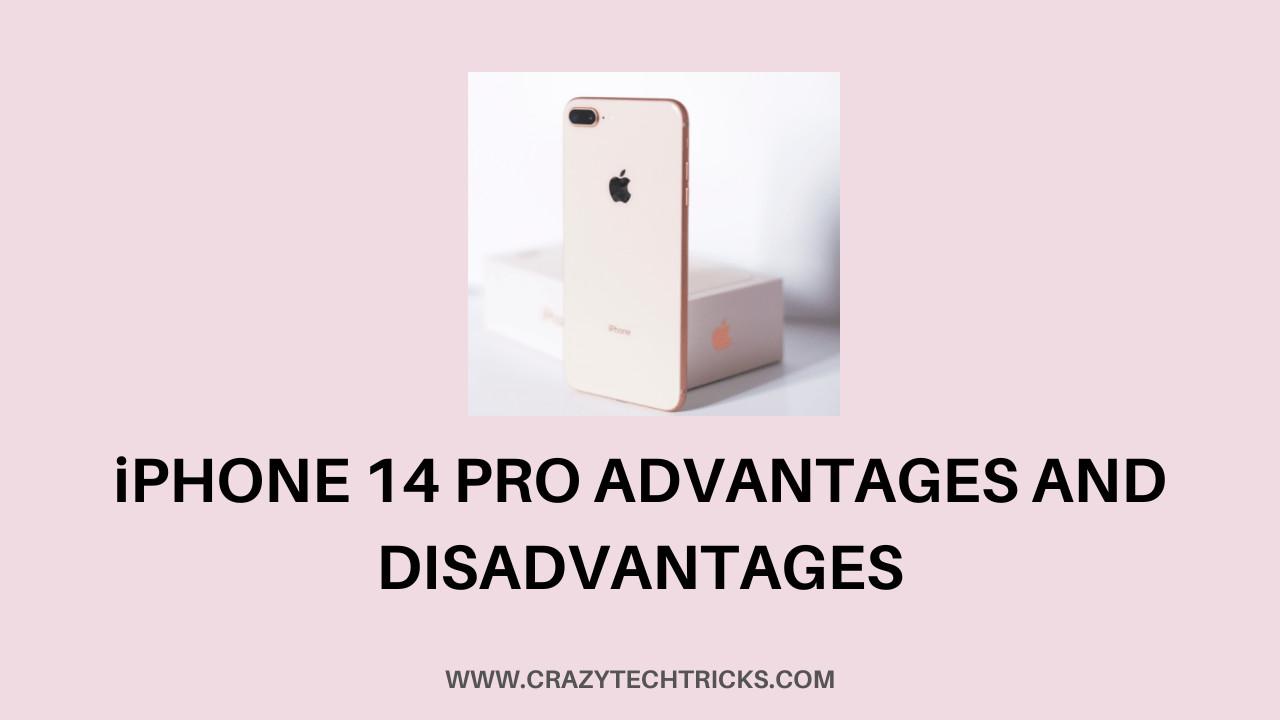 In many cases, it is seen people are going bonkers over the brand. No matter what the company is offering they just want to buy it for the sake of the brand. As mentioned, the list of iPhone 14 advantages is long, so the disadvantages.
There are various aspects discussed as key points in this case. Let's study are iPhone 14 advantages and disadvantages (Pro).
Read more: HOW TO TURN OFF THE FLASHLIGHT ON AN IPHONE 13
iPhone 14 Advantages (Pro)
iPhone 14 advantages are a lot to be listed. Let's learn what the phone has got to offer us.
Camera: The new feature that has been added to iPhone 14 pro is "Autofocus" in the selfie. This feature was not initially implemented for the selfie cameras. But with the new version of the phone they have implemented autofocus mode in the front camera.
Storage: iPhone 14 pro offers an internal storage capacity of 128 GB with 6 GB RAM.
Action mode: Another new feature added to the camera is the Action mode. This feature of the camera is good for making motion videos. If you wish to take any action or adventurous video then this is the best feature for you.
Battery life improved: As promised, the company has worked on the battery life giving it an enhanced feature.
Dual SIM facility: The phone has a dual SIM facility. It has a Nano SIM along with an eSIM.
Read more: HOW TO SHOW BATTERY PERCENTAGE ON IPHONE 12
Water resistant: Just like other iPhones, iPhone 14 pro is also water resistant. It has a water resistance of up to 6m for at least 30 mins.
Satellite connectivity: This is the best feature of the iPhone. Satellite connectivity is a feature in which you can ask for help via satellite in case you have lost your way. This feature is most beneficial in situations wherein you are lost while trekking or hiking. You can easily locate yourself and the nearby group will be there for your rescue.
Megapixel: iPhone 14 pro has a camera offering you 48 megapixels. The high-quality camera with the IOS offering sensor shift enhances your experience of photography. It has a dual front camera of 12 megapixels.
Brightness: iPhone 14 pro has 1600 nits indoor brightness and 2000 nits outdoor brightness.
Body: The body of the iPhone 14 pro is made up of stainless steel. It has gorilla glass in the front and on the back.
Payment option: The phone has an Apple pay option which includes AMEX-certified, Visa, and MasterCard.
Read more: HOW TO TRACK AN IPHONE WITHOUT THEM KNOWING
Disadvantages of iPhone 14 Pro
There are various disadvantages as well which are triggering its users. The below-mentioned are the same.
Battery issues: The phone claims to have a good battery life but does not support the same. Other Android smartphone batteries last longer than this. You must have a power bank with you in case you have plans to travel long. The battery cannot be removed which again has certain disadvantages.
No storage extension: iPhone 14 pro does not have any slot SD card. You cannot extend the storage capacity of the phone by inserting any SD card since there's no slot. This is again a big disadvantage for the users.
Expensive: iPhone 14 pro will cost you around 1,39,000 INR. This is very costly for a common individual. With similar features, one can buy an Android phone with a limited amount of money. Thus spending so much on these features is not worth it.
Read more: HOW TO SET UP EMERGENCY BYPASS ON IPHONE
Difficulty in transfer of files: Another disadvantage of iPhone 14 pro is the transfer of files. Transferring files from any system to iPhone or iPhone to a system is quite troublesome.
This cannot be done with the help of any USB cable. Transfer of files is only possible through iCloud. iCloud provides space of up to 5GB. Beyond that it is chargeable.
Paid applications: Most of the applications on iPhone are paid. You have to pay a certain amount of money to use those applications. This makes it less likely to purchase iPhones. You can easily access these applications for free on Android phones.
Less new features: Every time when an iPhone is launched we all seem to be quite excited. This is because the iPhone always comes up with enhanced features, battery life, and operating systems.
But in the case of the iPhone 14 pro, it is completely different. There are no new features added and it seems to be worthless to spend much on this phone.
Read more: IS IPHONE 13 WATERPROOF OR WATER RESISTANT?
Conclusion
As per the above article, it can be concluded by saying that iPhone 14 pro has very less enhanced features. It is not value for money. Unlike other smartphone versions, this version is not justifying its worth. Hence it is recommended not to purchase this phone.
Read more: HOW TO UPDATE APPS ON IPHONE
Was this article helpful?