Hello friends, Today I will share a trick on How to Track an iPhone Without Them Knowing. A user can track as many iPhone they want using these two methods. You can secretly track an iPhone. This technique also works on sharing your location with others using apps and several ways. I have share two methods on How to Track an iPhone Without Them Knowing. You can use the method which suits you best.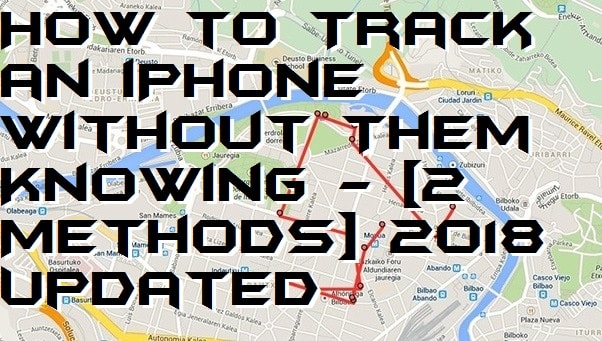 Do you ever wonder where someone goes or what they do when they're away from you? Do you ever find yourself thinking why your kids always return late from school, or why your spouse always returns late on weekends? These are general concerns that most of us face at one point or another in our lives. However, instead of just letting your mind wander in doubts, you can do something about it.
How to Track an iPhone Without Them Knowing
Tracking a cell phone is one of the best methods to keep an eye on someone. But let's be honest. Who wants someone else to trace their location everywhere they go? Even though many third-party apps allow sharing location with friends and family, they require permission of the person whose location will be shared. But thankfully, there's a way to track an iPhone. Below you'll find two ways to track someone's iPhone without them knowing.
---
Track an iPhone using Find My Friends
You can track anyone's iPhone using a legit application for Apple, Find My Friends. It is not supposed to be a spy app but can be used as one if you are smart. Find My Friends is an app meant to share your current location with friends and family so you can keep tabs on each other while you are at a fest or mall. This app functions with mutual consent of both parties to their share location with each other.
To track someone's location, first of all, you have to get access to their iPhone for at least a minute and send yourself an invite. This process is downright undetectable, and the person will not even get a notification that they are sharing location with someone.
Step 1: Enable "Share My Location"
Open Find My Friends app on your own iPhone and switch the Available option to "Everyone." Now open Find My Friends app from the iPhone of person you want to track. Scroll down and tap the contact icon at the bottom of the menu. Then flick ON the "Share My Location" option.
Read more: Top 10 Best Websites to Track Mobile Number – Trace Mobile Number with Owner Name and Address
Step 2: Send yourself an invite
Tap on "Add" option on their iPhone and scroll down to find your saved contact. Tap on your contact and select "Share Indefinitely" option. It will send you an invite to accept their location.
Step 3: Accept their Invite
You'll get a notification on your iPhone that they want to share location with you. Accept it by tapping on "Allow." Now you'll be asked whether you want to share your location with them too. Select "Don't Share." If you share your location too then, they will receive updates from your device, and that's not what you want.
Read more: Top 10 Best Free Email Tracking Tool for Gmail, Bing and Yahoo 2018
Step 4: Track their location without them knowing
Now you can get real-time updates on their location any time you want. You can also set particular locations so that you are notified when they enter or leave that place.
Step 5: Hide "Find My Friends" from their iPhone
Most people don't ever use Find my Friends, and even if they do, they don't check if someone new has been added to their list. So you don't have to worry about the cat getting out of a bag. Nevertheless, you can also hide the app from their iPhone's dock just to be extra safe. In this way they'll never even see it and thus will never access it.
How to Secretly Track an iPhone using Spyzie
Find My Friends is a great option to track someone's location. However, it cannot be used if the person you want to track uses it frequently. In that case, you have to resort to third-party application and services to monitor their iPhone.
Read more: Updated 2018 – How to trace an IP Address from Facebook Profile – Facebook location Tracker Online
Considering the prices, features, and usability, we recommend you to give Spyzie a try. Spyzie is a simple web-based monitoring app which can be used to track someone's location if you know their Apple account details. Once installed on the target device. Spyzie goes into stealth mode, and the owner will not even know. On top of that, unlike other tracking apps. Spyzie doesn't require you to boot the target device so that the target person doesn't get suspicious.
How to Track Someone Elses iPhone
Follow the steps below to track someone's iPhone without them knowing with Spyzie:
Create an account on Spyzie

To use other advanced features like call monitoring, message logging, and keylogging. You can purchase the advanced subscription at just $7.5/ month for one year.

Install the app on the target iPhone. The download link and setup instructions will be given to you after registration.

Open the app and tap on "Choose the iOS device."

Enter the iCloud account username and password of the targeted device and press "Verify."
Now close the app. Spyzie app icon will disappear automatically once the setup is completed. Now you can track their location on your Spyzie account dashboard.
Read more: Top 10 Best Fitbit Alternatives – Budget Fitness Trackers [2017]
Conclusion
These two are the best method on How to Track an iPhone Without Them Knowing. You can track their iPhone and know their location. You can share your other way to track an iPhone in the comments section below. And don't forget to share this article with your friends.
Was this article helpful?