I will clear all your doubts related to iPhone 13 Waterproof or not. I will also share things to avoid in iPhone 13 when it comes into contact with water or any liquid. Also, read the comparison between Waterproof and Water Resistant.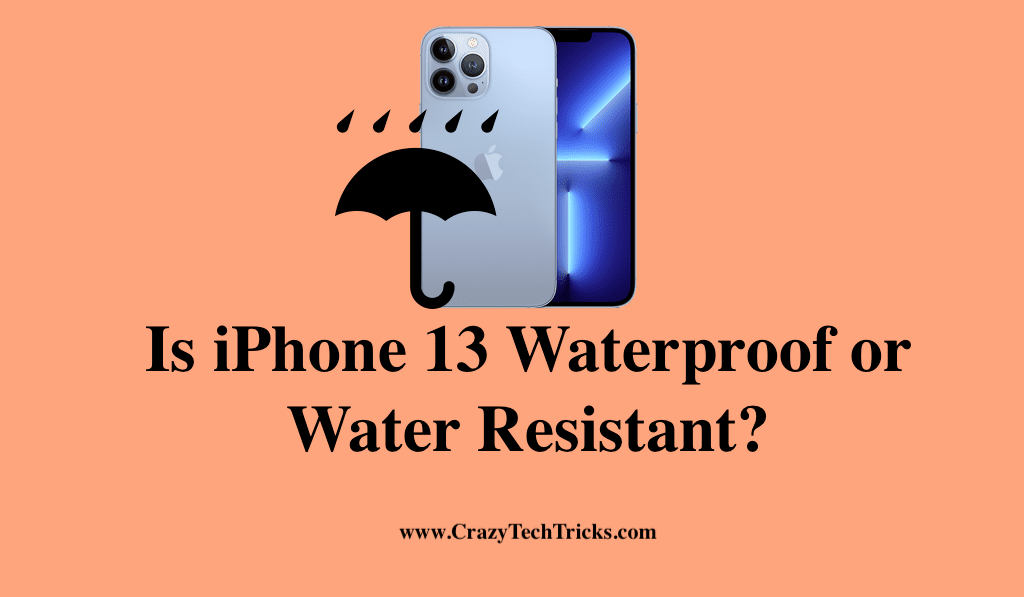 You may undoubtedly organize a trip with your friends and while you're there, you plan activities like going rafting or boating on the water, lounging by the beach, or even going to a water park. In such a scenario, if you are an iPhone 13 user, you might be wondering what will happen to your device if it is submerged in water.
Read more: How to Set up Emergency Bypass on iPhone For Calls
Since all Apple iPhone 13 variants have the same layer of safety against water resistance splashes and absorption. As a result, iPhone 13 is water resistant not waterproof.
iPhone 13 Waterproof or Water Resistant
The answer is pretty obvious, the iPhone 13 is water resistant. Because it has an IP68 rating, it can withstand being immersed in water at depths of up to six meters for a half hour. Besides the iPhone 13, all of the Apple latest iPhone 13 models, including the 13-inch version and the smaller iPhone 13 mini, have IP68 water resistance.
The IP68 water-resistant rating falls under the International Electrotechnical Commission (IEC) 60529 standard. Moreover, Devices that are water-resistant are rated by the (IEC) using the IP rating. This number is used to represent how long-lasting the device is.
Usually, between 0 and 6, the first digit of an electronic device indicates how well it is protected from tangible things.
Usually, between 0 and 9, the second digit corresponds to the device's resistance to solid liquids.
Read more: How to Delete Watched Shows on YouTube TV
Things to avoid while using iPhone 13
There are a few things that Apple recommends consumers avoid doing while using the iPhone 13 to avoid any water damage. These are:
For optimal performance, use your iPhone 13 in settings that are neither too hot nor too humid.
Apple recommends that iPhone owners avoid washing their devices with substances such as soap, detergent, acidic meals and drinks, and other liquids and substances.
The iPhone can be damaged by accidental drops and other collisions.
Your iPhone could be damaged if it is subjected to high or pressured water.
Don't take a shower or go to the beach while using your iPhone.
Read more: How to Make a Kahoot Game Pin on iPhone
Comparison between Waterproof and Water-Resistant
The phrase "waterproof" refers to a completely watertight material. It means that it will not absorb water no matter how long it's submerged. And in technological terms, the phrase "water-resistant" indicates that the item can withstand some degree of contact with water.
Read more: How to Open Blocked Sites on iPhone
What should you do if your iPhone 13 becomes wet?
There is a chance that your phone will get a little wet at some point. It may be commonly caused by ordinary beverages such as tea, soda, juice or etc. Now, As a precautionary measure, you should store the iPhone in a dry and well-ventilated environment. For at least five hours, you should keep your SIM tray closed and don't connect your device with Charger or any device which passes the current.
Can you swim with your iPhone 13?
Since underwater photography has become a popular activity among today's youth. Because of this, it is essential to remind youngsters that despite the fact iPhone 13 is water-resistant, there is a limit level to which they can submerge it in the pool. So practically you can't swim with iPhone 13.
Read more: How to Turn Off the Flashlight on an iPhone 13
Conclusion
Moreover, According to Apple's one-year limited warranty, customers are not reimbursed for any costs associated with liquid damage. In addition to that, its technical support is limited to three months. If you own an Apple product, you can get an extended warranty called AppleCare+. With it, you can cover accidental damage and extend the warranty period.
Was this article helpful?