Around 60% of the smartphones run on Android operating system. Most people around the globe buy android phones. Because it has cheap price. And has lots of applications in there store. It is worlds largest operating system market. Which has every game, software and almost everything which user expect.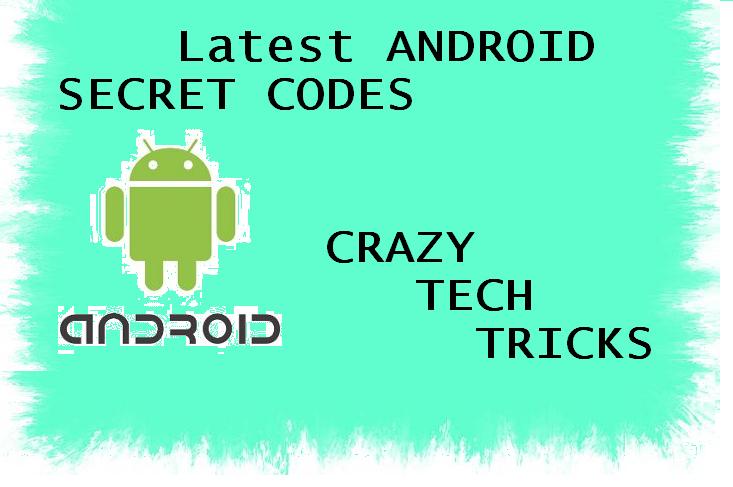 How many of you know that there are several Android secret codes. These codes are inbuilt in every android phone. Users need to put a specific code. And they can test a feature of their smartphone. There are several codes which allow to test almost each and every feature.
Latest Android Secret Codes
Below are the android secret codes which will help you in testing several features. Bookmark this page because we keep adding new codes.
know more : How to HACK WIFI PASSWORD using a simple software
LCD Test :

 *#*#0*#*#*

Bluetooth Test : 

*#*#232331#*#*

Bluetooth Device Address : 

*#*#232337#*#

*
GTalk Service Monitor : #*#232337#*#*
Audio Test : *#*#0289#*#*
Vibration Test : *#*#0842#*#*
RAM Version : *#*#3264#*#* 
Wlan Mac Address [WiFi] : 

*#*#232338#*#*

HTC Info : 

*#*#4636#*#*

HTC Test : *#*#3424#*#*
It show Build Time, The time when your smartphone was build : *#*#44336#*#*
Touch Screen Version : *#*#2663#*#* 
Proximity Sensor Test : *#*#0588#*#*
Shows IMEI number :  *#06#
Touch Screen Test : *#*#2664#*#*
GPS Test : *#*#1472365#*#*
These codes are very helpful when we buy new smartphone. User can test all the function of smartphone. These codes also tell you the exact day time when your phone was built.
CONCLUSION
All above android secret codes are working. You can check several website with loads of codes. But there codes wont work. Because to increase the codes they enter some fake codes. I would say you to try these code once. These all are working codes and will help you in testing your smartphone. If you know some more android secret codes. Then do share with us in comments below.
Trending : How to unlock smartphone pattern lock
Get more stuff like this
Subscribe to our mailing list and get interesting stuff and updates to your email inbox.
Thank you for subscribing.
Something went wrong. Try Again!