I will share all details what is CVV number on Credit Card. I will also share ways to secure your credit and debit card CVV. You can also fix CVV transaction error.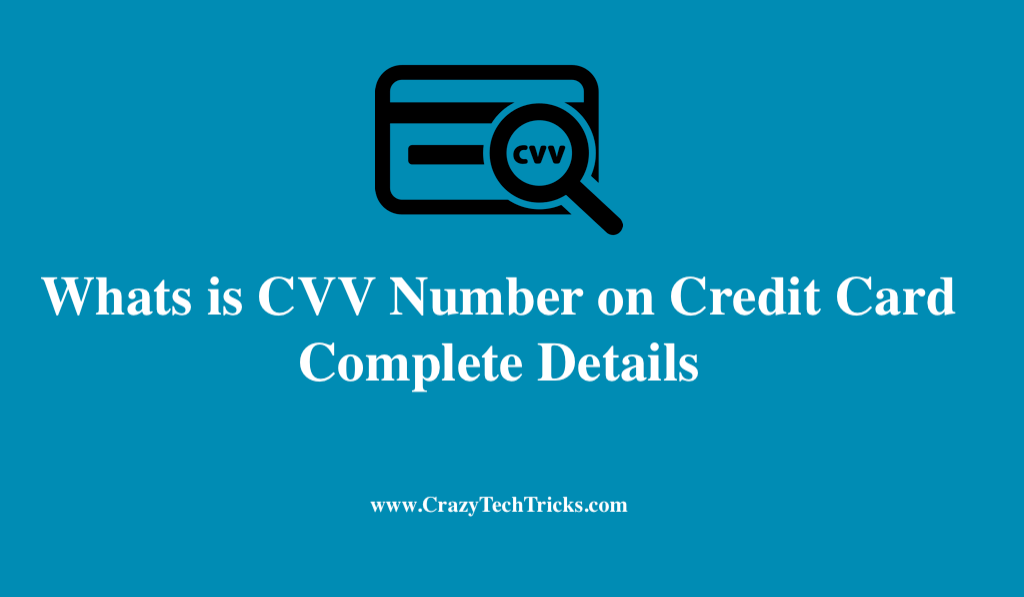 An abbreviation for Card Verification Value (CVV) is CVV. Most often, this is a three-digit number, similar to those used by Visa and MasterCard. However, American Express uses a four-digit number. This pin is required to complete online purchases and must never be disclosed. The CVV number is generated by the bank or other financial institution that issued the debit card: Debit card number, service code, Card expiry code, Issuer's unique code.
CVV Number on Credit Card
Only a CVV number can be generated from the card number, PIN, or credit card expiration date. Unless the CVV is entered correctly, the transaction will fail. This is because the process relies on the correct card number and CVV number to verify the transaction. CVV is a separate number that is not the same as your identification number (PIN), on the back of your credit card or debit card.
Read more: How to Remove Credit Card From iTunes
Businesses increasingly require this number and the card number and expiration date for online and telephone purchases made with a card that isn't physically present. If a criminal has your credit card information and expiration date but not your CVV, they will be unable to purchase anything from retailers who require a CVV.
CVV (Credit Card Verification Value) Location
Cards bearing the CVV are usually printed next to the signature panel on the back of Visa, MasterCard, and Discover. The final four digits of your card's account number will sometimes appear next to the three-digit CVV; those four numbers occur before the CVV and don't count as the CVV.
As a result, you should not enter them when prompted for your CVV online. A four-digit CVV code can be found on the front of American Express cards, immediately above and to the right of the account number. For some debit cards, a four-digit number may be printed on the face of the card.
Read more: How to Create Apple ID Without Credit Card
To what end is the CVV being used, and Why?
CVV is the debit card equivalent of security guards. It helps protect your debit card from being stolen, fraudulently used, or otherwise used without your permission. As a result of a CVV, only the card's holder can use it. CVV codes are valuable because they control how retailers store your credit card information. It is legal for merchants who accept credit cards to store your card information (with your permission) so that you do not have to enter it every time you make a purchase.
Read more: How to Listen to Apple Music on Windows for Free
The CVV provides an additional degree of security. Retailers cannot keep customer credit card information (CVV) on file. In this way, even if a database is compromised, hackers won't be able to obtain CVV and, therefore will not be able to use stolen card numbers anywhere the code is required.
Is the CVV of the debit card the same as the PIN?
No, CVC, which stands for card verification value, is a three-digit number that is permanently etched on the back of a debit card by the company that issued the card. The CVV is employed as an additional layer of protection for card-not-present transactions. Typically, "Personal Identification Numbers" refer to the numbers assigned by the cardholder to their debit cards. The PIN is a four-digit code that serves as an additional layer of security for transactions conducted in-person (with the card present).
Read more: How to Set Up Donations on Twitch using PayPal
I get a CVV transaction Error while using a credit card? Why?
As a result, the three-digit CVV number you have entered has been unsuccessfully matched to your bank's records. In short (Card Verification Number), the CVV stands for Card Verification Value or CVN for Card Verification Number. These numbers can be found on the back of Mastercards, Visas, and Bankcards. Errors like this may remain to show up in your bank account, even after your payment network canceled them.
Read more: How Safe is Online Banking
There are times when a bank might not immediately respond to the void warning. As long as your bank responds to your request to void the transaction, you can rest assured that no funds have been withdrawn from your account. It is safe to assume that the money is still in your account and will remain there until the void request is fulfilled. There is a good chance your bank will be able to see this void request and take any remaining funds.
What will happen if I use my Credit Card?
It's good to know that CVV numbers cannot be saved when a credit card is swiped or punched online, unlike other card information. To ensure their safety, CVV requires users to take extra precautions when using a debit card, including not exposing their CVV to others. Even if you use your debit card as a credit card, the money will still come out of the same bank account. However, if users continuously choose credit while using their debit card, they are just doing a disservice.
Drawbacks
Having access to your CVV code and the credit card's magnetic stripe makes the card easy to misuse if it is copied.
CVV Scamming
It is possible to steal credit card CVV dumps through skimming, using a malware-infected point of sale device, or by experiencing a data breach. Frauds like this one have led to the creation of an entire underground market for credit card information that employs this lingo.
Read more: How to Know if a Website is Safe for Online Shopping
Sometimes, it may appear that you have received a valid request for your credit card information in an email or by phone from a Scammer. Innocent people have been duped into disclosing their personal information to commit fraud on them. In that case, keep in mind that your card issuer will never request any of your private or confidential information. Such a request should not be ignored, and the Bank should be informed as soon as possible.
Is it possible to decipher CVV?
The CVV code of a Mastercard credit card may be cracked in seconds, according to a recent investigation. A maximum of 1,000 attempts is required to decipher the three-digit code because it is so simple. According to the publication, the attempt may be carried out in just six seconds.
Putting your CVV code on a web form seems risky
Essentially, preventing credit card fraud is one approach. In case you weren't aware, the credit card security code is the three to four-digit code located on the back of your card. Therefore, if you're shopping online, you can enter your CVV (credit card verification code) if dealing with a reputable company or website. The CVV code serves to verify that the cardholder has the card in their possession since the cardholder should only know it.
Read more: How to Cancel Hulu Subscription from Android
Conclusion
Due to a rise in online and phone fraud, all credit and debit cards now include a CVV number on them. And while though a CVV or CID code is more difficult to obtain than your card number, it does not ensure your security. They are obviously beneficial, but they are not failsafe, and it is still necessary to take precautions to keep oneself safe. Using identity theft monitoring is a good idea because you'll know straight away if your accounts have been compromised.
Was this article helpful?