Having a computer either (PC or Laptop) is ubiquitous nowadays in the workplace or at home. Almost every kind of work can be done on it. But, sometimes computer stop working or start getting hanged. Well, It is due to VIRUS. Yes! Virus effect computer system so severely that it can reduce the processing speed of the computer. Some virus is so harmful that it can damage a file or even a whole computer drive. To fight with this virus problem. Users install software on their system to compete with these viruses. This software is called 'Antivirus.'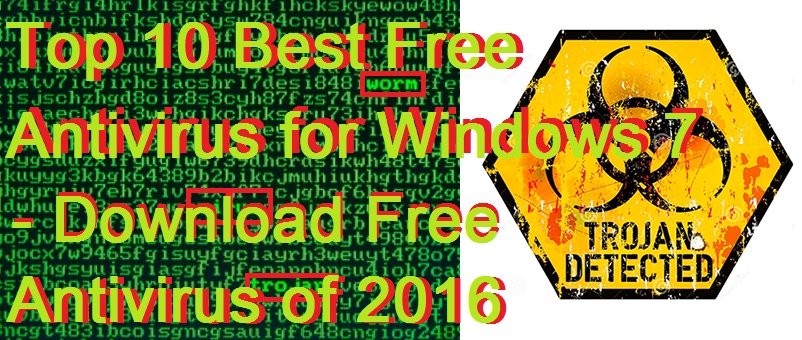 Top 10 Best Free Antivirus for Windows 7 – Free Antivirus
Most people would consider paying for antivirus like Kaspersky, K7 Total Security, Quick Heal, Norton, etc. But, the price charged by these companies is very high. Don't worry; you don't need to pay for any antivirus anymore. Today, I will share top 10 best free Antivirus for Windows 7. Yes! You heard it right, FREE. These Antiviruses are entirely free, and you will get the same premium features of antivirus in free antivirus. Here we bring you the list of top 10 best free antivirus for Windows 7 of 2016 with all the information about them.
Read more: How to Remove Virus from Android Phone [Remove Sex Pop-up Ads]
---
Avira Antivirus – Avira Free Antivirus 2017
Avira Free Antivirus is leading antivirus software and also best free antivirus for Windows 7 amongst all the free antivirus software. It helps to secure data, protects from junk, malware, blocks unwanted and infected programs which may harm your computer. It has many other essential functions like cloud protection, background running capability, and most important free lifetime protection.
Avira is award-winning antivirus software. Over 100 million users use Avira antivirus because of its capabilities to block over 30 million threats daily.
---
Avast Antivirus – Avast Free Antivirus 2017
Avast Antivirus is an active and one of the best antivirus program. When it comes to protection and security. It stands along with the other best software. It has many features like simple UI, continuous updations against viruses and customized scanning options. It is a common antivirus software due to its brand 'Avast' which has an excellent reputation in the market.
It provides free lifetime protection.
It is very efficient at work and also lightweight, which uses fewer resources on the computer.
It increases the browsing speed with the help of its UI.
It also has the capability to protect against virus-like Trojans or malware.
Read more: How To Remove Shortcut Virus From Pendrive Permanently – Easy Method
---
AVG Antivirus – AVG Free Antivirus 2017
AVG Free Antivirus is one of the most widely used and very useful antiviruses. It has Real-time protection on the internet. This Real Time protection scans every web page and alerts you when you have visited any malicious URL. AVG is one of the top contenders in the race for free antivirus software.
AVG has a user-friendly interface. It can be easily downloaded and installed on your computer. Over 80-90 million users use it.
---
Bitdefender – Bitdefender Free Antivirus 2017
BitDefender Free Antivirus is most popular antivirus for the protection of equipment on the Internet. It has many key features.
It provides a Real-time shield.0
Intrusion Detection in the file.
Rootkit scanning.
HTTP scanning for secure web browsing.
Active Virus Control.
It has a user-friendly interface which can be easily understood and provides maximum protection against all malware, online frauds, Trojans or spyware. It also has a free lifetime protection to protect the system.
Read more: How to Secure Facebook Account from Hackers – 4 Easy Steps
---
Comodo Antivirus – Comodo Free Antivirus 2017
Comodo Antivirus is the creation of Comodo Security Solutions. It protects the system from several threats and even assumes hidden files as threats instead of safe. You may think it might create problems, but comodo utilizes various tools to make the process very efficient and effective. It provides On-Access protection, protection against spyware, cloud protection, rootkits, etc.
---
Forticlient Antivirus – 

Fortclient

 

Free Antivirus 2017
FortiClient is one of the most effective and efficient top free antiviruses which provides various functions like optimization of the network, web filtering, firewall protection, and parental controls, etc. It has an automation mode to protect against all viruses. It is easy to operate, provides real-time security and much more. It gives accurate results and can be used on Windows XP as well as on Windows Vista.
Read more: How to Remove Virus from Windows System Registry file
---
Baidu Antivirus – Baidu Free Antivirus 2017
Baidu Antivirus is most known for its critical features like protection against hacker firewall, online frauds, download protection, anti-keylogger, webcam protection, quarantine sandbox, etc. Baidu also has inbuilt cloud file scanner which scans USB devices automatically. It also has an auto update mode to keep the system update.
Baidu also has some other features like traffic monitoring, private browsing. It uses little system usage and can compete with any other antivirus software.
---
Panda Antivirus – Panda Free Antivirus 2017
The Panda antivirus is best known for its cloud scanner protection. It lies in some of the top free antivirus software due to its various features like protection against spyware, online frauds, Trojans. It also provides online protection while surfing, watching videos, images, online shopping, etc.
It scans hidden files frequently to protect the system against harmful data or viruses. It also provides free lifetime protection and auto-update feature to keep the software updated against all the latest malware or spyware.
---
Ad-Aware Antivirus – Ad-Aware Free Antivirus 2017
AdAware antivirus is the creation of Lavasoft (software developer) which is located in Germany. It is used for protection against computer viruses, spyware, rootkit, junk file, malicious links, etc. It provides smooth installation and also offers full detailed custom scan. It has simple UI which is easy to use. It requires fewer CPU resources to scan all types of files quickly and frequently. It provides real-time protection.
---
Qihoo 360 Total Security –  360 Total Security Free Antivirus 2017
Qihoo is one of the best and most widely used free antivirus software in China for the protection of computers and mobile devices. It protects from malicious links, websites, malware, spyware and also support cloud-based security. It has a critical feature which uses three different AV engines to protect the system.
Qihoo 360 Total Security provides an accurate result in the daily use or labs. If you want to run all the engines for proper security, then you have to enable it manually.
---
Last Words on Top 10 Best Free Antivirus for Windows 7 – Free Antivirus of 2017
We have discussed best free antivirus for Windows 7. However, only 10 antivirus Softwares can be featured in this article. But, my personal favorite is 'Avira' because of its reliability and real-time protection. Hope, I have helped you in choosing best free antivirus for windows 7. Well, friends don't forget to share this article with your friends.
Was this article helpful?